Published:
April 27, 2021 12:09 pm EDT
For the past several years, TROT Magazine's Pepsi North America Cup Spring Book has served as an initial barometer for the colts and geldings that may be in the running for the richest prize in Canadian harness racing.
The 38th Pepsi North America Cup is scheduled for Saturday, June 19, 2021 at Woodbine Mohawk Park.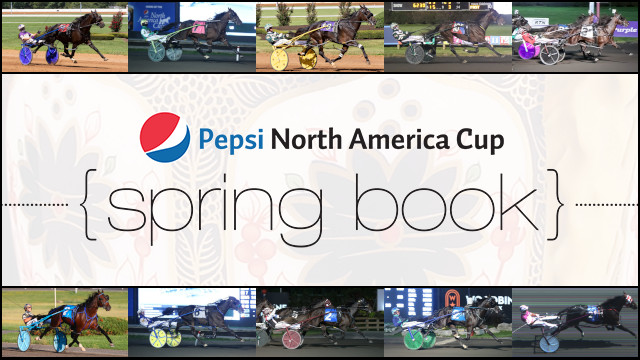 The full Spring Book is featured in the April 2021 edition of TROT Magazine, the 'Horseplayers Issue.' The full list of horses that made the February 15 sustaining payment appears below, with links to the previously-published profiles on the top 10 contenders.
Caviart Lotus / 38-1
Bettor Sun / 40-1
Springbridge Duel / 42-1
Jk Going West / 45-1
Twin B Eagle / 45-1
Linedrive Hanover / 50-1
Simon Says Hanover / 50-1
Whichwaytothebeach / 50-1
Candy Trader / 55-1
Literl Lad Hanover / 55-1
No Better Joy / 55-1
Proline / 55-1
Rau Ru / 55-1
Twin B Fighter / 55-1
Baklouva / 60-1
Bettim Again / 60-1
Island Beach Boy / 60-1
Lunar / 60-1
One Eight Hundred / 60-1
Somewhereinverona / 60-1
The Legend Hanover / 60-1
Control Heaven / 65-1
Ilderton Am / 65-1
Pirate Hanover / 65-1
Red Right Hand / 65-1
Winner Is Coming / 65-1
Captains Place / 75-1
Great Somewhere / 75-1
Komodo Beach / 75-1
P L Ozzy / 75-1
Rockyroad Hanover / 75-1
Saratoga Blue Chip / 75-1
Thanos / 75-1
Velocity Gator / 75-1
Major Makover / 80-1
Number One Hit / 80-1
Perfectboy Hanover / 80-1
Captainofrocknroll / 85-1
Captain Leblanc / 90-1
Joelsyy Hanover / 90-1
Texas Miki / 90-1
Warrawee Whynot / 90-1
Captain Party / 95-1
Samson Blue Chip / 95-1
Southbeach Hanover / 95-1
Amazing Bet / 100-1
Jimmy Connor B / 100-1
Kinkaid Seelster / 100-1
Captainmycaptain / 110-1
Jts Jet / 110-1
Yankee Litigator / 110-1
As Always / 120-1
Bali Beach / 120-1