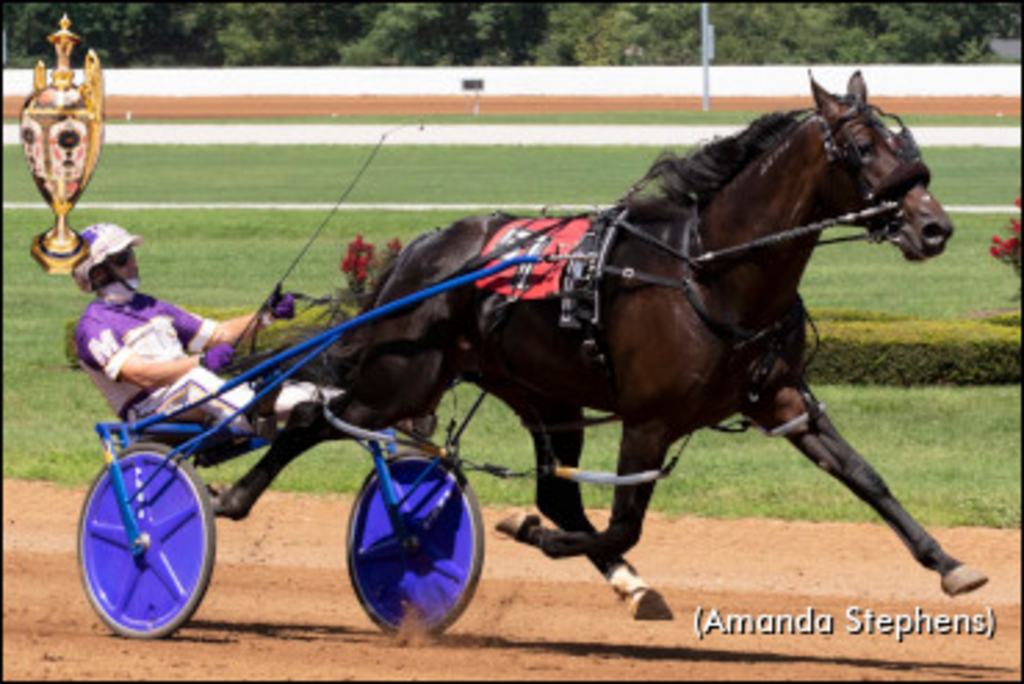 Published:
April 22, 2021 07:05 pm EDT

The 2021 edition of the Pepsi North America Cup looms closer with each passing day, and Trot Magazine's profiling of the race's projected top contenders ahead of the million-dollar classic culminates with the No. 1 sophomore colt in the 2021 Pepsi North America Cup Spring Book.
At 3-1, Perfect Sting ranks at No. 1 in Trot Magazine's 2021 Pepsi North America Cup Spring Book.
The Brittany Farms and Val D'Or Farms homebred lived up to his name as a freshman, never once tasting defeat in 10 starts while also racking up $534,300 in earnings. The royally-bred Perfect Sting exuded the qualities that made both his parents, Always B Miki and Shebestingin, champions — namely ease, determination and a quick turn of foot — all season long. So apparent was his command on the racetrack that he was dispatched at — and won at — odds of less than even money in his last eight starts as a freshman, culminating in his 1:50.2 dead heat with fellow Spring Book nominee Summa Cum Laude in the $600,000 Breeders Crown on Oct. 30 at Harrah's Hoosier Park.
Trot Insider caught up with trainer Joe Holloway — who, consequently, also trained both Always B Miki and Shebestingin — for an update on their remarkable son, Perfect Sting.
Where did he winter and when did you start back with him?
"He went to Brittany Farms the day after the Breeders Crown. That was our plan. He wintered there, and he came up (to Gaitway Farm) the beginning of January."
Have you noticed any changes from last year to this year?
"Mentally, he's better. Physically, he did get a little bit larger. He stands 16.1 (hands). He was close to 16 (hands) when he went out — close, but not there. He's well-proportioned; he's a gorgeous horse. Mentally is the big thing. I had a slight injury the other day, so David (Miller) has trained him the last few times, and he says he's so far ahead of where he was last year. Now he knows what he's doing. He's still laid back, but he certainly knows what he's here for."
Tell us about the training accident you had and the extent of your injuries.
"I broke my left shoulder. I beat Mark Harder in golf," said Holloway with a laugh. "He was kind of angry, and his horse wheeled right into me! ... I wasn't on Perfect Sting. That's what Mark was worried about. He said, 'Oh, my goodness, it could have been your good horse!' It's just one of those things that happens. I'm going to try to put off surgery, because I'd like to get this season in if I can. We'll get through it."
What will his tentative early schedule look like leading up to the Pepsi North America Cup?
"He qualifies this Saturday. He'll qualify twice — I have a week built in just in case there's bad weather — and his first start will be at Pocono on May 15. Then, if it does happen, the Somebeachsomewhere will be his second start. If it doesn't happen, we'll address that situation then."
What does his tentative schedule look like after the North America Cup?
"He's staked to everything. We have to prove it; things have to go on. But I think he's a great horse. Not just a good horse, a great horse. Time will tell."
What's his biggest asset / strength?
"He's very sound. He has lungs like Always B Miki; he just doesn't get tired. I'll put up against Miki's 1:46 mile the night when Hes Watching won the Meadowlands Pace — we're parked three-deep the first half, four-deep the last turn, and still finished second and paced 1:47.1. That was pretty impressive."
At what point last year did you think this horse was North America Cup material?
"At two, I thought he'd be good, but you don't know. Most times, everybody will say it with all your better horses, you look down (at the stopwatch, during a training mile) and think you're there in one time, but you're there quite a bit faster and you had no idea they were covering the ground that easily. I think most of the really good horses are like that."
Any three-year-old stablemates in the barn right now that are paid up and also looking promising?
"I have Texas Miki; he's racing Thursday at The Meadows. I hope he develops. He made one start; he was second. He'll make another start, and have the Sire Stakes. I don't put him in the league of Perfect Sting and Southwind Gendry, etc., but it would be nice to have a stablemate in there."
As someone who's won this race before, how does it feel to have another legitimate shot at the North America Cup?
"That'd be very nice. I was younger when Safely Kept won; I thought those things came along all the time. I had a good summer when I had Safely Kept. You're young and cocky, and you think things like that always happen, but it's not necessarily true. That weekend, when Safely Kept won the North America Cup, I won the Yonkers Trot, too. And I won the Woodrow Wilson. It wasn't a bad few weeks! But this horse is considerably better than Safely Kept was."