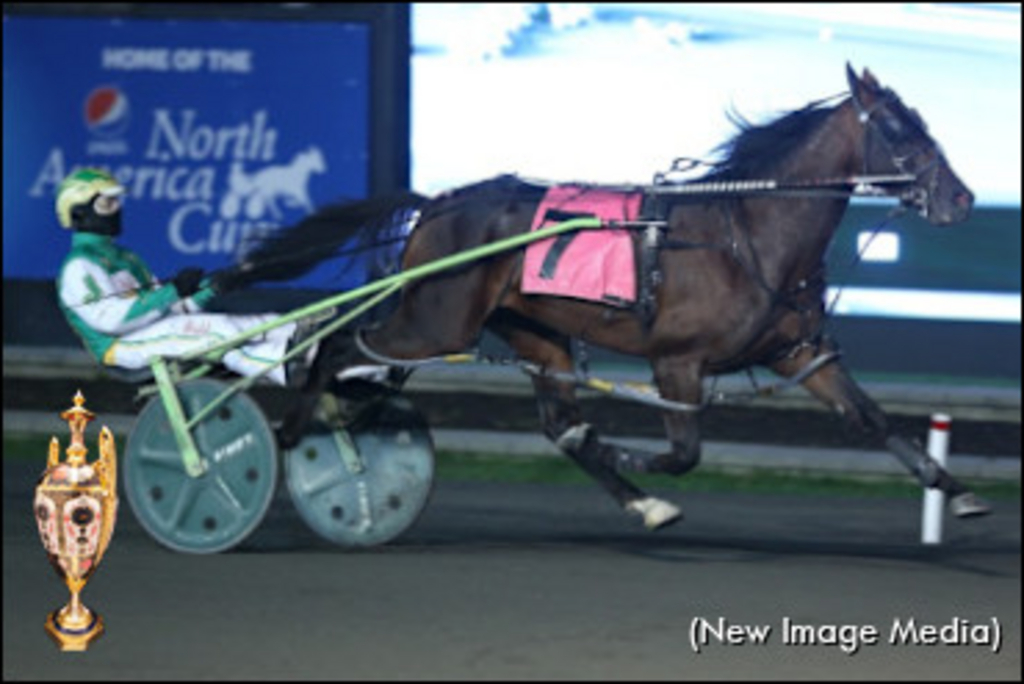 Published:
April 21, 2021 12:45 pm EDT

The 2021 edition of the Pepsi North America Cup looms closer with each passing day, and Trot Magazine continues to profile some of the race's top contenders ahead of the million-dollar classic.
At 6-1, Bulldog Hanover ranks at #2 in Trot Magazine's 2021 Pepsi North America Cup Spring Book.
Purchased for a mere $28,000 from the 2019 Harrisburg Yearling Sale, the son of Shadow Play-BJs Squall assembled a 4-1-0 record from just six starts as a rookie. Those productive performances helped him earning just shy of $250,000.
Bulldog Hanover absolutely demolished the foes he faces in his rookie swan song – the $250,000 O.S.S. Super Final. He won that rich affair by nine lengths in a stunning clocking of 1:50.2 for Darling and driver Jody Jamieson.
Trot Insider caught up with trainer Jack Darling for an update on Bulldog Hanover.
Where did Bulldog Hanover winter and when did you start back with him?
"I kept him right here at Classy Lane. A couple of times I thought about sending him to Kentucky, but I've got a nice big, private paddock here and I kind of liked the idea of keeping him here. We've got the walker so on the bad days he could move on the walker. It turned out OK. I trained him the other day in (1):58 and change. He's ready to go next time in 1:55 to 1:56. I was kind of aiming at qualifying him the first of May so we'll just have to see."
Have you noticed any changes from last year to this year?
"He's looking really good. He matured from a boy into a man. He looks great and feels great. He was always a nice-sized colt, but he filled out and just looks like a real nice horse."
What will his early schedule look like leading up to the Pepsi North America Cup?
"I was thinking he'd qualify probably twice and then maybe get a start, maybe not. I think he has an OSS on May 22nd and then after that was the Somebeachsomewhere and then the NA Cup. He had just a nice schedule going into the NA Cup."
Did you get the COVID-19 vaccine / Will you and your team be vaccinated by the time the North America Cup rolls around?
"We got vaccinated a couple weeks ago, so we got that underway."
What makes him such a good horse?
"He's a very classy colt, and to me that seems to mean a lot. He's kind of a cocky guy and he's always feeling good. He's got a lot of try to him, he just loves to be on the track and he loves to race. And he's got the talent to go along with it, so he's got all of the things you like to see."
At what point last year did you think this horse was North America Cup material?
"He was a nice colt training down, and then as we got closer to racing he just got better and better. He qualified really well and in his first start he impressed me a little more than I kind of expected. He just got better as the year went on. When he was pacing through the stretch in the Super Final, that's when I really got excited. You could just see that there's something a little special here. That's when you start thinking about races like the NA Cup."
As someone who's won this race before, how does it feel to have another top contender for Canadian harness racing's richest pacing event?
"It's exciting; it's the biggest race, for me anyway, and the one you want to win. It's as good as it gets right now."