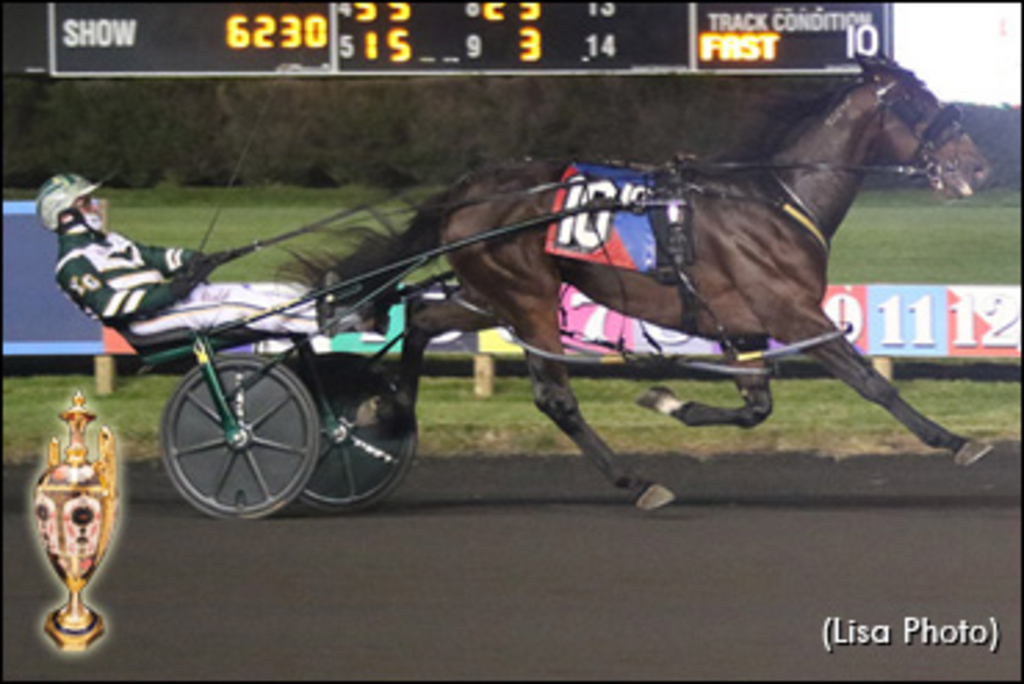 Published:
April 17, 2021 08:45 pm EDT

As the best and brightest three-year-old Standardbreds continue to surface, Trot Magazine continues to profile some of the top contenders for the 2021 edition of the Pepsi North America Cup.
At 8-1, Summa Cum Laude comes in at No. 4 in Trot Magazine's Pepsi North America Cup Spring Book.
As a rookie, the son of Somebeachsomewhere and millionaire mare Western Graduate won five times in an ambitious 15-race season, banking $482,275 for the Burke Racing Stable, Phil Collura, J&T Silva-Purnel & Libby, and Weaver Bruscemi. His season culminated in a pair of back-to-back 1:50.2 wins — the first taken in a dead heat with Perfect Sting in the Breeders Crown, and the second after working to the fore from post 10 in the Kindergarten Classic.
After 4-1/2 months on the sidelines, Summa Cum Laude is back in action, and began his quest for the head of the sophomore pacing class this morning at The Meadowlands. Trot Insider caught up with trainer Ron Burke for an update on Summa Cum Laude.
Where did Summa Cum Laude winter, and when did you start back with him?
"All the top ones went to Chris Coyle's in North Carolina, which we do every year. Around the 15th (of January) or so, we picked them up. That's about when we do it every year — when we can find time to go get them. The horses always make it back; it's not that big of a deal."
Have you noticed any changes from last year to this year?
"He was a big colt last year. He's still a big colt — he's a great looking horse, actually. You can tell by the $260,000 price tag on him as a baby. He was a beautiful animal. His brother was Im Some Graduate, and his sister was Major Graduate. It's a family we've done great with.
"He does seem better gaited this year than last year, so I think he made some improvement, but I really can't say for sure that he'll be great again on smaller tracks. I have all the confidence in the world in him on bigger tracks — I think the horse will be wonderful."
What were your thoughts on his qualifier this morning? (April 17)
"He was good, in line with what we were looking for from his first start. I didn't think the track was extremely fast [this morning]."
What will his early schedule look like leading up to the Pepsi North America Cup?
"I did have him in the race before the Cup — the Somebeachsomewhere, which I never stake to because I'd rather keep them in the States longer — but, if it's open, I may race him in it. I like him more on the big track. He doesn't touch anywhere, he doesn't wear any boots — he just goes faster on the big tracks."
Did you get the COVID-19 vaccine, or will you be vaccinated by the time the North America Cup rolls around?
"New Jersey vaccinated my whole barn a month ago. They came in for anybody who wanted it, the Johnson & Johnson, one shot. Boom, boom, boom; one after another, they did us all."
What does his tentative schedule look like after the North America Cup?
"He's pointed to every big-track race. There's not a big-track race he isn't in."
What is his biggest asset?
"He's a very talented horse. He's a Somebeachsomewhere, he looks like a Somebeachsomewhere, he goes like a Somebeachsomewhere. To me, Somebeachsomewhere changed the pacing game."
At what point last year did you think this horse was North America Cup material?
"We knew all along. He was probably our favourite colt the whole way down. From the numbers we had and how nice we thought they were, we were pretty sure he was the real deal."
Summa Cum Laude made 15 starts as a freshman. That number is higher than most two-year-olds make as a rule these days.
"Because of the financial condition we got put in by COVID, I raced every horse in every stake. I didn't skip any; I just entered them every time. These horses, we used to race them 30 times, but now we're down to about 15. They're not Thoroughbreds; I'm gonna race them every race I can. Every time the box is open, if my horse is sound and racing well, he's going in to race. So, pretty much, coming to a track near you, all my horses, all the time. There are only so many opportunities with these horses to make money, and that's the No. 1 goal — to win races, make money, and enjoy it. The owners don't get happy training. They get happy racing, and we're gonna race."