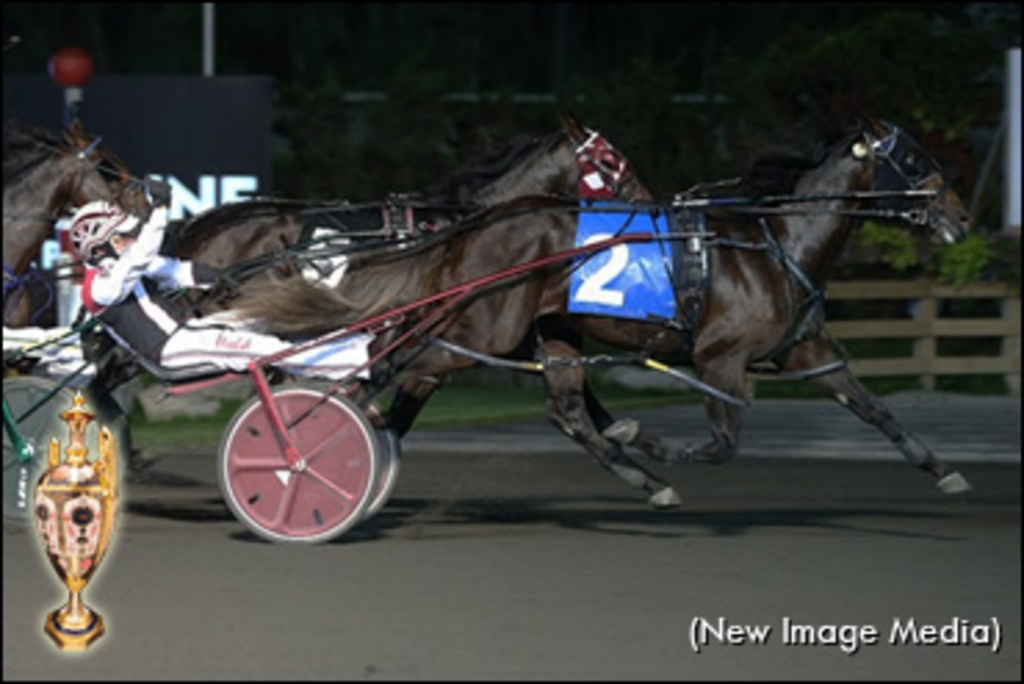 Published:
April 11, 2021 10:15 am EDT

The countdown to the 2021 Pepsi North America Cup is on, with Trot Magazine profiling the horses predicted to be the top contenders for Canadian harness racing's richest prize.
At 21-1, Exploit checks in at #8 in Trot Magazine's 2021 Pepsi North America Cup Spring Book.
Owned by Leblanc And Kribbs, Joe Sbrocco, In The Gym Partners and Joseph Barbera, Exploit (Somebeachsomewhere - Time On My Hands) won three of 13 starts as a freshman and banked just over $480,000. Trot Insider caught up with trainer Tony Alagna, who captured the 2013 N.A. Cup with Captaintreacherous.
Where did Exploit winter and when did you start back with him?
He went to Chris Coyle's at Olive Branch Farm after the Governor's Cup and we picked him up on January 15.
Have you noticed any changes from last year to this year?
Just the normal two- to three-year-old changes. He grew up and filled out and wintered very well. He came back in looking great just like everything we send to Chris [Coyle].
What will his early schedule look like leading up to the Pepsi North America Cup?
Based on how he qualifies we'll decide where we're going to head. We can head to Pennsylvania, or we've got some options as far as where I want to go with him. He's eligible to the Somebeachsomewhere, as well. We'll play it by ear and see where we decide to go.
Did you get the COVID-19 vaccine / Will you and your team be vaccinated by the time the North America Cup rolls around?
Yes, I'm vaccinated and so are my employees. Last year at the height of the pandemic I sent the horses up there. We have a great staff that works for us up there every year. I don't give that any concern. It's much better if I can go up there myself because it just makes me feel better. But I don't know that it has to happen because they had a heck of a go up there without me last year, that's for sure. Having my mom [Donna] and the rest of the staff up there each year is a huge advantage.
What does his tentative schedule look like after the North America Cup?
He's staked to everything all the way through.
What's his biggest asset / strength?
He can get in gear and stay in gear for a long time. He's versatile, but I think he does his best work from off the pace. I was very happy with his last start of the year in the Governor's Cup final. He went a really good trip to be second. He finished up the right way so there's no reason he can't come back and be a very, very good three-year-old.
At what point last year did you think this horse was North America Cup material?
He trained down well last year, and when we bought him we bought him with aspirations of that. It doesn't always mean it's going to turn out that way. But he trained down well last year as a two-year-old and we had high hopes for him last year at two and definitely those hopes are going to carry over to three, as well.
Any three-year-old stablemates in the barn right now that are paid up and also looking promising?
Pirate Hanover is a colt that showed a lot of ability last year, but he had his share of things go wrong, as well. One night his hopple got caught in his knee boot...things like that. But he's a very talented colt when everything is on his game. And he's training back very well, as well.