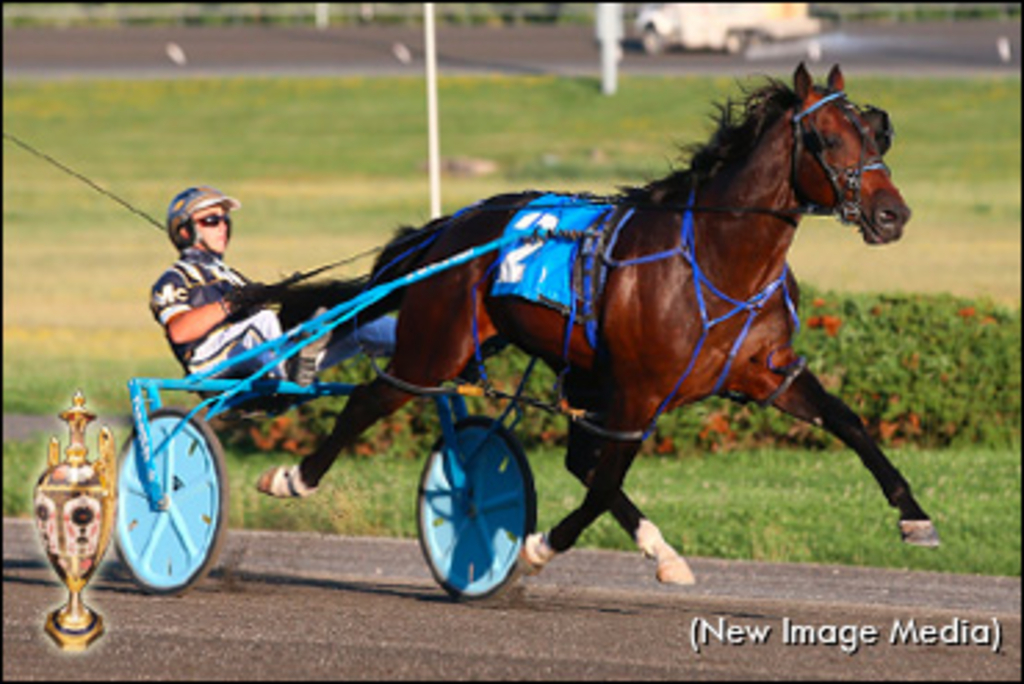 Published:
April 14, 2021 03:14 pm EDT

The 2021 edition of the Pepsi North America Cup looms closer with each passing day, and Trot Magazine continues to profile some of the race's top contenders ahead of the million-dollar classic.
At 15-1, Lawless Shadow ranks at #6 in Trot Magazine's 2021 Pepsi North America Cup Spring Book.
Competing for the some of the same connections who campaigned his sire Shadow Play, Lawless Shadow marked himself on the Grand Circuit locally after beginning his career in the Ontario Sires Stakes Grassroots Series. He stepped onto the main stage with a 1:52.2 victory in a $117,029 Nassagaweya division on North America Cup night last year and also finished third in the $720,000 Metro Pace.
In total, Lawless Shadow made nine starts as a two-year-old, winning on four occasions and only missing the board once. He earned $307,624 for trainer Dr. Ian Moore and co-owners R G McGroup Ltd., Serge Savard and Frank Cannon, and earned the 2020 O'Brien Award as Canada's Two-Year-Old Male Pacer of the Year.
Trot Insider caught up with trainer Dr. Ian Moore for an update on Lawless Shadow.
Where did Lawless Shadow winter and when did you start back with him?
"He went right to Florida. They have beautiful paddocks here — they're a couple-acre paddocks and they're all grass. Actually, this year is the best grass we've had in the 12 years I've been here. I've had people say well I'll take them here or there or wherever. My experience with that is that, when I get them back, they're not in the shape that I want them in. So I've tried to convince owners to send them with me. It might cost a little more, but at least I go out to look at [them] every day. If there's any problems, I can deal with it; I can monitor their condition and so on so they can start their training back ready to go. Not delayed for a few weeks because they didn't have enough to eat all winter.
"[We started back with him] towards the end of January. Probably around the 18th of January."
Have you noticed any changes from last year to this year?
"I don't think he's grown more, but he's filled out; he's rounded out and muscled up in places where he might've been a bit more slack on last year. He's a great horse to work on [and] a terrific horse on the track. I'm looking forward to racing him somewhere. Hopefully it will be home, where we want to be, but I'm unsure now."
What will his early schedule look like leading up to the Pepsi North America Cup?
"He's going to qualify on Friday (April 16) at Southern Oaks. He is paid up to the Meadowlands Pace and in Pennsylvania I think, and then at the end of the year in Indianapolis [Hoosier Park] there's several there we paid up into. But for the stakes all up there, we were counting on the 22nd [of May] — the first OSS race I believe it is at Mohawk — and then the Somebeachsomewhere and the North America Cup. That's what we were pointing to.
"Before all this latest stuff started, I had been getting them primed right to that point. Now, I don't know what to do. We'd prefer to be at home because it's such a good program there, and that's where I live and that's where I work. But I'm not going to go there if it's not safe, which is very unusual to say. You asked me in the fall if I feel safe down here — I feel a lot safer down here right now than I do heading up there. And I'm sure you know the U.S. has actually put a travel ban on Americans going to Canada."
Did you get the COVID-19 vaccine / Will you and your team be vaccinated by the time the North America Cup rolls around?
"Everybody did down here. Some of my staff got their shots two weeks ago, they got the Moderna [vaccine]. The two in their 20s, they got their first shots the Monday past and they're booked for the 26th for their second shot.
"I was done on February 11th, Nancy was done about two or three weeks ago."
What makes him such a good horse?
"He's just turned into an unbelievably sweet horse. Just two fingers to drive, you can do whatever you want with him. Ask him to go and he goes. A really good feeler."
At what point last year did you think this horse was North America Cup material?
"I think it's been documented there that I've said he was always a nice colt. He had some troubles early and he grew out of them with a few minor equipment changes. He was a pretty nice two-year-old for us I guess — any two-year-old that's third in the Metro has got to be a decent horse. That's why we kept him [eligible] and we're hoping he'll do it in the North America Cup. The ones that raced last year, there are certainly some nice two-year-olds there — the American-breds, I'm talking about. That's another thing — hopefully, they'll be able to come. It won't be any good for the industry [if they can't]."
Any other three-year-old stablemates in the barn right now that are paid up and also looking promising?
"He's the only three-year-old colt I've got. We have two fillies, OSS eligible, and then Lady Arthur in Ohio. And a four-year-old (Tattoo Artist) and a five-year-old (Century Farroh), and 14 babies."