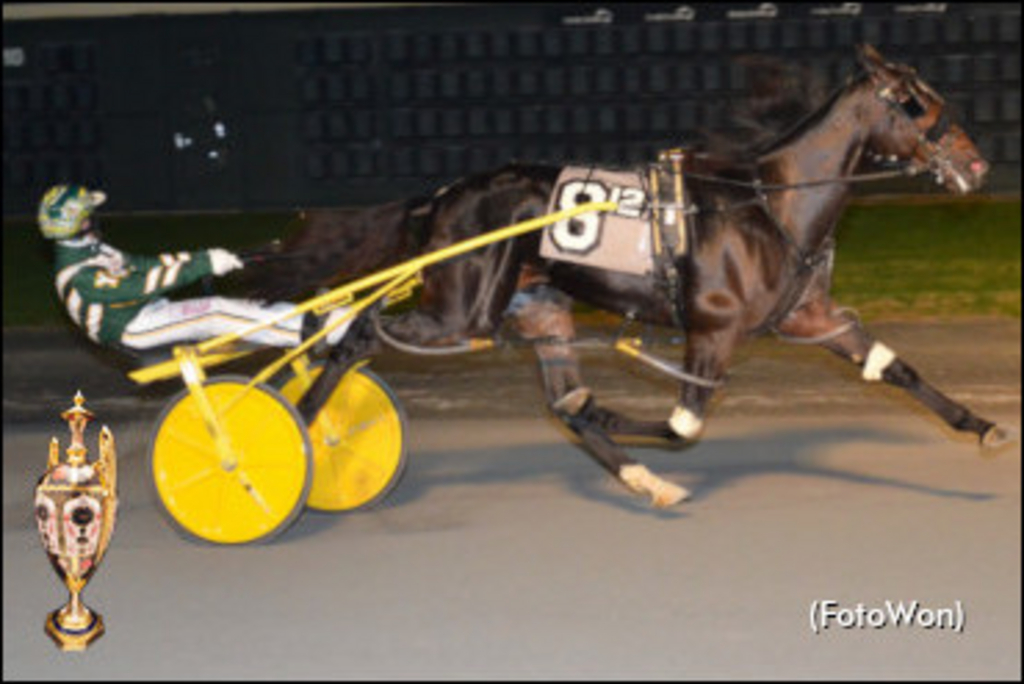 Published:
April 19, 2021 01:10 pm EDT

Trot Magazine continues to take a close look at some of the top contenders for the 2021 edition of the Pepsi North America Cup while the continent's premier sophomore pacers prepare to tackle Canada's marquee event.
At 7-1, Southwind Gendry comes in at No. 3 in Trot Magazine's Pepsi North America Cup Spring Book.
In an ambitious rookie season, the son of Always B Miki and Gamblers Passion won 10 of 13 races and banked over $583,069 for the Burke Racing Stable, Phil Collura, Knox Services Inc. and J&T Silva-Purnel & Libby. After winning the Pennsylvania Sire Stakes championship, Southwind Gendry proved himself capably on the Grand Circuit with a 1:50 win in the International Stallion Stakes at Lexington, and matched that mark in the Matron Stakes at Dover Downs after coming up a head short of Perfect Sting and stablemate Summa Cum Laude in the Breeders Crown.
Trot Insider caught up with trainer Ron Burke for an update on Southwind Gendry.
Where did Southwind Gendry winter, and when did you start back with him?
"All the top ones went to Chris Coyle's in North Carolina, which we do every year. Around the 15th (of March) or so, we picked them up. That's about when we do it every year — when we can find time to go get them. The horses always make it back; it's not that big of a deal."
Have you noticed any changes from last year to this year?
"He actually got better, and I do think he got a little bit bigger. He's a bigger colt, too, but I think he's even a bigger colt now. I'm really, really impressed with him. He was a horse that was kind of a surprise to us last year, and continued to surprise us all the way down. And I still think he's on the upward curve. He trained back unbelievably the other day, and I don't know if we've had a three-year-old that has come back sharper than he has. I swear, he's in midseason form right now. I would race him tomorrow if they wanted to race him; it wouldn't bother me. He's sharp; he's really good. Every time we trained him, he's done more than we've asked and done it easily."
Your thoughts on his April 17 qualifier and what will his early schedule look like leading up to the Pepsi North America Cup?
"He did everything we asked him to [on Saturday]. He definitely will go to The Meadows on May 1, and he may or may not go to the first Pocono race. He will go to the second one at Philadelphia, and then from there... I'm not a big schedule maker, as far as trying to figure out what I'm going to do all the way down the road. The day after you race this race, start figuring out what your next race is. Have them ready for the race you're in, and usually if you take care of them that way, they'll take care of you going forward."
Did you get the COVID-19 vaccine, or will you be vaccinated by the time the North America Cup rolls around?
"New Jersey vaccinated my whole barn a month ago. They came in for anybody who wanted it, the Johnson & Johnson, one shot. Boom, boom, boom; one after another, they did us all."
What does his tentative schedule look like after the North America Cup?
"He's staked to everything."
What is his biggest asset or strength?
"He's a winner. That's his biggest thing. He wants to win. And that's what we didn't understand until we put him in a qualifier, and he came off the back of a horse and blew them away. Whatever he needs to do to win, he does."
At what point last year did you think this horse was North America Cup material?
"His first start, when he made a break, but he was going to win against good horses, and we were like, 'You don't do what he did right there without being talented.' And then, we found you could put him in any situation and he would try to win. That you cannot replace."
Aside from Summa Cum Laude, any other three-year-old stablemates in the barn right now that are paid up and also looking promising?
"I have Heart Of Chewbacca, who I think is a killer. Last year, he went some unbelievable miles. I have Lunar, who's undefeated in his career. He was one of my top two-year-olds last year, and he had a freak accident warming up for his first Sire Stakes and something hit his leg. He got a stress fracture and I shut him down. He's never been asked yet. I have a whole bunch that are legit, I think. I have the best three-year-olds I've had, ever. I'm excited."