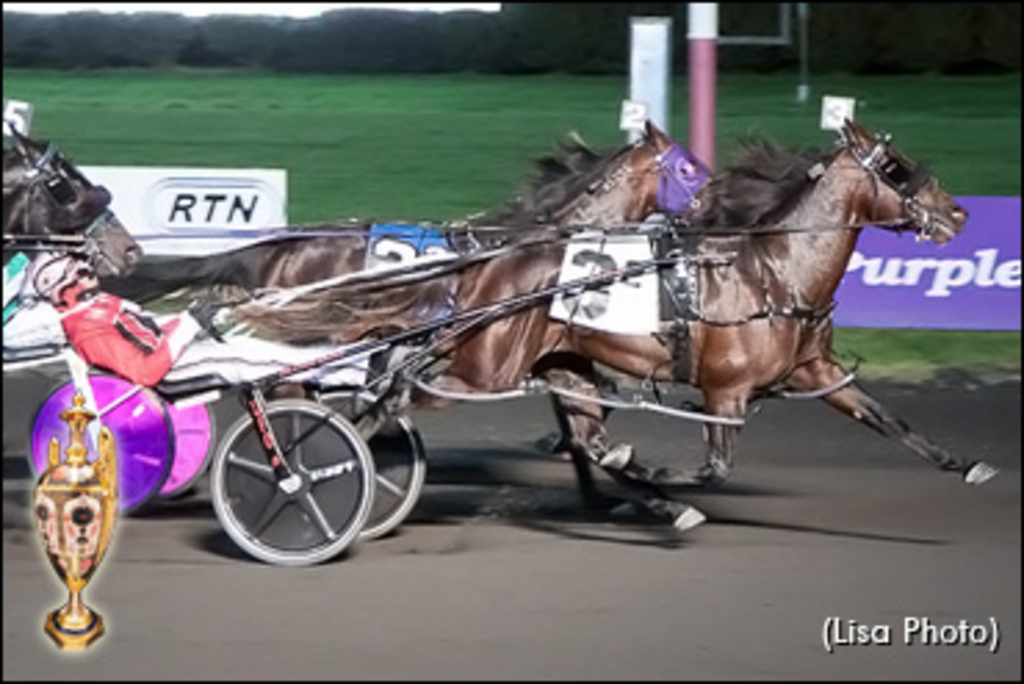 Published:
April 15, 2021 06:10 pm EDT

The 2021 edition of the Pepsi North America Cup looms closer with each passing day, and Trot Magazine continues to profile some of the race's top contenders ahead of the million-dollar classic.
At 14-1, Always A Miki comes in at No. 5 in Trot Magazine's Pepsi North America Cup Spring Book.
The royally-bred sophomore, by Always B Miki and out of half-million-dollar earner Beach Gal, looks to build on a five-win rookie season which included two Pennsylvania Sire Stakes preliminary events and culminated with a 1:50.2 win in the $371,900 Governor's Cup at The Meadowlands.
Now, after a well-deserved winter off, Always A Miki has his sights set on even greater heights for the partnership of Christina Takter, Göran Anderberg, Herb Liverman and the Rojan Stables, for whom he banked $331,261 as a juvenile. Trot Insider caught up with trainer Nancy Takter for an update on Always A Miki.
Where did Always A Miki winter and when did you start back with him?
"He was turned out in New Jersey, and he came back right around New Year's."
Have you noticed any changes from last year to this year?
"Really not that much has changed about him. He unfortunately didn't grow very much in height, but he filled out quite a bit. He definitely has no idea that he's not very big. Nobody put a mirror in front of him any time soon! He's got a lot of fight."
What will his early schedule look like leading up to the Pepsi North America Cup?
"I'm thinking that his first start for the year will be in the Pennsylvania All-Stars at Pocono. The following week, there's a Pennsylvania Sire Stakes at Pocono that he'll probably go to, and then we'd have to check — it's far in advance. But that's the general plan right now."
Did you get the COVID-19 vaccine, or will you be vaccinated by the time the North America Cup rolls around?
"I got vaccinated in February, and all of my staff have been vaccinated."
What does his tentative schedule look like after the North America Cup?
"He's in everything, pretty much. He has the Messenger (at Yonkers) following the North America Cup."
What's his biggest asset?
"He's got a big heart to him. He loves to race. He screws around when we train, and he's a little bit of a pain in the butt, actually ... but when I saw him when he went to the gate on Saturday, you could just see the excitement in him, like, 'Yes! I actually get to race today!' He just loves to race."
At what point last year did you think this horse was North America Cup material?
"He always trained down really well, and he was always a little bit of a fighter. And then, his first start of the year, he was the season's leader. He won the Pennsylvania Sire Stakes at (Harrah's Philadelphia) in 1:52 and a piece. He showed pretty early that he was a horse that could have that potential. His mom was a good horse, too. He's bred to be a good horse."
One Eight Hundred made waves in his first sophomore start at Pocono. Any other three-year-old stablemates in the barn right now that are paid up and also looking promising?
"Red Right Hand, if he continues to go the right direction, and Caviart Lotus is also staked to the North America Cup. He was always right there; he just had a little bit of bad luck ... He always finishes his miles really well. He's kind of a wild card — he's very average when he trains, but he always shows up with these big last quarters when he races."
How would it feel to win your third straight North America Cup with one of these horses?
"If you can win any race three times in a row — I don't care if it's the New Jersey Sire Stakes — if you win it three times in a row, it's pretty wonderful. To win the N.A. Cup three times in a row, nobody's done that! Even just to be participating in the North America Cup three years in a row would be a big thing. I would have to be pretty proud of my work and my team's work and my horses' work even if we could just participate three years in a row. If we happen to win with any one of the horses, that would be fantastic. I think the icing on the cake would be if One Eight Hundred or Red Right Hand won, which I own pieces of! I'm not going to get greedy; I just need a winner."