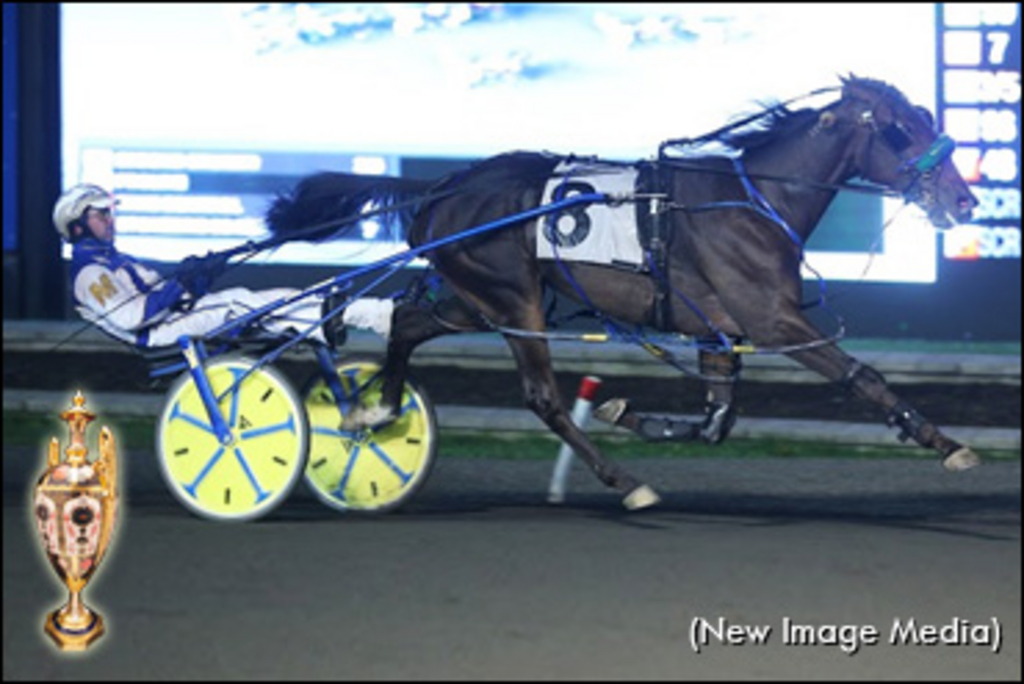 Published:
April 12, 2021 11:10 am EDT

The countdown continues to the 2021 Pepsi North America Cup, and Trot Magazine has profiled some of the horses predicted to be the top contenders for one of Canadian harness racing's richest prizes.
At 20-1, Second Bruiser checks in at #7 in Trot Magazine's 2021 Pepsi North America Cup Spring Book.
Coming from a unique bloodline as a son of Ontario stallion Believeinbruiser and out of a dam with a pedigree including trotting star Valley Victory, Second Bruiser quickly felt like the best horse his trainer Vernon Cochrane ever sat behind. The Stefan Piekos homebred, co-owned by Cochrane, got a late start to his two-year-old season due to health issues, but made quick work of his time off when hitting the track.
Second Bruiser made his pari-mutuel debut last year at the end of August, finishing eighth while uncorking a :26.3 final quarter. He promptly dropped into the Grassroots Series the following week and pulled a 20-1 upset before rolling to four-straight victories timed in 1:51.4, culminating with a victory in the $75,000 Grassroots Final. In total, the gelding earned $70,825 from just five starts.
Trot Insider caught up with trainer Vernon Cochrane to get an update on Second Bruiser.
Where did he winter and when did you start back with him?
"I don't know the exact date or whatever, but I had him by February, March. I kept him here for a couple weeks after the Grassroots final. Kept him here basically for the rest of October. I still jogged him once or twice a week; I kind of let him down slow. And then we took him home; he went back home to Stefan, and spent five to six weeks there. Just him and his mommy, he had to go back to his mom.
"He was on schedule to start training at Mohawk now, but obviously with the shutdown I'm not really sure what I'm going to do from this point. I've been 2:05 with him here [at Manestreet Stable]—as much speed as I'd really want to make on our half mile here. I'm kind of looking into options [like] taking him to another training center, Classy Lane or something with a bigger track. Starting to get some bigger miles into him is kind of worrisome now with stakes season coming up, and me not being able to go the miles I need to go with him. I'm kind of up in the air right now. I'm even thinking of sending him to the states or whatever. I don't know."
Have you noticed any changes from last year to this year?
"Obviously he's always had a great attitude. He was a big colt last year, but he definitely grew a little bit and filled out and matured. He's a late foal, I think he's a May 30 foal or something like that, so he definitely did a little growing. But he was always a big strong colt."
What will his early schedule look like leading up to the Pepsi North America Cup?
"We were definitely pointing him to the first Gold. James [MacDonald] had always said to me last year that—in his opinion—he was as good as any of the Gold colts. It was just a matter of timing; we just missed the Golds last year.
"He's only paid into OSS. Basically my only option this year was to pay into OSS, Somebeachsomewhere and North America Cup. Those were the only things I could pay him into that he didn't have to be nominated to as a yearling. [My] hands were kind of tied. Of course I wouldn't be making those payments if I didn't think he was going to be competitive, either. I'm not just paying the money for something to do.
"That's basically all I'm pointing him for this year really. I wanted a couple of qualifiers before stakes season and maybe an overnight or two. Other than that, where he fits and where he's got to go, it doesn't make sense for me to race him too much else."
Did you get the COVID-19 vaccine / Will you and your team be vaccinated by the time the North America Cup rolls around?
"I'm still on the waiting list. It's getting out pretty slow in Canada. It's going by age group now or whatever, and they haven't gotten to my age group yet."
What does his tentative schedule look like after the North America Cup?
"[Supplementing] is something we'd consider. We'd just like to wait and see where things lead us first. I think somebody told me I'd be able to supplement him to the Jug if he won the North America Cup. If we get lucky enough to win some of those races where we were eligible to supplement, that's definitely something we would consider."
What's his biggest asset / strength?
"A lot of people have asked me that, and really what it comes down to—I don't really know how to answer that. He's just has such a big desire to win races. He's got a flawless gait, he's big, he's strong, he's fast, and he likes to win. He's got all the physical attributes and he's got the desire in him.
"He's a type of colt—he showed last year that he can do it from anywhere. He can do it on the lead, from off the pace, three wide, first over… he's just the type of animal [that] he's just so professional. As a two-year-old, he was like an aged horse. You just did anything that you wanted to do with him."
At what point last year did you think this horse was North America Cup material?
"Training down, he always demonstrated that he was a good colt. But you never know how good until they get racing. When he started racing and he was winning those races in [1:]51 and change with upmost of ease, just under wraps—this colt was never pushed in any of those miles last year, sometimes with the plugs still in. That takes a special animal. I thought at that point, how much could he go if we actually asked him to go? I honestly believed last year he had 1:50 speed in him at least if he was ever pushed or asked to go there. So who knows this year as a three-year-old. Hopefully he's faster—he's bigger, he's stronger, and I think faster."