Published:
November 9, 2011 02:51 pm EST
A loyal racing fan for over three decades, Michael 'Iron Mike' McComish has his entire family looking to him for a victory in the $25,000 Trot Canada National Handicapping Championship after a promise to treat them to a trip to Disney World should he win
.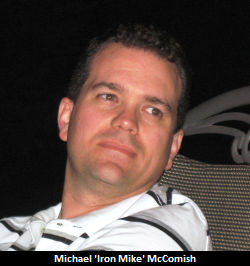 McComish, an accounting administrator from Brampton, Ont., earned his place in the championship via a qualifying event at Flamboro Downs --- and he is no novice when it comes to handicapping challenges. Last year, McComish cashed over $3,000 in a Woodbine Extreme event.
Here's what we know about McComish.
Quick Stats
Favourite Racetrack: Woodbine & Mohawk
Favourite Driver: The one who drives my next winner
Favourite Horse of All Time: Somebeachsomewhere & Dance Smartly
Favourite Movie: The Sting
Why Michael LOVES Canadian Harness Racing: "I love the quick paced action and the great atmosphere at the smaller tracks"
When asked who his big screen twin would be, Fred Flintstone was Michael's unexpected reply! "He has great friends and family and he loves to 'bet, bet, bet!!!'
Will the Flintstone clan, or rather, the McComish family, meet Mickey Mouse over winter break? We'll have to wait and see!
For more on the TCNHC, click here.
Related Stories
• TCNHC Player Profile: Conrad Perry
• TCNHC Player Profile: Adam Graham
• TCNHC Player Profile: Susan Berrey
• TCNHC Player Profile: Corrine Lichty
• TCNHC Player Profile: Bill Porter
• TCNHC Player Profile: Albert Czerniga
• TCNHC Player Profile: William Beacham