Published:
October 31, 2011 10:35 am EDT
TCNHC Officials are busy preparing for this year's championship, which is less than three weeks away, and so is Susan 'Susie' Berrey, a Celine Dion and puppy-loving educational assistant from Whitby, Ont.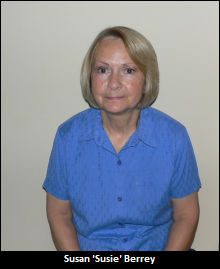 Here's what SC's Marketing Department found out about Berrey.
Quick Stats:
Favourite Racetrack: Kawartha Downs
Favourite Driver: Gord Brown
Favourite Horse of All Time: Hazel Adele (shares a name with her mother-in-law)
Hobbies: Gardening, photography and fishing
Why Susan LOVES Canadian Harness Racing: "I enjoy the challenge of trying to pick a winning horse out of the line up. It is great fun and an evening out with lots of entertainment!"
Berrey has been a racing fan for three years and has yet to cash a ticket over $18, but she is excited to be taking part in this year's championship and is hopeful that her novice status will warrant some beginner's luck. "If I'm lucky enough to win any money," she says, "I'll invest it or update my kitchen at the cottage!"
For more on the TCNHC, click here.
Related Stories
• TCNHC Player Profile: Corrine Lichty
• TCNHC Player Profile: Bill Porter
• TCNHC Player Profile: Albert Czerniga
• TCNHC Player Profile: William Beacham