Published:
November 2, 2011 03:43 pm EDT
Adam 'Grammy' Graham is relatively new to the world of harness racing compared to some of the Trot Canada National Handicapping Championship's more veteran competitors
.
Graham caught the racing bug only two short years ago, but, that being said, he must have a lucky horseshoe tucked away somewhere. He recently cashed in on a sizable superfecta and has now qualified for the $25,000 grand prize at this year's TCNHC. Question is, will this streak of his continue?
Want to know more about Graham?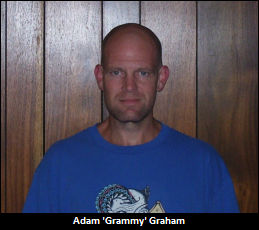 Quick Stats:
Favourite Racetrack: Clinton Raceway
Favourite Driver: Ross Battin
Favourite Horse of All Time: Maybe not the best, but my favourite horse is Eat Me Up
Favourite Movie: The Blues Brothers
Why Adam LOVES Canadian Harness Racing: "I see the race program as a problem to solve. If I am able to solve the problem, I win money! Also, I love the sound of the horses charging towards the finish line."
Although Adam claims his cartoon alter ego would probably be Duff Man from 'The Simpsons,' Adam won't be spending his TCNHC winnings on blue tights and a two-four of suds. Instead, he'll invest in a new car and TV and purchase a new computer for his parents.
For more on the TCNHC, click here.
Related Stories
• TCNHC Player Profile: Susan Berrey
• TCNHC Player Profile: Corrine Lichty
• TCNHC Player Profile: Bill Porter
• TCNHC Player Profile: Albert Czerniga
• TCNHC Player Profile: William Beacham