Published:
November 3, 2011 03:24 pm EDT
Canada Revenue Agency Civil Servant Conrad 'Rad' Perry will be travelling all the way from Clermont, PEI for this year's TCNHC
.
Perry, who has been a keen racing fan for 35 years, is a return competitor to the TCNHC, as he battled away in the 2010 edition of the coveted national competition.
If the $25,000 were awarded to the person with the most harness racing knowledge, Conrad would have it in the bag… or bank, rather. He's an enthusiastic trivia buff that also enjoys painting, cooking and travelling in his free time.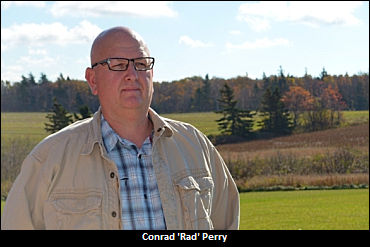 Here are some quick facts about Perry:
Favourite Racetrack: Summerside Raceway
Favourite Driver: Walter Cheverie
Favourite Horse of All Time: Cam Fella
Favourite Music & Movie: U2 & The Full Monty
Why Conrad LOVES Canadian Harness Racing: "I grew up two blocks from our local track and spent many days there as a teenager. I went from cleaning stalls, to jogging horses, to becoming an avid fan and handicapper."
Perry will be building himself a brand new detached garage should he win next weekend's TCHNC.
For more on the TCNHC, click here.
Related Stories
• TCNHC Player Profile: Adam Graham
• TCNHC Player Profile: Susan Berrey
• TCNHC Player Profile: Corrine Lichty
• TCNHC Player Profile: Bill Porter
• TCNHC Player Profile: Albert Czerniga
• TCNHC Player Profile: William Beacham