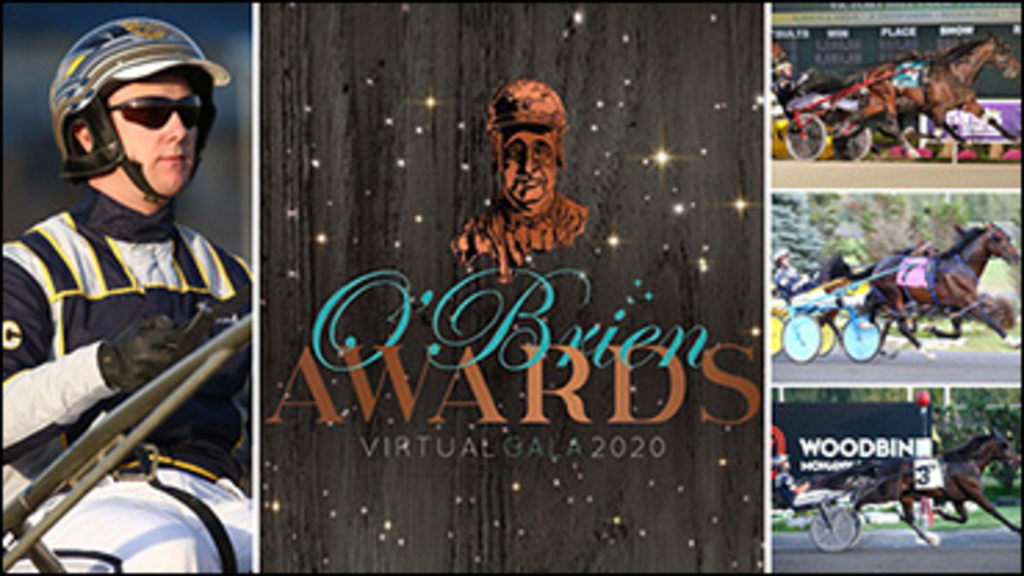 Published:
February 5, 2021 07:24 pm EST
There is one thing Bob McClure wishes he was better at, but it's not cooking and it's definitely not driving.
McClure, Canada's Driver of the Year for 2020 recently discussed his award win with a ton of both happiness and relief.
"After having three go the wrong way it was finally nice to have one go the right way," McClure remarked with a grin in an interview with SC's Rachel Oenema. McClure of Rockwood, Ont., won his first O'Brien trophy as Canada's Driver of the Year following a career-best season for earnings. He was the country's leading money winning driver and he also reached several major milestones last year -- eclipsing the $7 million mark in earnings, winning his first Breeders Crown Championship and capturing the Lampman Cup as the Ontario Sires Stakes' leading driver.
Some of the horses that McClure regularly drove who contributed to his earnings milestone and 233 trips to the winner's circle included divisional champions Donna Soprano, Lauras Love, Lawless Shadow and Tattoo Artist while sharing the driving duties aboard On A Streak, who gave him his first Breeders Crown last October.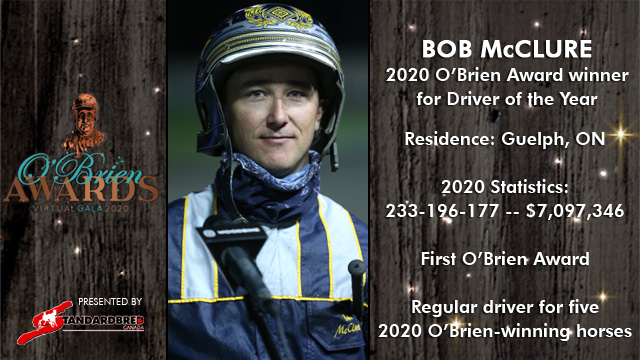 "The Breeders Crown was obviously big, getting my first Breeders Crown," noted McClure as he recounted his seasonal highlights. "And the Peaceful Way [with Donna Soprano], just because it's such a special filly that won it, and the way she won it. And obviously driving Tattoo Artist in the North America Cup and finishing a close second. That was a pretty great thrill, too."
The thrill of the North America Cup second-place finish almost didn't happen for McClure, as he recalled a decision he made earlier in the year that nearly backfired.
"I got really lucky too, because there was another colt that came along -- Indictable Hanover -- and I was driving him. And it came to the point that I had to pick between the two and I picked the wrong one. And I got beat up by Tattoo Artist that night. I got really lucky that won with Lawless Shadow, who won another O'Brien Award for Dr. Ian Moore, about two or three days later. He kind of said to me 'you took the wrong colt!' and I said 'I know.' And he said 'well, do you want the other one back?' and I said 'yeah! I do!' And I got really lucky because I made a lot of money and had a lot of thrills with him."
In addition to McClure's two O'Brien Award winners courtesy Dr. Ian Moore, McClure also guided three nominees and two winners for trainer Luc Blais -- champions On A Streak and Donna Soprano as well as finalist Macho Martini. McClure most certainly has his favourite of the group.
"Donna Soprano, she's just different. Donna's a different caliber than the other two-year-old trotters we had, and they were standouts. On A Streak, at least near the end [of the year] showed he was within the top five colts in North America and Donna Soprano, she went up against him in the [Mohawk] Million and beat him by five lengths with a tough trip. She'll stick in my mind forever, even if something happens and she doesn't come back as good at three, she was just an absolute drive to blast this year."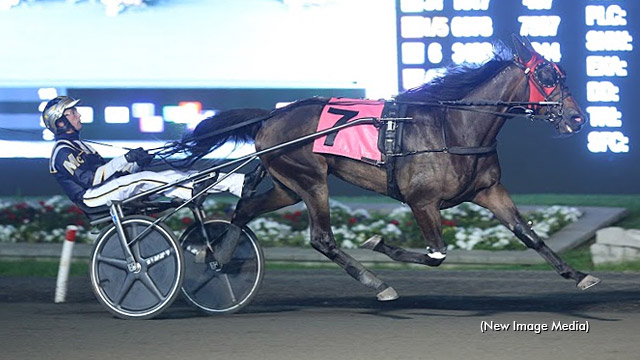 After the career year in 2020 for earnings, and with a Breeders Crown crystal on his mantle next to his Hambletonian trophy from 2019, McClure doesn't have his sights set on topping those numbers or winning a certain stakes event in 2021.
"I'm not in control of my own fate," said McClure when asked about setting goals, "either you get listed on the good horses or you don't. So it's kind of hard to set goals as a driver, I find. But at the same time, I didn't think with the two months off I could duplicate 2019; 2019 was a terrific year too. It was well beyond what I was expecting.
"If I could even come close [in 2021] to the year I had this past year, I'd be perfectly fine with that."
One thing he's not fine with is his golf game, as he admits during a series of non-harness racing related rapid fire questions. Check out the full interview with McClure below.
This is the first in a series of post-event video interviews with O'Brien Award winners, sponsored by Horse Racing Alberta. The 2020 O'Brien Awards gala was covered live on the SC website, with a photo gallery of winners and a virtual photo album as part of the coverage. The official list of winners is available here, with official vote totals posted here.