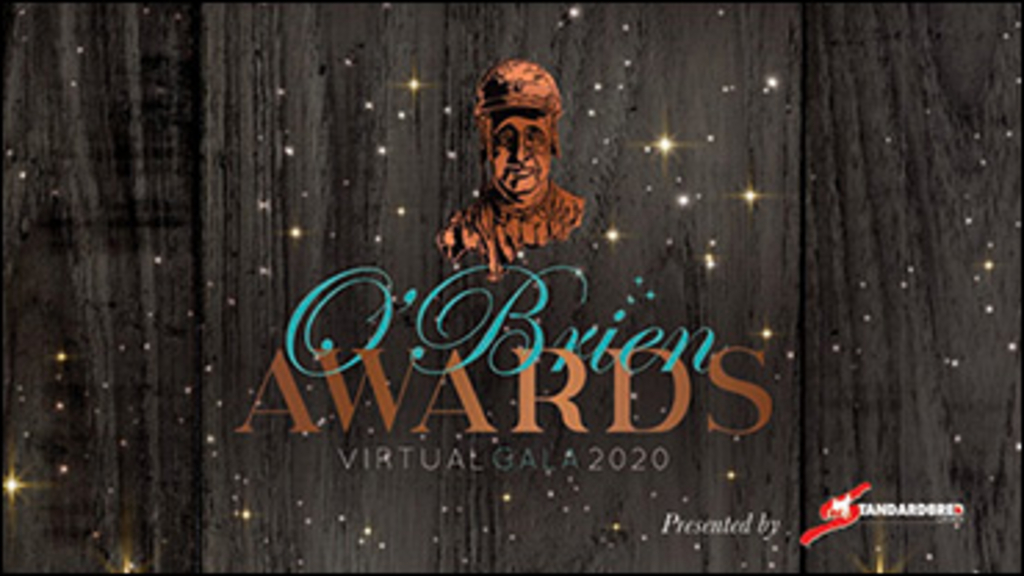 Published:
February 3, 2021 07:57 pm EST
Standardbred Canada has released the breakdown of the voting for the 2020 O'Brien Awards. The Virtual O'Brien Awards Gala took place Sunday, January 31, 2021 and was video streamed live on standardbredcanada.ca.
The complete breakdown of the official voting appears below. Thirty-seven voters from across the country, which includes one Fan Ballot (put together based on all of the Fan voting) comprised the voting. Voters voted for a first and second selection in each category, except for Horse of the Year, where they were asked to vote for only one horse.
First place votes were worth two (2) points and second place votes were worth one (1) point.
In the event of a tie, the horse or person with the most first place votes was the winner. If both horses / people had the same number of first place votes, then the horse or person with the most second place votes was the winner. If there was also an equal number of second place votes, then a tie is declared.
A unanimous score would be 74 points.
Two-Year-Old Pacing Fillies
Scarlett Hanover – 69
Caviart Audrey – 27
Bet On Becky – 7
Best Head West – 2
Twin B Sunkissed – 2
Voelz Delight – 2
Custard Smoothie– 1
Notorious Pink – 1
Two-Year-Old Pacing Colts
Lawless Shadow – 39
Bulldog Hanover – 35
Woodmere Stealdeal – 29
Bettor Sun – 4
Abuckabett Hanover – 2
No Vote - 2
Three-Year-Old Pacing Fillies
Lauras Love – 62
Karma Seelster – 24
Sex Appeal – 7
Probert – 6
Alicorn – 3
Lady Lou – 3
Perfect Storm – 3
Woodmere Skyroller – 3
Three-Year-Old Pacing Colts
Tattoo Artist – 65
Major Custard – 19
Beaumond Hanover – 15
Warrawee Vital – 10
Captain Barbossa – 2
Older Pacing Mares
So Much More – 70
Lit De Rose – 20
Kendall Seelster – 13
Warrawee Ubeaut - 8
Older Pacing Horses
Century Farroh – 65
Sintra – 40
Points North – 3
Nickel Bag – 1
Time To Dance – 1
Wheels On Fire – 1
Future Star Award
Austin Sorrie – 46
Rachel Andrew – 40
Francis Richard – 22
No Vote - 3
O'Brien Award of Horsemanship
Kelly Hoerdt - 46
Gilles Barrieau – 42
Shawn Steacy - 23
Driver of the Year
Bob McClure – 52
Doug McNair – 36
Sylvain Filion – 11
No Vote - 3
Trevor Henry – 2
Yannick Gingras – 2
Louis-Philippe Roy – 2
Brandon Campbell – 1
Dave Kelly – 1
James MacDonald – 1
Two-Year-Old Trotting Fillies
Donna Soprano – 71
Imextraspecial – 31
Dashing Muscle – 8
Mag N Lady - 1
Two-Year-Old Trotting Colts
On A Streak – 72
Macho Martini - 34
Fashion Frenzie – 4
Kinnder Dangerzone - 1
Three-Year-Old Trotting Fillies
Sorella – 50
Warrawee Vicky – 35
Magic Cape – 12
Profound Paragon – 6
Royalty Deal – 5
Trina – 2
Kinnder High Class - 1
Three-Year-Old Trotting Colts
Pemberton – 63
Ready For Moni - 37
Hayek – 6
HP Royal Theo - 4
Play Trix On Me - 1
Older Trotting Mares
Hey Livvy – 63
P L Jill – 46
Delilah Seelster – 1
Grandma Heidi – 1
Older Trotting Horses
Perfetto – 49
On The Ropes – 28
Oney Hall – 14
Mister Magic – 11
Mass Fortune K – 7
B Yoyo – 1
Mile Hill Willie – 1
Armstrong Breeder of the Year
Seelster Farms - 48
Warrawee Farm – 43
Surdale Farms Ltd. and Allan Neurauter - 20
Trainer of the Year
Richard Moreau – 37
Ben Baillargeon – 29
Luc Blais – 26
Dr. Ian Moore – 9
Carmen Auciello - 4
Marc Campbell – 2
Kelly Hoerdt – 2
Robert Fellows – 1
Julie Walker – 1
Horse Of The Year (Only one (1) vote per person; 37 voters)
Century Farroh – 10
Tattoo Artist – 9
So Much More – 4
On A Streak – 3
Pemberton – 3
Donna Soprano – 2
Sorella – 2
Woodmere Stealdeal – 2
Fashion Frenzie - 1
Ready For Moni - 1