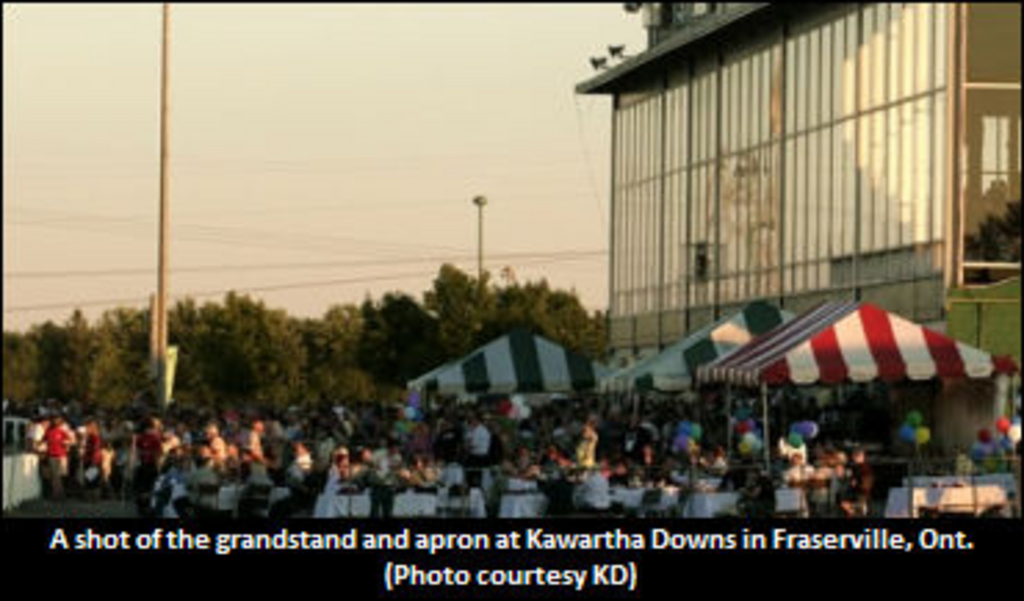 Published:
March 27, 2013 07:04 am EDT
It has been reported that there is a chance live racing at Kawartha Downs could continue.
According to a report by CTV News, Ontario's minority Liberals have said that they are still in 'discussions' with six tracks, those being Ajax Downs, Dresden Raceway, Kawartha Downs, Rideau-Carleton Raceway, Sudbury Downs and Woodstock Raceway.
Officials with Kawartha Downs had confirmed earlier this month that live racing at the Fraserville, Ont. track would not continue once the slots-at-racetracks agreement was terminated due to the fact that the raceway was not able to reach a transitional funding agreement with the province (although, a tentative deal to see slot machines remain at the track was reached in December of 2012). Peterborough City Council decided that it would not back Cavan Monaghan Township, which is home to Kawartha Downs, as a possible future casino/gaming location under the Ontario Lottery and Gaming Corp.'s gaming modernization plan. Ontario Minister of Rural Affairs Jeff Leal then went on the record as saying that the Ontario Liberals did not receive a counter-offer from Kawartha Downs owner Harvey 'Skip' Ambrose for transitional funding. The entire issue --- which led to a protest at the track --- drew the ire of Progressive Conservative MP Dean Del Mastro, who chastised Premier Kathleen Wynne's minority Ontario Government over the way it has allowed the situation at Kawartha Downs to unfold.
The Ontario Liberals announced on Tuesday via press release that it had reached transitional funding agreements with three provincial racetracks (Flamboro Downs, Fort Erie Race Track and Georgian Downs). The transitional funding announcement is the third of its kind since the Provincial Liberal Party dropped the bombshell in 2012 that it would be terminating the slots-at-racetracks program effective March 31, 2013.
The first of the announcements came this past January and pertained to the continuation of live racing at Woodbine Racetrack and Mohawk Racetrack (for expanded coverage of that announcement, click here). The second of the announcements came earlier this month at Grand River Raceway, where it was announced that transitional funding deals had been reached with Grand River Raceway, The Raceway at the Western Fair District, Clinton Raceway and Hanover Raceway. It was also made clear during the Grand River Raceway announcement that horse racing would be incorporated into the Ontario Lottery and Gaming Corporation's gaming modernization plan.
As the Ontario Liberals were circulating a press release to announce the Flamboro/Fort Erie/Georgian deals, Ontario Premier Kathleen Wynne was in Clinton, Ont., where she commented to the media regarding the horse-racing industry.
The CTV News article quoted Premier Wynne as saying, "It's (the Ontario horse-racing industry is) going to be smaller, I acknowledge that, and it's hard when there are job losses and I know there were some job losses over the last couple of weeks," adding, "But the fact is that we are saving jobs, we're preserving jobs and we're preserving an industry that's important to both rural and urban Ontario."
The CTV News article reached New Democratic Party Leader Andrea Horwath on the issue, and she was cited as saying that her party 'would suspend plans to end the sharing of slot machine revenue, and take the time to come up with a "real plan" for the horse racing industry.'
The report directly quoted Horwath as saying, "The government decided to pull the plug on this industry and now they're trying to scramble to figure out how to put it back together without having a real plan in place."
(With files from CTV News)