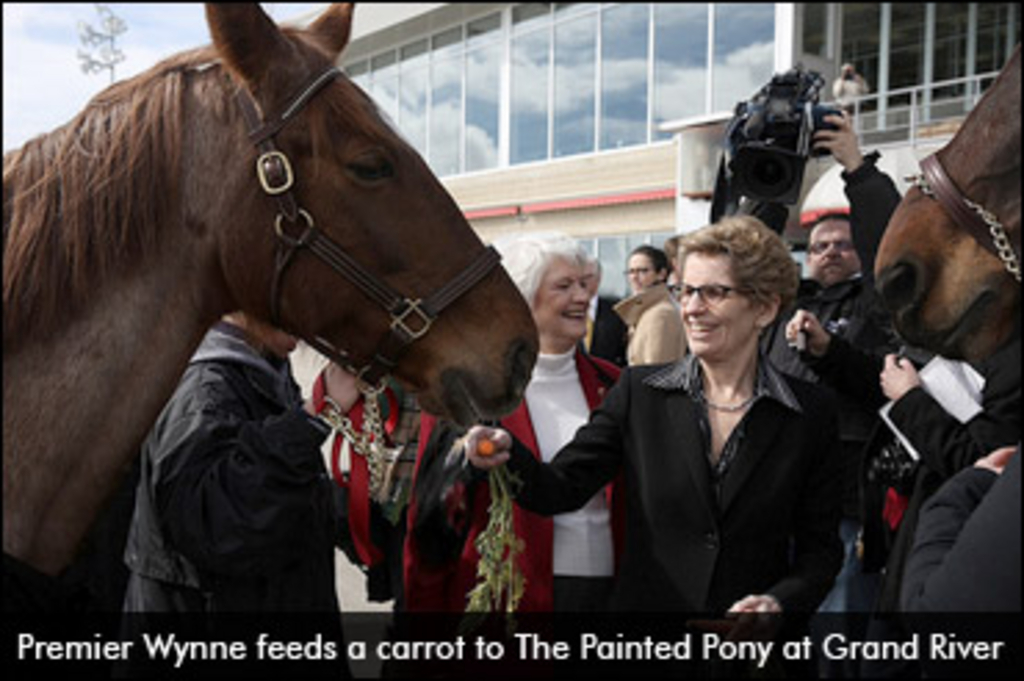 Published:
March 8, 2013 12:01 pm EST

Ontario's horse racing industry waited with bated breath on Friday, March 8 for Premier Kathleen Wynne to make her much-anticipated announcement regarding the future of racing in the province.
"The reason there are so many of you here today is because this is such an important industry, and I know you've got lots of questions about how we're going to go forward," said Wynne, who has also taken on the role of Minister of Agriculture and Food for the province.
Flanked by Grand River Raceway GM Dr. Ted Clarke, local Liberal MPP Liz Sandals, and members of the Ontario Ministry of Agriculture, Food and Rural Affairs Horse-Racing Transitional Panel, Premier Wynne announced that in addition to the agreement reached weeks ago with the Woodbine Entertainment Group (operators of Woodbine Racetrack and Mohawk Racetrack), the Ontario Government has also now reached three-year 'transition-funding' agreements with Grand River Raceway, The Raceway at the Western Fair District, Clinton Raceway and Hanover Raceway. "We expect more to come in the weeks to come," said Wynne, who added that "negotiations are still ongoing."
Wynne stated that rent agreements between the Ontario Government and provincial raceways have been reached with 14 racetracks in order for Ontario Lottery and Gaming Corp. to keep its slot machines running as a stop-gap measure between the termination of the slots-at-racetracks program and the next phase in the OLG's gaming modernization process. Wynne also stated that not all of the transition agreements have been reached as of yet.
Touching on the race date issue for the 2013 season, Wynne said that her government is "working to ensure that the dates for the 2013 racing season will be in place and provide long-term stability to the industry." Trot Magazine Editor Darryl Kaplan was present at the Friday announcement, where Grand River's Dr. Clarke told him that the Elora raceway will host 50 live race dates in 2013, compared to 66 in 2012.
Although there was nothing technically binding in what she said, and although no specifics were given, Premier Wynne did mention and reiterate that she wants to see the Ontario horse racing industry integrated into the OLG's gaming modernization plan. Although, OLG Chair Paul Godfrey has made absolutely no specific mention of amalgamating Ontario's horse-racing industry into his organization's gaming plans going forward.
Regardless of Godfrey not having mentioned it, Premier Wynne clearly went on the record as saying that there will be a marriage between Ontario horse racing and OLG modernization going forward, and that horse racing will have access to revenue streams from "new and different gaming opportunities" going forward. Wynne said, "I would like to see the integration of the two -- of the policy, yeah." A lengthy quote from Premier Wynne on the topic appears below.
"One of the key recommendations of the panel was to integrate horse racing with the provincial gaming strategy, and I am committing to the sector that we are going to make that happen. It has been made clear to me -- and I absolutely accept -- that it makes more sense for us to integrate these two endeavours, and that's what is going to happen. We are going to ensure that racetracks will have access to revenue from new and different gaming opportunities -- that was another recommendation from the transition panel -- in order to have that sustainable future. I remain committed to implementing those changes. We have been, and we will continue to work in consultation with the industry partners for the long-term good of the industry."
Later, Transitional Panel member John Wilkinson took the opportunity to address a question from the media regarding the marriage of the horse racing and the gaming industry. He stated that it has been proven, globally, that any jurisdiction that has both a strong horse racing and gaming industry has to see the two entities work in conjunction with each other both directly and symbiotically. A quote from Wilkinson on the matter appears below.
"What we found is that you can see in other jurisdictions around the world that where there is an integration of gaming policy and horse racing that you have a number of very sustainable models. There are many of them. Things like the V75 and the PMU in Europe. There's sports betting, there's racinos around the world. And where we see that there is a good relationship --- a symbiotic relationship --- between gaming and horse racing (where you have a sustainable, vibrant horse-racing industry) we could not find any other jurisdiction that did not have that relationship that had a sustainable horse-racing industry, which is why we heard loud and clear from the industry that that be integrated from a policy point of view, and we're just delighted that that is a recommendation that is key to be able to have a future for the industry because that is what they (the Ontario horse-racing industry) are waiting to hear, 'is there a future?' And that is an extremely important aspect for those people that are in the industry, to see that there is a future that is going to be sustainable based on best practices around the world."
Wilkinson, in defending the work, conclusions, and recommendations of the Transitional Panel's report, stated that the panel's report calls for transparency in an industry that is a robust tax generator for the province. His comments appear below.
"When the final report was released, the work of Elmer (Elmer Buchannan) and John (John Snobelen) and I, we said, 'What is in the public interest, versus what was going on?' Going forward, our advice --- our consensus advice --- is that any new arrangement had to be accountable, had to be transparent, that the industry had to be focused on the customer, and that any money going from the government to the industry would be returned, plus more by way of taxes. This industry generates HST and income taxes back to the government. So we said, 'That's the way that you look at it, from a good public policy (perspective).' That was not the case under the old system (SARP), which is why we agreed that it needed to be reformed, but it is exactly why under this new arrangement you will have a relationship between the government and the industry which is accountable, which is transparent, which is based not on slot machines, but on the customer to the horse-racing industry. One, as well, will provide for Minister Sousa (Ontario Finance Minister Charles Sousa) a positive rate of return, and that is what is good for taxpayers."
A excerpt from an official Ontario Government release sent out during the press conference states that "following recommendations from the Horse Racing Industry Transition Panel Report, the province intends to:"
In consultation with the Ontario Horse Racing Industry Association, integrate horse racing with the provincial gaming strategy to ensure future revenue streams for the industry.
Complete agreements with interested race tracks in the coming weeks to provide transition funding for the next three years in order to ensure horse racing in the province.
A section displaying the Twitter feed from Kaplan and Standardbredcanada.ca's Brittney Mayotte, who were both at the press conference, appears below.