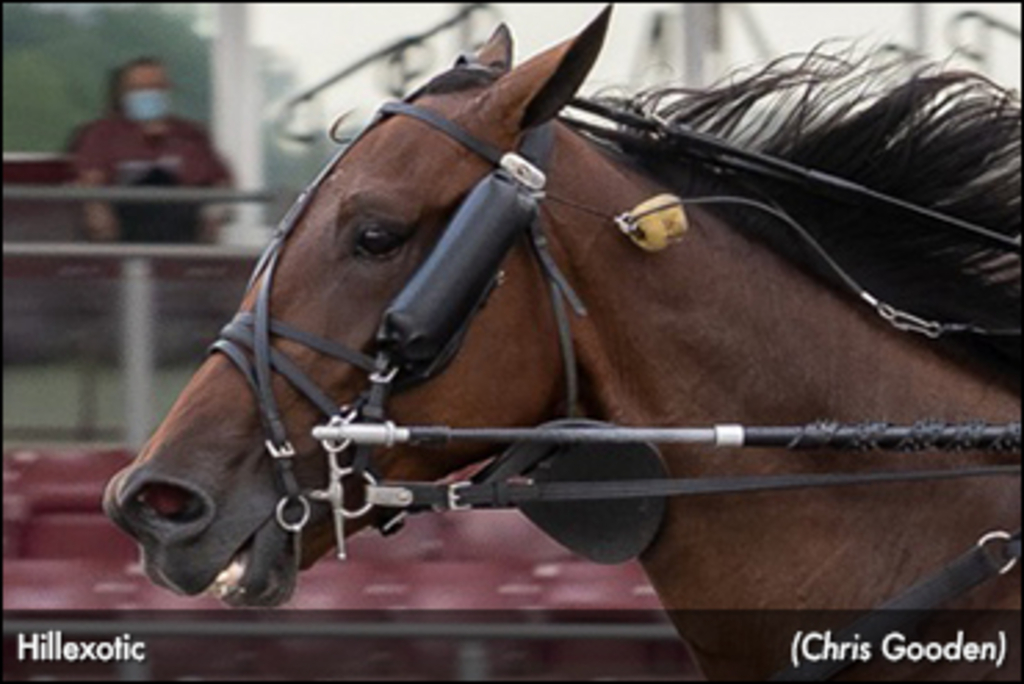 Published:
June 4, 2021 02:25 pm EDT
Hillexotic is a work in progress, with the most essential part of that phrase being the emphasis on the word progress.
Unraced at age two, the now four-year-old male trotter has only 13 career starts under his belt. He has four wins, all last season, including the Muscle Hill for three-year-old male trotters at The Meadowlands and two divisions of the Pennsylvania Sire Stakes. His campaign ended with a fourth-place finish in the Breeders Crown, beaten only 1-1/4 lengths.
This year, Hillexotic has finished second in a conditioned race at Harrah's Philadelphia and third in a first-round division of the Graduate Series for four-year-old trotters at The Meadowlands. On Saturday (June 5), he returns for the second leg of the Graduate, competing in the second of two $50,000 divisions at The Big M.
Hillexotic will start from post one and is 5-1 on the morning line with trainer Trond Smedshammer in the sulky.
"He's always been a talented horse, but he's very sensitive and finicky about everything," said Smedshammer, who trains the gelding for the Purple Haze Stables. "He raced pretty good last year. For a while, he got really good.
"Eventually, I think he's going to be the real deal, but he's taking his time. He doesn't have a lot of lifetime starts and it's only his second year of racing. He's still improving."
In the first leg of the Graduate on May 22, Hillexotic went to the front from post six before EL Ideal and favourite Its Academic moved ahead of him by the half. Hillexotic lacked racing room until mid-stretch, when he was able to reach second before getting passed near the wire by Hypnotic AM and finishing third. Its Academic won in 1:51.1.
"He got a little bit too aggressive, but he was very good, I thought, considering what I had to do," Smedshammer said. "He got fired up when I left with him. I never really left with him his whole life. That was the first time I did, and I was forced to let (EL Ideal) go and he didn't like that. But he still had trot coming home. I was very impressed by him."
Hillexotic was purchased as a yearling under the name Evander Hanover for $182,000 at the Standardbred Horse Sale. He is a son of Muscle Hill out of Exotic Destination, who won the 2007 Filly World Trotting Derby in 1:52.2, which tied for the fourth-fastest mile ever by a three-year-old filly trotter. A year later, she set her career mark of 1:52.1, which tied for seventh fastest in history by a trotting mare.
"His dam was very fast, but I think she was a little hot-headed herself," Smedshammer said. "She took a record of (1):52 when (1):52 meant something.
"(Hillexotic) does have the ability to go fast. You just have to make sure his mind and everything keeps up."
The Graduate Series and Hambletonian Maturity will be Hillexotic's only stakes engagements this season. The third round of the Graduate is June 19 and the final is July 10. The Hambletonian Maturity is July 17 at The Meadowlands.
"Maybe next year he'll be an open stakes horse, but this year I only wanted to race him against four-year-olds and in some easier overnights," Smedshammer said. "I just have to protect him and let him get a little more mature. Hopefully, he'll pay it back."
Ready For Moni, who won a conditioned race from post 10 at The Meadowlands in 1:51.1 on May 22, is the 8-5 morning line favourite in the second Graduate division while Its Academic is 2-1.
Beads, a 1:50.2 winner in his first Graduate start, is the 2-1 favourite in the first division. Hypnotic AM is the 3-1 second choice.
There also will be two Graduate divisions for four-year-old pacers Saturday. Warrawee Vital is the 5-2 favourite in the first and Ruthless Hanover is the 5-2 favourite in the second.
Racing begins at 6:20 p.m. (EDT) Saturday at The Meadowlands. The Big M and TrackMaster have teamed to regularly provide free past performances for each race card. Past performances can be found on The Meadowlands' website.
(USTA)