Published:
August 21, 2021 04:56 pm EDT

Many of harness racing's top trotters and pacers in North America were in action on Saturday during the stakes-packed card of harness racing at The Downs at Mohegan Sun Pocono. More than $2 million in purses were up for grabs on the Sun Stakes Saturday card.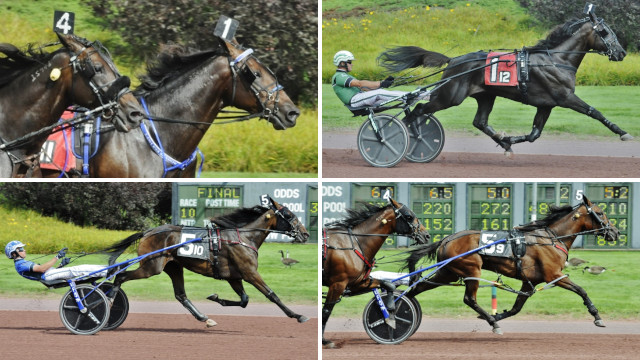 Here are Trot Insider's recaps of the action.
Lawless Shadow Wins Hempt Memorial


Ontario-based Lawless Shadow picked up his second major stateside stakes score this summer with a gutsy effort to capture the 2021 Max C. Hempt Memorial Pace, one of the crown jewels of Sun Stakes Saturday at The Downs at Mohegan Sun Pocono on Saturday, August 21....read on
Captain Corey Cruises In Beal


The 2021 Hambletonian champ Captain Corey made his first start since that vaunted victory and showed it was no fluke with another powerful performance to win the 2021 Earl beal Jr. Memorial Trot on Saturday (August 21) at The Downs at Mohegan Sun Pocono....read on
Darlene Hanover Wins One For Charlie


The inaugural Delmonica Hanover Trot for three-year-old trotting fillies will go down in the record books as an emotional one. Eight days after the passing of co-owner Charlie Keller, Darlene Hanover was never better coming first up and pulling away from her rivals to win the $250,000 event....read on
Grace Hill Grand In Lynch


Todd McCarthy picked up a live drive aboard the red-hot Grace Hill and he converted that opportunity to notch his first victory in the $250,000 James M. Lynch Memorial for three-year-old pacing fillies as part of Sun Stakes Saturday at The Downs at Mohegan Sun Pocono....read on
Atlanta Awesome In Sebastian K Invite
Atlanta was sent off at 1/2 in the $75,000 Sebastian K Invitational Trot and she didn't disappoint her fans, her connections or her backers with a convincing victory in track record time....read on
Allywag Hanover Upsets In Invite
Imagine a 1:47.2 mile with a :29 second quarter. That's a hard concept. But it's just what the Captaintreacherous four-year-old gelding Allywag Hanover accomplished....read on