Published:
August 21, 2021 06:24 pm EDT
Imagine a 1:47.2 mile with a :29 second quarter. That's a hard concept.
But it's just what the Captaintreacherous four-year-old gelding Allywag Hanover accomplished as he upset favourite Nicholas Beach in the $75,000 Always B Miki Invitational Pace, the card-capper on Sun Stakes Saturday (August 21) at The Downs at Mohegan Sun Pocono.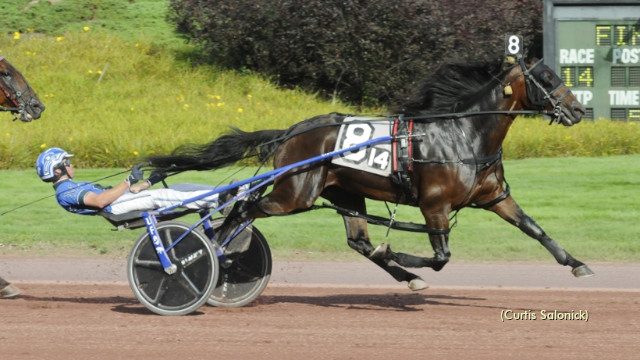 "I was a bit surprised how fast we went to the quarter," said Todd McCarthy, referring to the :25.3 opening split. Todd knew what to do after that: back the second quarter down to that :29 clocking, reaching the half in :54.3, send the razor-sharp Allywag Hanover through a :26 backstretch sprint (1:20.3), then keep him strong through the :26.4 kicker to defeat the hard-trying Nicholas Beach by 1-1/2 lengths and equal the track and world record set by Always At My Place six years minus one day ago. "He felt very comfortable getting over the track," finished McCarthy, who finished his day with four victories, including three of the six featured events, and horses earning $356,250 under his guidance.
Allywag Hanover is trained by Brett Pelling for the Allywag Stable, for whom the horse has amassed $331,450 this year and $600,495 lifetime.
The Always B Miki Invite was one of the highlights of Sun Stakes Saturday at Pocono. Check out the recaps of the other events in the Sun Stakes Saturday News Centre.
(PHHA / Pocono)