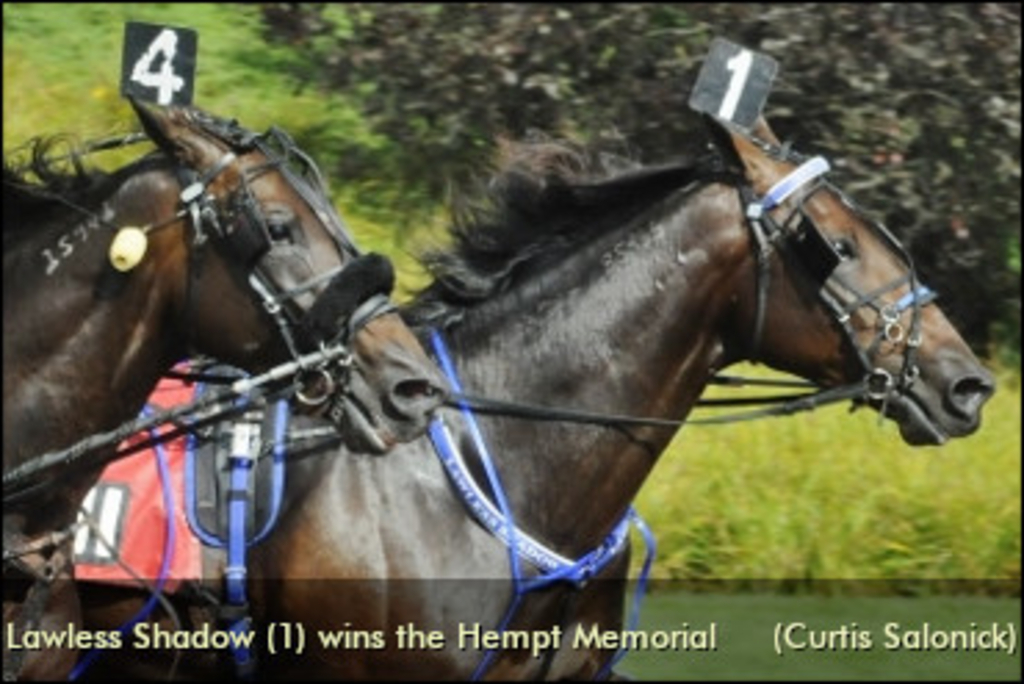 Published:
August 21, 2021 04:50 pm EDT

Ontario-based Lawless Shadow picked up his second major stateside stakes score this summer with a gutsy effort to capture the 2021 Max C. Hempt Memorial Pace, one of the crown jewels of Sun Stakes Saturday at The Downs at Mohegan Sun Pocono on Saturday, August 21.
Driver Mark MacDonald asked Lawless Shadow for speed off the gate and the pacing colt responded, sprinting off the gate the swiftest from his inside post to make the first call in a sharp :25.2. That brisk opening panel kept rivals Perfect Sting (David Miller) Hellabalou (Tim Tetrick) and Southwind Gendry (Yannick Gingras) stacked behind him, and those four comprised the top four through the tempo-tempered :54 half.
Southwind Gendry commenced his overland attempt just after the half with Lawless Shadow looking strong on top and Perfect Sting looking dangerous in that pocket position. Three-quarters was reached in 1:21.2, and turning for home it appeared that the finish would come down to a two-horse sprint to the wire. Miller angled Perfect Sting to the outside and started to cut into the lead with each stride, but Lawless Shadow dug deep to deny the late bid and hold on for the victory by a long and diminishing nose in a life's best 1:48.2. Hellabalou rounded out the top three.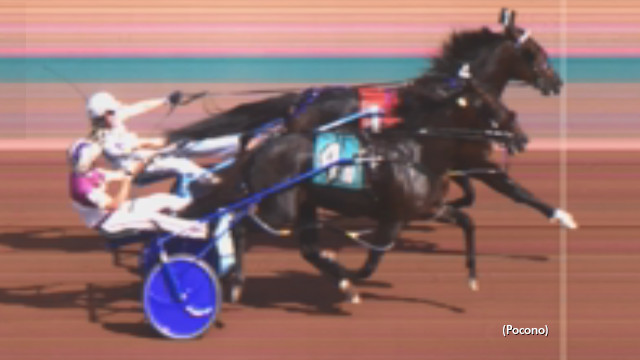 "He's a very good colt," stated trainer Dr. Ian Moore succinctly. "I was worried about his mental status after that mile last weekend; he was physically okay and I think it will do him a lot of good.
"Warming up, I had my hands full. He's never been quite that bad warming up so Mark might not have had any choice going to the quarter today in :25.2."
Interestingly enough, Moore noted that Lawless Shadow's sire Shadow Play also paced over Pocono in a world record 1:48.2 the year that the Delvin Miller Adios was contested there.
Moore noted that if all is well with Lawless Shadow, he'll be back in action for the Somebeachsomewhere on August 28 and then in the 2021 Pepsi North America Cup elims the week after. There could be more stateside races after those three possible Canadian starts.
"We're looking at the [Little Brown] Jug and we did pay him up into quite a few stakes later on in the year down here."
Lawless Shadow (Shadow Play - Ladycino) is owned by Dr. Ian Moore of Cambridge, Ont., R G McGroup Ltd. of Bathurst, N.B. Hockey Hall of Famer Serge Savard of St. Bruno, Que. and Frank Cannon of Sanford, Fl. The winner's share of the purse puts the sophomore's bankroll at $878,130.
Controlling the tempo was the right decision for 4/5 choice Whichwaytothebeach in the $200,000 Hempt Consolation I. After yielding briefly to Mysweetboymax (Yannick Gingras), driver Andy McCarthy made the move back to the front and repelled all rivals for the 1:50.1 decision over Mysweetboymax and pylon-skimming Gamblin Mo. Brett Pelling trains Whichwaytothebeach for owners John Craig of North York, Ont. and Alan Johnston of Syracuse, N.Y.
Lous Pearlman delivered as expected in the $100,000 Hempt Consolation II, trouncing his rivals by nine lengths in 1:48.4. Yannick Gingras engineered the winning trip for trainer Ron Burke, who co-owns as Burke Racing LLC with Weaver Bruscemi LLC, Elizabeth Novak and Howard Taylor.
The Hempt was one of the highlights of Sun Stakes Saturday at Pocono. Check out the recaps of the other events in the Sun Stakes Saturday News Centre.