Published:
June 18, 2012 02:18 am EDT
Trot Insider has learned that a handful of reinsmen joined forces to raise more than $4,400 from their mounts and donations this past weekend for fellow injured driver Stuart Sowerby.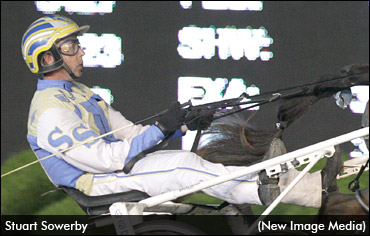 Drivers Doug McNair and Scott Zeron were joined by James MacDonald and Billy Davis Jr. in donating 100 per cent of their purse earnings from their Saturday, June 16 drives at Flamboro Downs. Bob McClure and Scott Young also lended a helping hand by donating their earnings from Saturday's card at Hanover Raceway.
The Sowerby fundraiser continued Sunday at Flamboro and included JR Plante, Scott Coulter, Anthony Haughan and Anthony MacDonald, who won six races. Other individuals were also just walking up and handing in cheques.
Sowerby suffered a broken collar bone during a training accident last Saturday, June 9 and is expected to be out of action for six to eight weeks.