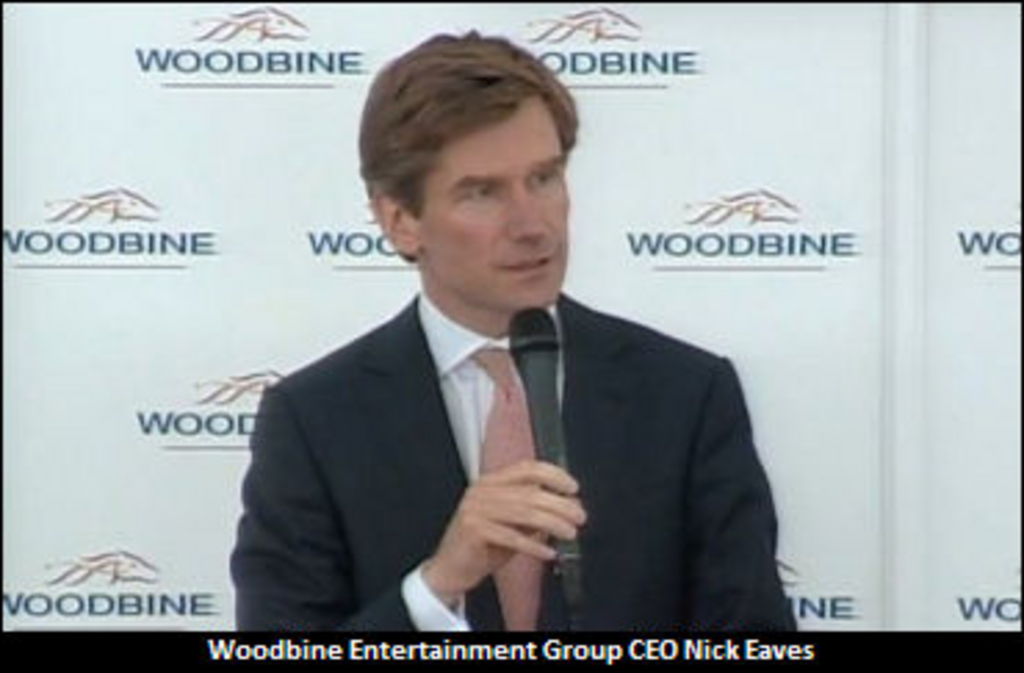 Published:
June 11, 2013 09:04 am EDT
After last week's surprising turn of events that placed Rideau Carleton Raceway back into the race as the preferred spot for casino expansion in Ottawa, questions continue to swirl around whether Woodbine Racetrack is completely out of the race for full casino expansion in Toronto.
Three weeks ago today, City of Toronto councillors voted against casino expansion at Woodbine Racetrack. The final tally of votes: 24-20. The vote came amidst a scandal surrounding Mayor Rob Ford, and many have speculated that the Woodbine vote was caught up in an electric and divisive environment at City Council.
"People can speculate all day long as to why that happened, there was a lot going on in connection with the debate and the motion around downtown [Toronto], there were all kinds of distractions in terms of the other matters at play with the Mayor," Woodbine Entertainment Group's CEO Nick Eaves told Trot Insider. "What I've been encouraged by is that very soon after that vote, and frankly fairly consistently since then, several councillors have come out and said 'that was the wrong outcome.'"
Eaves believes the process was distracted by other matters and that the rejection of expansion by Council was "largely unintended." Noting that councillors are open to revisiting the expansion decision, Eaves clearly hasn't given up on this issue.
"It's one thing to hear it, it's another thing entirely to then make it right. There's already been a public statement on the part of some councillors to make it right so we're going to work with them to do exactly that."
In order to re-open the discussion of expansion at Woodbine, the matter needs to be re-opened by a certain percentage of Toronto council.
"It can be re-opened and revisited, certainly there is procedure at the City of Toronto around that and it requires two-thirds of councillors to vote in favour of re-opening the matter," said Eaves. "So obviously in order to achieve that, there needs to be a strategy to make sure that each of the 44 councillors understands exactly what's at stake. And what's at stake is the plus or minus 7,500 jobs that Woodbine generates."
One individual who will not be part of those efforts is Jane Holmes, who Eaves confirmed is no longer with WEG in her role as Vice-President of Corporate Affairs.
"The efforts to make certain that there is expanded gaming to its full potential at Woodbine remains a priority for us here," continued Eaves. "We've got all the necessary resources applied against it, thankfully a handful of Toronto city councillors have begun to say the right thing which is 'that was the wrong outcome that day, it never should have happened.' It's been acknowledged by a couple of them. The issue of expansion of gaming at Woodbine was not considered on its merits because of the agenda over at Council that day."
The City of Toronto now must look at the Woodbine issue against the new reality: the City of Vaughan. On May 28, Vaughan City Council voted in favour of supporting casino expansion within its borders and that presents both competition and potential job and revenue loss for both Woodbine and the nation's largest city.
"There's a huge amount at stake at Woodbine in terms of employment in the future economic impacts of this business in the broader horse racing industry, and I think that's the narrow context within which the Councillors at some point in time will be able to reconsider whether supporting an expansion," said Eaves. "Just as the Executive Committee suggested they should, and just as the staff report recommended. It is, in fact, the right way to go and we're going to work hard to ensure that is the right outcome."
If the matter is not revisited, Woodbine can still expand its gaming options - just not the way the Ontario Lottery & Gaming Corp. is planning with its modernization strategy to offer more casino gaming throughout the province.
"We are focused on making sure that there is significant gaming expansion at Woodbine, and we think there can be. What the Toronto vote specifically prevented for now is the introduction of live dealer table games," Eaves pointed out. "That's not a good outcome, we of course wanted to get the approval for that but at the minimum there can be slot machine expansion, and electronic table game expansion.
"But we're not only going to resort to that, we're going to make sure that - in the appropriate way and at the appropriate time - we can revisit what is, in every way, the only logical solution. Just as the City of Toronto staff report recommended and just as the Executive Committee of Council supported. That expansion make all kinds of sense."