Published:
March 12, 2019 12:17 pm EDT
Woodbine Entertainment, operators of the world-class Woodbine Racetrack in Toronto, home to the iconic Queen's Plate racing festival, announced today a partnership with internationally-renowned construction experts, EllisDon for the development of the recently announced GO train station that will be built on Woodbine property.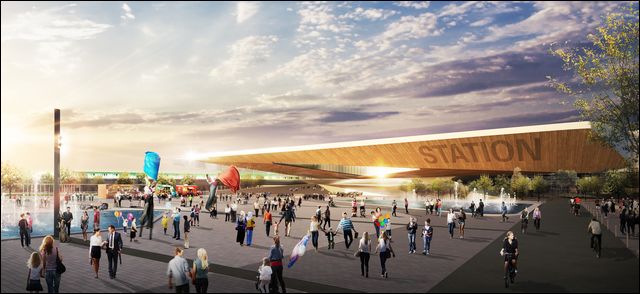 An artist's rendering of the new Woodbine GO station
EllisDon will lead the design and construction of the new modern integrated transit hub and will assist in securing the financing required for this project as well as the opportunity to participate in future development components of Woodbine Entertainment's larger vision for the property known as 'Woodbine Districts.'
Woodbine Districts, the most exciting development project in Canada, will be a major commercial and employment hub that will include mixed-use residential, commercial space, sports and recreations facilities, parks and public space, a new casino, hotel, restaurants and live entertainment venue.
"Woodbine is thrilled to have EllisDon as the development partner for the new GO Station and transit hub at Woodbine Racetrack," said Jim Lawson, CEO of Woodbine Entertainment. "Partnering with a global leader like EllisDon is integral in bringing the Woodbine Districts vision to life which will help grow our revenues and sustain the horse racing industry for decades."
The approval of the new train station on Woodbine property was announced last week by the Ministry of Transportation and in partnership with Metrolinx and Woodbine Entertainment. The new transit hub will be located on the southeast corner of Woodbine's property and will operate on the GO Kitchener line.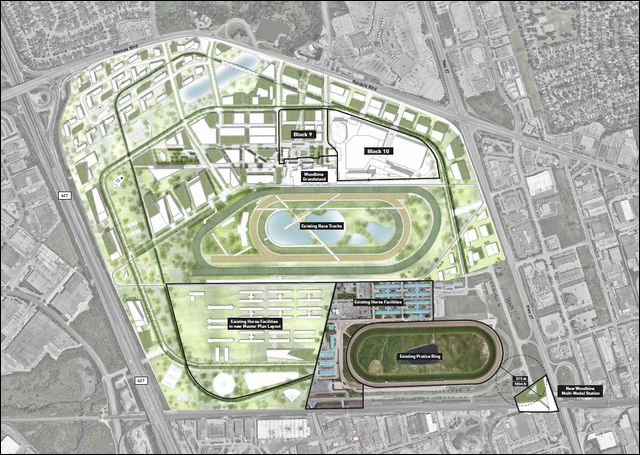 Where the GO station is going to be situated (bottom right-hand corner of image -- for a larger image, click here)
"EllisDon is proud to have been selected to build and develop the new Woodbine GO Station transit hub," said Joey Comeau, senior vice-president, EllisDon. "The new station will add yet another important link for GO and its commuters."
EllisDon is a world-leading construction and building company that has delivered solutions for complex construction developments for more than 65 years.
Examples of leading EllisDon projects include the Frank Gehry designed Art Gallery of Ontario, Eglinton Crosstown LRT, RER – Rutherford Station, and the Rogers Centre, among others.
To read the initial announcement regarding the new GO station, click here.
To view Metrolinx's 2018 initial business case for the Woodbine GO station, click here
To read the Province of Ontario's backgrounder on the new GO station at Woodbine, click here.
(With files from Woodbine Entertainment)