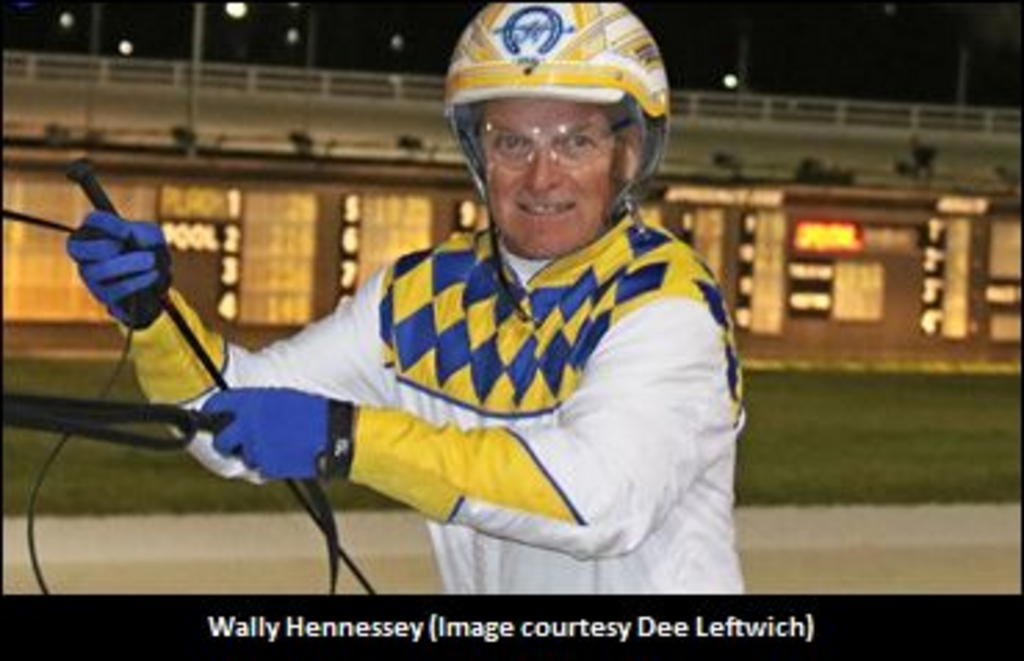 Published:
September 19, 2021 12:44 am EDT
Hall of Fame driver Wally Hennessey won several times on the Saturday (Sept. 18) card at Tioga Downs, but with his first win on the night the veteran reinsman broke into the 11,000-win plateau.
After driver Braxten Boyd swept the early double on what became a five-win night for him, Wally Hennessey landed in the winner's circle of the third race with odds-on choice Marquis Volo. The Jim McDonald trainee took control past a :28.3 first quarter and cruised through middle fractions of :58.3 and 1:27 to take an $8,000 overnight trot in 1:56 by 1-1/4 lengths. The nine-year-old Credit Winner gelding brought Hennessey into 11,000, while three other wins on the card pushed him ever so closer to the next milestone.
Hennessey joins Dave Palone, Tony Morgan, Herve Filion, Cat Manzi, David Miller, Aaron Merriman, Tim Tetrick, Dave Magee, William 'Zeke' Parker, George Brennan, Walter Case Jr. and George Napolitano Jr. as the only drivers in North Americas harness racing to reach the 11,000 win plateau.
Hennessey's achievement joined Boyd's dominance on the card as the pair accounted for all but two victories on the 11-race card. The pair each scored wins in the evening's co-featured events.
Boyd won the $9,000 Open II Trot with Anchors Away. Itsonlymoneyhoney grabbed the early lead but Anchors Away went by just before hitting the first quarter first in :28. The lead was short lived as BJ Lorado took control with a circuit to go. He was first to the half in :57.1 and first to three-quarters in 1:26.
As they made the turn for home, Anchors Away popped out of the pocket and battled BJ Lorado all the way down the stretch. Anchors Away wore down second place finisher, BJ Lorado to win in 1:55.2. Swan Before All finished third.
Anchors Away is a four-year-old gelding by Whom Shall I Fear. He is owned by Joel Warner and trainer Mike Deters. It was his 10th win of the season. He now owns 14 victories and paid $6.80 to win.
Hennessey captured the $9,000 Open II Pace with Agedchedar Hanover ($7.10). Agedchedar Hanover jumped right to the lead but Mississippi Rabbit went on by and was first to the quarter in :27. Mach West was next to take the lead but it was short lived as Highrthananeagle A took over with a lap to go. Highrthananeagle A led to the half in :55.3. Mississippi Rabbit came first-over to challenge down the backstretch but Highrthananeagle A shook him off and led to three-quarters in 1:23.3.
Highrthananeagle A continued to lead as they reached the stretch but Agedchedar Hanover came flying down the stretch like he was shot out of a cannon and went right on by to win in 1:51.4. Highrthananeagle A had to settle for second. Mach West finished third.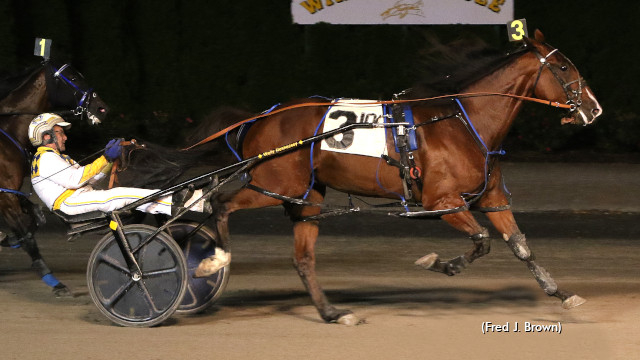 Agedchedar Hanover is a five-year-old gelding by Betterthancheddar. He is owned by Dona McDonald and trained by Jim McDonald. It was his fourth win this season. He now has 14 victories and paid $7.10 to win.
Boyd got his other wins with Massive Opulence ($6.00), Always Glorious ($8.20), Windemere Ryan ($4.00), and Batting Stats ($5.30). Hennessey got his other tallies with Marquis Volo ($3.70), Scootnroll ($4.30), and Spirit Shadow ($5.90).
Tioga Downs returns to live racing for their last weekend of the 2021 season on Saturday (Sept. 24) starting at 6:15 p.m. (EDT).
(with files from Tioga Downs)