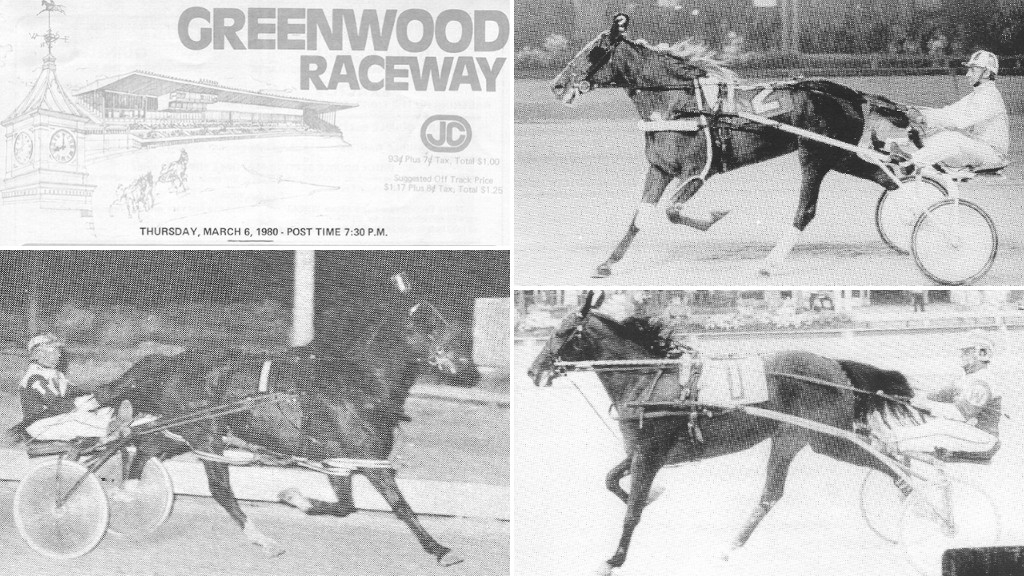 Published:
August 6, 2022 09:45 am EDT
This week's Rewind is the regular monthly version of 'Years Ago' and this time features items from the decade of the 1980's. That means around 40 years or so ago.  Lots of familiar names and faces as we take a look back at what was happening then and who was involved. 
1980 - Greenwood Enjoys Greatest Meeting In History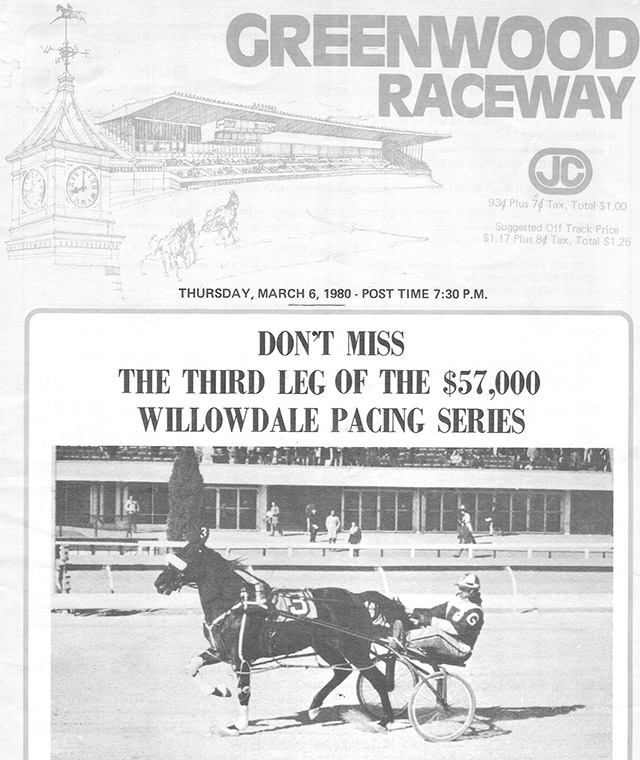 ​
When the summer racing season ended on August 30th  at the "Downtown" track,  the official statistics showed that it was the best ever in the track's long history.  Harness racing debuted at this track in 1954 and had experienced a steady growth over the quarter century plus of racing action that followed at this popular spot.   
Total wagering (totals rounded) for the 72-night meeting was $76,818,000,  an increase of $8,700,000 over the previous high which was set just a year earlier in 1979.  This represented an increase of almost 13%.  The average daily mutuel handle was $1,067,000 as compared to $946,000 in 1979.  The meeting attracted a total of 667,000 fans, an increase of about 16,000 over the previous year.  The average attendance was 9,263,  up about 250 per program.  In the driver's race Bill Megens finished on top in the UDRS category with an average of 0.391.  Ronnie Waples earned $444,800 for tops in that category and also led all drivers with 86 winning drives.  He turned 36 during the record meeting. 
On the final night of racing a crowd of 10,400 paying fans filed into Greenwood and were treated to two divisions of the O.S.S. series for three-year-old trotting fillies.  The winning horses in those events are part of today's photo quiz shown at the bottom. 
1981 - Win Streaks Abound At Western Fair 
Feb. 1981 - While it was still very early in the 1981 season one pattern seemed to be developing at the London oval.   A number of horses were on win streaks and a couple were showing no signs of letting up.  All of them were eyeing up the current track record win streak set a full decade earlier during the 1970 - 71 season.  At that time Barex, a fairly well known local horse, had set the standard by taking nine in a row. 
Currently a horse named Chief Scram had tied the existing mark by scoring win no. 9 coincidentally on February 9th. The four-year-old pacer owned by Sanford Reid recorded a new lifetime mark of 2:04.2 with Terry Kerr in the bike. He finished four lengths ahead of Ideal Pleasure, driven by Andy Hardy. 
Blackboro Gregg, a five-year old son of Tompkins, was also on a tear, having trotted to seven lifetime trips to the winner's circle in a row.  While this streak had yet to eclipse the record belonging to Barex (a pacer) it was believed that this did set a new record for the trotting gait at London.  This horse was also being driven by Terry Kerr.  
A bit further back in consecutive wins was the four-year-old pacer K F Duke for local teamster Neil McRann.  Their win streak was at five but if things continued to go favourably they could be in the mix as well.  The record owned by Barex was believed to be the oldest on the books at London and oddly had gone virtually unchallenged for the entire 10-year period since 1971.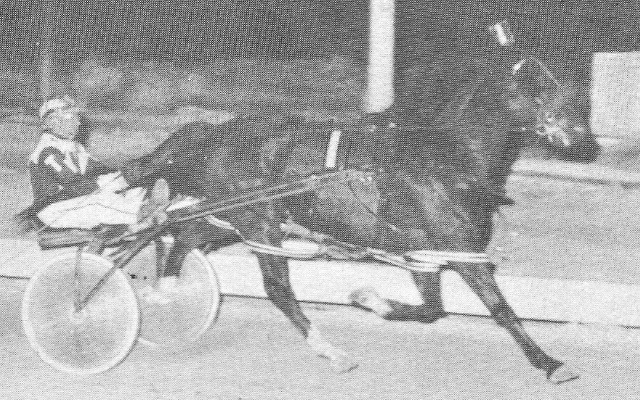 Chief Scram and driver Terry Kerr "streak" to their 9th consecutive win at the Western Fair track.  The win tied the existing record for most wins in a row at London. 
1983 - Newcomer To Calgary Finding Success 
May 1983 - Fred Gillis, a Maritime native, made the move west to Stampede Park in Calgary at about this time.  He soon met up with an old friend and the two achieved almost immediate success.  His old "pal" was a horse named Pops Best,  a then 10-year-old pacer that he had once groomed back in Ontario while working for the Ron Feagan stable.  At that time he was a top class contender and sported a record of 2:00, pretty impressive back then.  By now he had slowed up a bit and was at home in the $3,000 claimer category. 
With Gillis driving,  the veteran scored a mile in 2:05 and change and was showing some promise of bygone days. Prior to his move out west Gillis had enjoyed a fair amount of success back in Ontario, including an award as top trainer - driver at Barrie.  In 1981 Gillis enjoyed an excellent campaign winning 88 races on the tough OJC circuit and almost  $389,000 in purses.  His fastest win came in Detroit when he steered Advance Attack to a 1:57 winning effort.   
Gillis summed up his westward move by saying "I just decided to try something new.  I know harness racing in the west is on the move." 
1989 - Soft Light Shows Early Season Speed 
Early season speed was once unheard of as horses raced their way into form as the warmer weather arrived.  That had all changed by the end of the 80's as evidenced at Mohawk's early year meeting.  On March 25th Soft Light, a four-year-old son of Storm Damage, toured the Mohawk oval in an amazing mile in 1:53.4. While no official records were kept on such matters it was believed that it was the fastest mile ever recorded in Canada at such an early date. 
Soft Light, owned by Leoanrd Coulson and James Smith of nearby Milton, was off to a good start with early earnings of $56,830 and had recently passed the $100,000 mark in career earnings.  Mike Saftic was in the sulky for the Garth Gordon trainee. Barely Visible was second with HH Forecast third. 
Just a week earlier the season's fastest mile of 1:54.4 had been turned in by Commonwealth and driver Doug Brown on Greenwood's closing day. Bill Robinson was the trainer.  On that day Soft Light finished a bang-up second a half length back as Commonwealth went undefeated in the Cam Fella series. 
Item Of Interest  
 
The following report appeared in the March 28, 1989 issue of The Canadian Sportsman under "Short Turns" By B.J. 
STAR IN NEW ZEALAND - Murray Brown of Hanover Shoe Farm sent the Sportsman a copy of the front page of the Auckland, New Zealand Sunday Star of Mar. 12.  The paper features five pictures of bid spotter Cliff Chapman in full flight at the National Bloodstock Sale at Kuraka.  It refers to Chappy's performance as "an  auctioneering art unrivalled in New Zealand." Brown, who also attended the sale, said Chappy was a New Zealand "folk hero."  
Quote For The Week: " The only person who never makes a mistake is the one who never does anything."  Theodore Roosevelt 
Who Is It?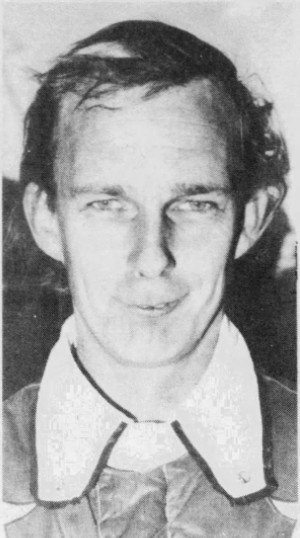 Can you figure out who this gentleman is? Shouldn't be overly difficult.  
Who Else Is It?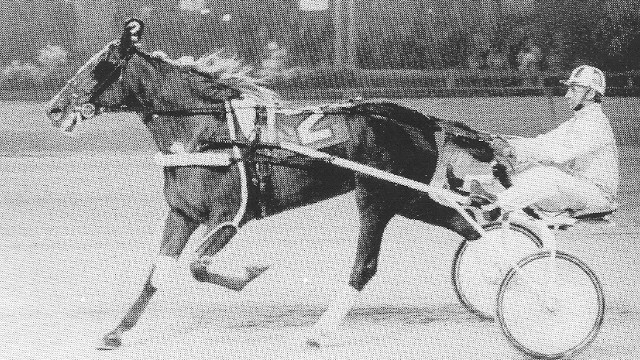 # 1 - Can you correctly identify the winning driver in this winning effort at Greenwood closing night of the summer meeting 1980?
---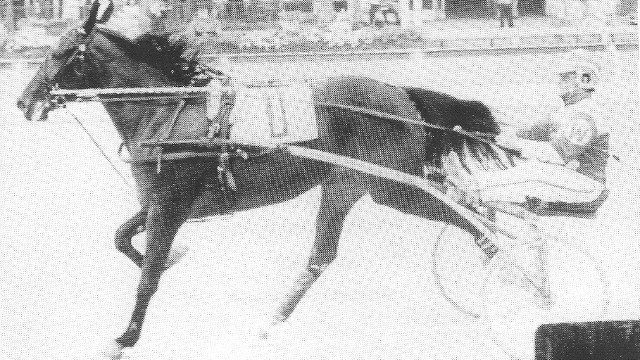 # 2 - Can you correctly identify the winning driver in this winning effort at Greenwood closing night of the summer meeting 1980?
Blast From The Past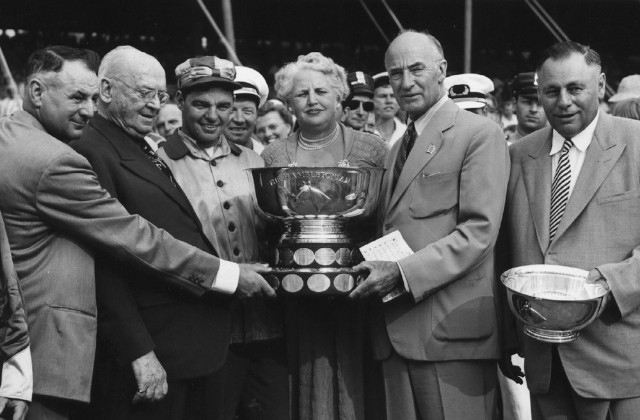 Hambletonian officials on the left including Mr. Wm. Cane present the Hambletonian trophy to the Armstrongs on the far right.  Victoria, Mrs. Elgin Armstrong,  Ted and Elgin Armstrong  far right. Driver Harry Harvey smiles his approval.  (Photo courtesy of the Hambletonian Society)
With Hambletonian weekend upon us here is an old photo taken during the 1953 Hambo then held at Goshen, N.Y. That year was a proud moment for Canadian harness racing as Helicopter won the richest edition  of this famous race then in its 28th year.  Racing for the relatively new ownership of Elgin and Ted Armstrong of Brampton, Ont., the Hoot Mon filly won over $63,000 that afternoon.  She was trained by Delvin Miller but driven by his second trainer Harry Harvey, who became the youngest driver to win the Hambo at age 29. An amazing field of 23 starters all went to the post on that famous day.  In the third and final heat, three scratches reduced the field to 20 behind the gate. This marked the first time a Canadian-owned horse had won the fabled Hambletonian.