Published:
July 20, 2014 08:57 am EDT
The elation of a fourth-place finish in the 2014 Maple Leaf Trot behind some of the world's best trotters quickly vanished for the connections of Modern Family, who suddenly passed away minutes after Saturday night's race.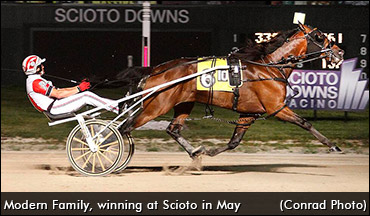 Reports indicate that the five-year-son of Cantab Hall-Domestic Diva was walking back to the Mohawk paddock when he collapsed. The trotter was owned by his trainer Daryl Bier, and co-owned with Charles Dombeck of Davie, Fl. and Richard Poillucci of North Easton, Mass.
"I am in a state of shock right now," Dombeck told Trot Insider via email. "He was an absolute magnificent animal who we all loved. His caretaker Brad Sawyer just got off the phone with me and he is inconsolable. Needless to say Daryl is also in shock."
Modern Family was a winner of 19 of 50 lifetime starts. A $110,000 yearling, Modern Family raced under the tutelage of Tony Alagna before being sold at the end of his three-year-old season. Bier paid $110,000 for the then-four-year-old at the 2013 January Select Mixed Sale at the Meadowlands.
At four, Modern Family won nine of 16 starts and took a mark of 1:51 at The Meadowlands with his Cutler elim win. The week before, he knocked off some of the best four-year-olds in the $100,000 Meadowlands Maturity.
In 2014, Modern Family had assembled a record of 6-6-1 in 14 starts. Three of those second-place finishes had to come at the hands of Sebastian K.
His biggest career win came earlier this season in the $200,000 Charlie Hill Memorial Trot at Scioto Downs, helping lift his lifetime bankroll to $535,649.
Please join Standardbred Canada in offering condolences to the connections of Modern Family.