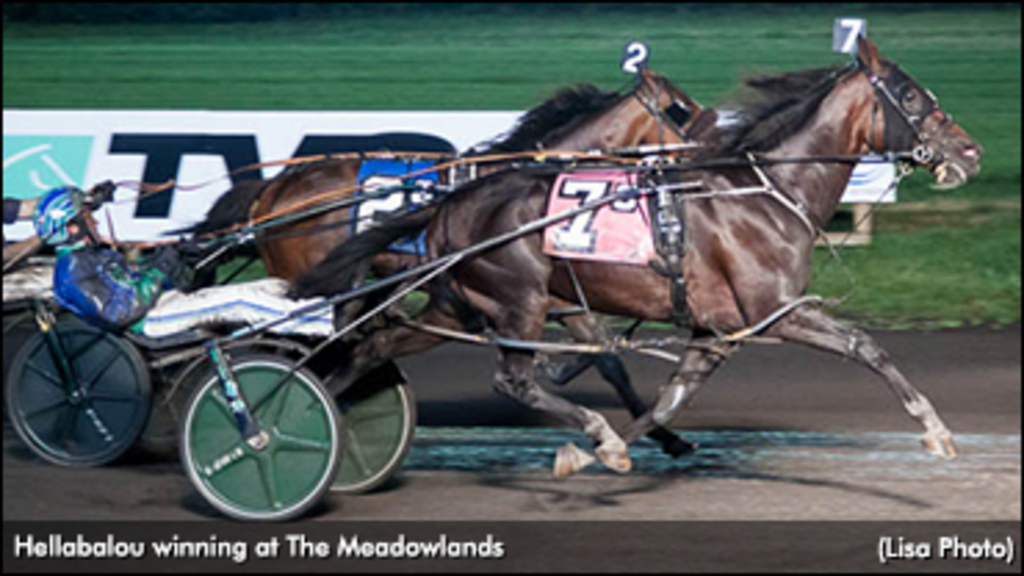 Published:
July 10, 2021 10:58 pm EDT

The lights of the tote board shone brightly across the "sloppy" track after each of the $50,000 Meadowlands Pace eliminations on Saturday (July 10) at The Meadowlands when a pair of long-odd competitors crossed the beam first.
A breathtaking 81-1 upset by Hellabalou, with Andrew McCarthy at the lines, was the highlight of the first $50,000 elimination for the Meadowlands Pace.
The Sweet Lou colt, trained by Eddie Dennis, got everyone's attention right off the gate as he swept to the lead from post 7 moving to the first turn.
"I had a look across [as the field got started off the gate] and nobody really looked that dedicated to leaving hard," McCarthy said after the race, "so I bounced him out of there and got him to the front."
Charlie May settled into the garden spot with 2-5 favourite One Eight Hundred in third. One Eight Hundred then sprung off the pylons to take the lead from Hellabalou to a :26.4 first quarter and rolled to the half in :56.1 under minimal pressure. Heart Of Chewbacca meanwhile pulled first over from fifth and made slight gains through the final turn.
One Eight Hundred took the field to three-quarters in 1:23.2 but came under attack as Charlie May launched out of the pocket and then downed the tiring pacesetter into the stretch. However Hellabalou was full of pace, and in deep stretch angled three wide to take the lead and win by a half length in 1:49.2.
"I was just trying to get him into the final," McCarthy said, "but he raced great. He had a lot of punch in the stretch. I've driven this horse a lot. He's very talented. He's been racing good without showing it on paper."
Charlie May finished second. Chase H Hanover swerved through traffic to snag third from One Eight Hundred while Rockyroad Hanover rallied to take fifth and complete the first elimination's finalists.
Hellabalou, the longest shot in the seven-horse field, paid $165.60 to win. Eric K. Good owns Hellabalou, who raised his lifetime earnings to $93,886 in his fourth win from 15 starts.
The second "Pace" elimination went the way of another, but slightly less, high-priced contender when the Ron Burke pupil Southwind Gendry grabbed the front and cruised to capture a 1:49.1 win at odds of 10-1.
Also leaving from post 7, Southwind Gendry slid to the top and pocketed Lawless Shadow moving to a :27.1 first quarter while even-money favourite Perfect Sting landed in third. Southwind Gendry continued up the backstretch leading a headstrong Lawless Shadow through a :56.1 half and then cruised under minimal pressure to three-quarters in 1:23.3 before the sprint for home.
Southwind Gendry's lead began to diminish come the final sixteenth, but the gelded son of Always B Miki held on by a neck to keep a resurgent Lawless Shadow at bay. Perfect Sting — angling from the pylons off the final turn — rallied down the center of the track for third while American Courage and Abuckabett Hanover checked in fourth and fifth, respectively, to round the finalists.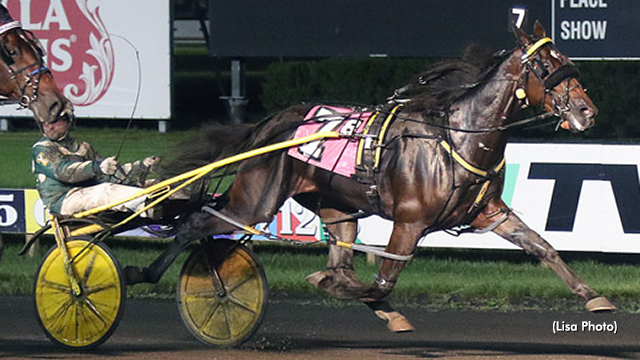 "I was planning on taking him back and just maybe one-move him, just to get in the final for next week," winning driver Yannick Gingras said after the race. "But then nobody was leaving, so I took a shot out of there. But he was more willing today. He hasn't been wanting to leave all year really and today I planted him on the gate and he left out of there on his own.
"He's definitely better following horses actually," Gingras also said. "On the front, he's a little bit lazy. Of course those fractions helped tonight, but you could see even late he's just waiting on them to get close to him."
A winner in 13 races from 18 starts, Southwind Gendry has banked $734,841 for owners Burke Racing Stable LLC, Phillip Collura, Knox Services Inc. and J&T Silva-Purnel & Libby. He paid $22.00 to win.
The field for the $700,000 Meadowlands Pace, an open event for 3-year-olds, that takes place Saturday, July 17 (post time, 9:46 p.m. [EDT]) at The Meadowlands, with post position, horse (driver, trainer), and morning line odds.
1. Perfect Sting (David Miller, Joe Holloway) 7-2
2. Hellabalou (Andrew McCarthy, Eddie Dennis) 8
3. Chase H Hanover (Brian Sears, Scott Cox) 15
4. Southwind Gendry (Yannick Gingras, Ron Burke) 3
5. Lawless Shadow (Mark MacDonald, Ian Moore) 10
6. Rockyroad Hanover (Dexter Dunn, Tony Alagna) 15
7. One Eight Hundred (Tim Tetrick, Nancy Takter) 9-2
8. Abuckabett Hanover (Andrew McCarthy, Tony Alagna) 15
9. Charlie May (Brett Miller, Steve Carter) 5
10. American Courage (Matt Kakaley, Travis Alexander) 10
(The Meadowlands)
The Meadowlands Pace eliminations were part of an action-packed night at the Meadowlands that also included the Graduate Series finals and Reynolds Memorial.