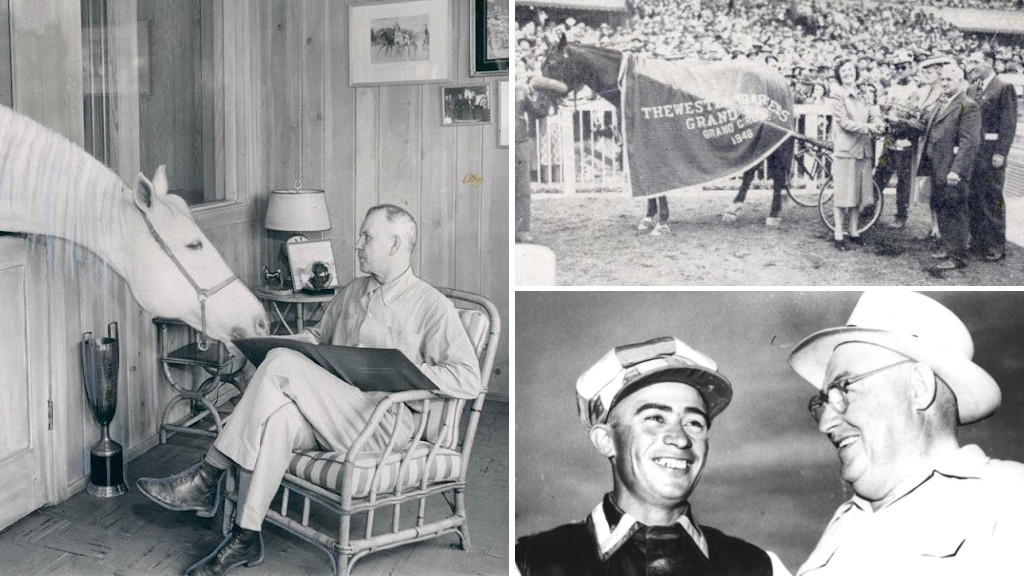 Published:
June 4, 2023 09:20 am EDT
The latest weekly Rewind column is the monthly edition of 'Years Ago' and this time all of the topics and old photos are from the decade of the 1940's.  That makes it about 75 to 80 years ago which might make at least some of us say "My how time flies!" The old stories and pictures may even have some connection to today's participants.  
1940 - Greyhound Retires After A Record Setting  Ride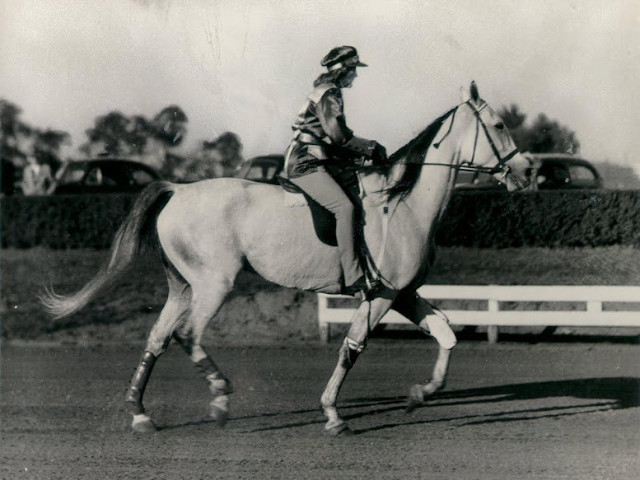 A young Frances Dodge Johnson is shown riding Greyhound to a world trotting mark of 2:01 3/4 at the Red Mile in Lexington in September of 1940 
On the afternoon of September 27th, 1940 the racing career of the great Greyhound came to a close.  Throughout his stellar career he had set many world and track records and in each one was handled by the great reinsman Sep Palin.  In his last attempt at a record setting performance a new "rider" was aboard the then eight-year-old gelding. Frances Dodge Johnson, who later married Frederick Van Lennep in 1949 was "in the irons" for this record setting mile.  The mark stood until 1994 when Lauren Brooke Nickells, whose father Bruce Nickells is a famed horseman, bettered it with Preferential trotting in 1:58.2 also at The Red Mile.  
At the  time of Greyhound's retirement he was credited with at least 14 world records.  He was officially retired at the age of eight but went on to live another 25 years and died on Feb. 4, 1965 at the age of 33.  He made countless public appearances during his long retirement including being paraded at the Santa Anita track opening in 1946 (mentioned elsewhere in today's Rewind).  Now some 83 years later many fans and followers of harness racing still fondly remember GREYHOUND.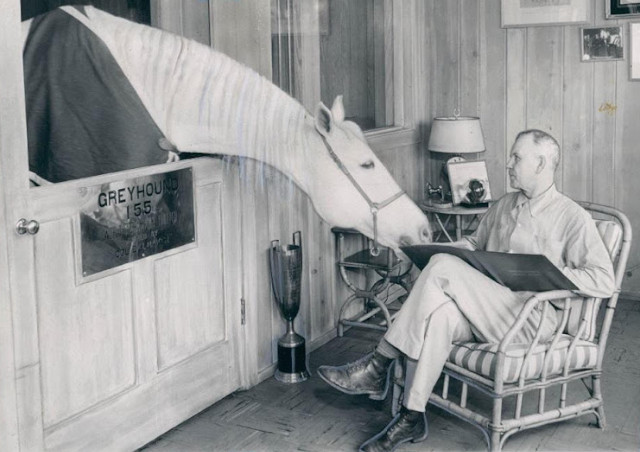 Greyhound in retirement with his guardian Vernor (Dooley) Putnam who is holding the guest book that is signed by all visitors
1946 - Blue Again Wins $50,000 Golden West Pace 
In early spring of 1946 the harness racing season started with a huge meeting at Santa Anita Park in Inglewood California.  It was a big departure from years past when thoroughbred racing dominated in the Golden State.  Racing promoters were hoping that racing fans would take a liking to the pacers and trotters and luckily they did.  
Two races near the end of the meeting each went for an unprecedented purse of $50,000.  In the pacing event the Canadian owned Blue Again won the big race and put Canadian owner Warren Leatherdale of Windsor, Ont. "on the map."  This horse had  previously raced for U.S. owners and was driven by Sep Palin, the man of Greyhound fame. Recently purchased by Mr. Leatherdale, the horse, his owner, and trainer Bill Fraser of Ridgetown, Ont. travelled by car and a one horse trailer all the way from Central Ontario to the West Coast.  Along the way they stayed with ranchers and farmers who stabled the horse overnight and reportedly fed and housed the two men.  


Blue Again leads the huge field of 20 and goes on to win the $50,000 Golden West Pace at Santa Anita  (Hoof Beats photo) 
On the day of the big race a field of 20 horses went postward.  Blue Again with future Hall of Famer Jimmy Cruise driving won in convincing fashion.  He had just been married a few days previous to this and the win in the big race gave the newlyweds a storybook start to their life together.  The bride was the daughter of  horseman Earl Daugherty from Indiana who was also racing at this meeting but his horse Lusty B. did not make it to the big race freeing up driver Cruise.  In a post-race interview Cruise stated "For winning the race I received a present of $500 from the Western Harness Racing Association and I also got $400 from R. W. Leatherdale of Windsor, Ont., owner of Blue Again." Big money in those days!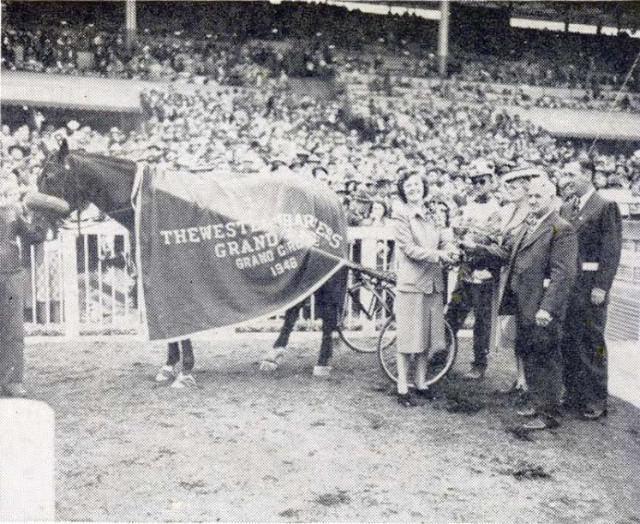 Blue Again is shown in the winner's circle. Driver Jimmy Cruise is in the background while Mr. Leatherdale owner (second from right) receives the winning trophy.  (Hoof Beats photo) 
Closing note: In a complete case of coincidence I discovered while putting this week's Rewind together that Blue Again the winning horse in the  $50,000 California race was previously owned by Frances Dodge,  the young gal who rode Greyhound and he was driven by Sep Palin during his earlier career.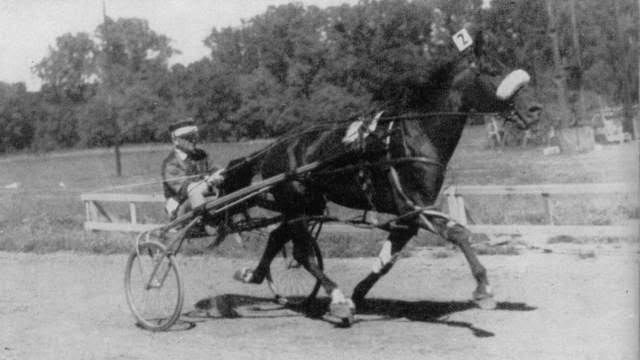 Blue Again and driver Sep Palin in 1944 (Harness Horse photo) 
1948 - Racing Popular At Truro, N.S. 
In early September 1948 a four-day race meet was held at the Truro track in conjunction with the  Central Nova Scotia Exhibition.  Each day's activities included at least four races, each going three heats.  This was a milestone meeting as a starting gate was used for the first time ever at a Nova Scotia track.  The second day of racing was completely washed out as heavy rains rendered the track unsafe and officials rescheduled it for the following day.  
Horses from various parts of the Maritimes shipped in for the big meeting and large crowds enjoyed the festivities.  A crowd estimated at 4,000 saw Scott Spencer win the fastest event of the gathering as he recorded a winning effort in 2:10 2/5.  This event was listed as a Free For All Trot or Pace and  carried a purse of $1,300.  The winning owner was Harry Hirsch of Sydney, N.S. and the driver was Worrell Lewis. The victory was a three-heat sweep with Gay Law driven by Angus Allen second each time.  
On closing day,  a horse with truly a locally inspired name was a three heat winner.  That horse was Colonel Dan, named after a legendary gentleman from P.E.I. Col. Dan McKinnon. Joseph S. MacDonald was the winning driver. 
1949 - The Diplomat Wins Canadian Pacing Derby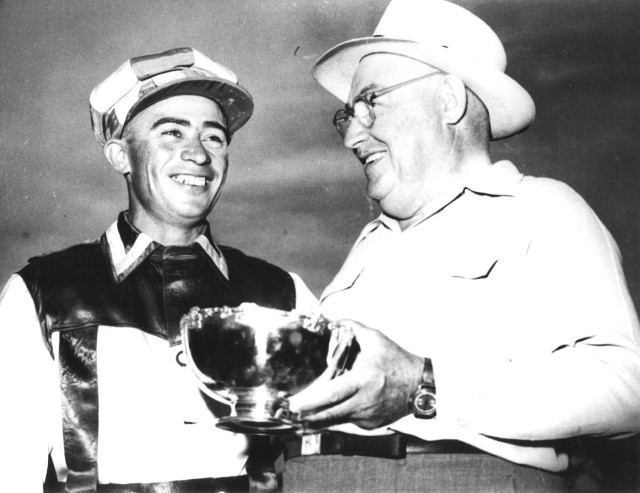 Proud owner Alex Parsons appears with driver Lew James after The Diplomat winning the $5,000 Canadian Pacing Derby in August 1949.  Mr. James went on to a career as a Race Secretary and other administrative positions following his racing career.  He is a member of the Horse Racing HOF class of 1987.  
For the first time in five consecutive years the outstanding pacer The Count B. was absent from this year's big Derby race at New Hamburg, Ont.  The roan pacer owned by Jim Brown of New Liskeard and driven by Cliff "Chappy" Chapman Sr.  had won four of the last five Derbys and was second in the 1946 race.  An injury while competing in the 1948 event with John Chapman in the sulky had kept him out of action for the past year.  He never regained his top form and raced only a handful of times at a few Northern Ontario small tracks.  
This year a newcomer to the Canadian racing scene The Diplomat,  a very well bred son of Volomite that had been recently purchased in the U.S. by London, Ont. hotel owner Alex Parsons was making his first appearance.  His sale price was reportedly $12,000,  a figure seldom reached in Canadian racing circles at that time.   He entered the 1949 Derby as the heavy favourite but finished a disappointing fifth in the opening heat.  After the race,  handlers discovered a roofing nail lodged in a front hoof.  Once the nail was removed, The Diplomat went on to two straight victories in the second and third heat and thus the victory.  
In the first two heats, a field of 13 went postward on the New Hamburg half-miler which required three tiers.  In the third heat the field was reduced to 12 when Make Believe, a trotter, was drawn by his owner and driver Clarence Lockhart.  This marked the only time in the history of this popular race that a trotter had been entered. 
Quote For The Week: "Horses lend us wings we do not have." - Pamela Brown 
Who Is It?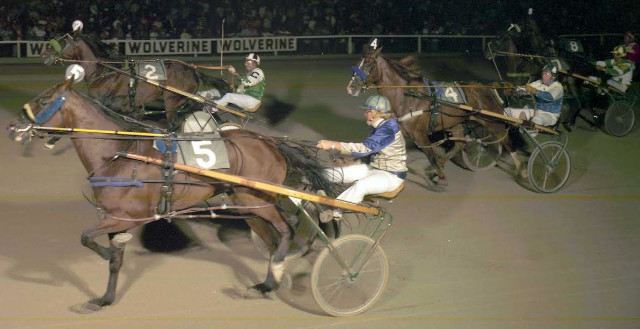 Here is a great photo from 1975 taken at Wolverine Raceway.  Can you identify the four Canadian born drivers that appear in the top finishers? Nos. 5, 2, 7, 4 are the ones to identify.  Wait a minute, that's almost 50 years ago!  Photo from The Abahazy Collection. 
Who Else Is It?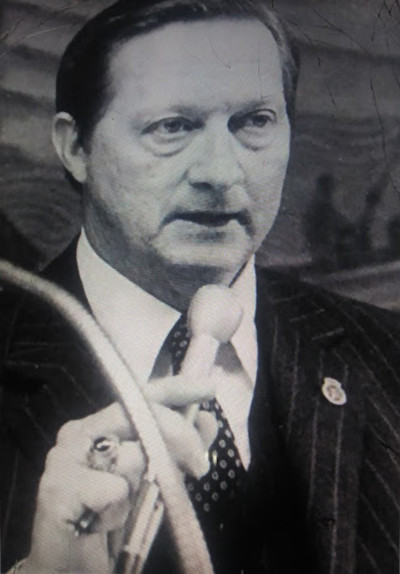 Can you identify this gentleman who was long associated with harness racing mainly in the U.S.