Published:
June 27, 2020 09:01 am EDT
In this week's Rewind Robert Smith covers a somewhat different topic as he recalls the long and colourful career of one of harness racing's most inventive equipment suppliers. This gentleman named Al Terwilliger has been around for a very long time and has invented and manufactured just about everything anyone in the harness horse industry ever needed or wanted.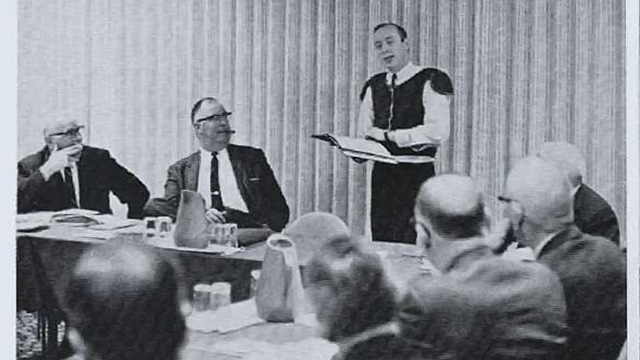 Al Terwilliger displays his invention "The Protecto Vest" at the 1967 U.S.T.A. annual meeting in Columbus Ohio (Hoof Beats photo)
Just recently I came across a write-up in an old issue of Hoof Beats covering the U.S.T.A.'s 1967 annual meeting held in Columbus, Ohio. The meetings, which covered a variety of topics, lasted 3 days beginning November 17th. The purposes of the annual get-togethers were many and varied, and one presenter addressed the gathering on what most might consider a rather boring topic, that being Safety. Probably a time to slip outside for a smoke or maybe sleep in a little on the morning it was on the agenda. Suffice is to say that the subject of safety while very important has never been considered too exciting.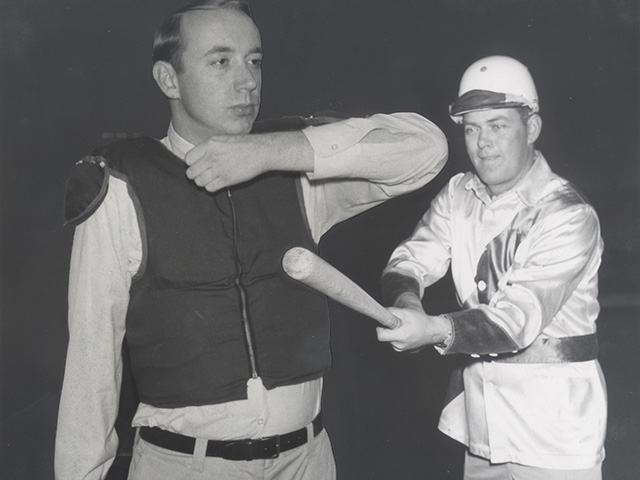 Poul Anderson, a Scandanavian horseman displays the durability of Al Terwilliger's "Protecto Vest" in its early years. A brave young Al is ready and willing to endure the swing of a baseball bat, secure in the protection his vest will provide.
One person who didn't take it lightly was the host of the session, a young fellow of just 28 by the name of Al Terwilliger. He as the saying goes 'had some fish to fry' as he was pitching a couple of pretty important products, at least they were to him. One was wheel discs for sulkies and the other was a vest that carried the name "Protecto Vest." He was a staunch believer in both items and I'm sure those in the audience that day detected his sincerity.
I guess one might conclude that people who go around "stumping" and trying to sell far-fetched ideas don't stay around long and sooner or later get a real job that brings in some money. Well in the case of Mr. Terwilliger, guess again. After some 50+ years, the business is still going strong and Al is still coming up with new ideas. At an age when most people are content to take it easy and rely on past glories, he is still looking forward to his next invention.
Al was born in Detroit in 1939 and about the time WWII ended, his horse-loving family moved to a place called Farwell, Michigan, a farming community located in Clare County in sort of the central part of the State. While Al's father and grandfather and an older brother were involved in harness racing, he had other ambitions and aspirations. By the age of 12 young Mr. Al was appearing on stage and drawing rave reviews for his singing. His interest in artistic endeavors eventually led to attendance and graduation from The Detroit Conservatory of Music. From there his travels took him to Juilliard College in far away New York City where he studied acting. Soon a well-paying job as a backup actor came his way, but he never got on stage.
So far it doesn't sound too much like the start of a career in the sport of harness racing. Perhaps it was what happened in his spare time that paved the way for the future. Ideas began to come to him about how to design and build things that the horse industry so desperately needed but were not available. He soon reached the point where he kept a pad of paper next to his bed at night and when a new idea came to him, he jotted it down. What followed was an American dream; if ever there was a person who thought "outside of the box" it was Al. He invented the now famous Protecto Vest, mud fenders, wheel discs, special clips for head numbers, better boots and hopples, etc., etc. You name it and he has probably invented it. His products are shipped to many international destinations such as Japan, Russia, Italy and France. He has invented more products and today owns more patents on harness racing products than any other horseman in the world. Among his current "newer" items are Tropples, Anti Choke, Multiple hand holds and even a Butt Plug. Please don't ask me for an explanation of the latter.
Al's big break in business came about not through an invention or a huge sale of his goods, but when he met Myra, now his wife of over 50 years. She was a teacher attending a convention while he was at the aforementioned U.S.T.A. meeting in Columbus. (I don't know if it was the same year I quoted?). They met, courted and eventually married and have raised two daughters. Wherever you see Al, you will see Myra. In an interview a few years ago he said "I'm not very smart but I'm creative. The smartest thing I ever did was to marry Myra. She's the one that makes the business work. She's my other half, the best half."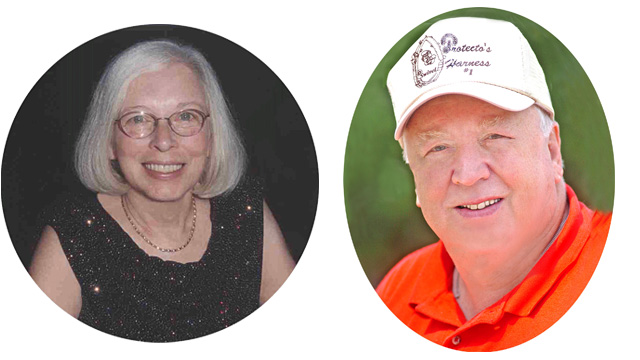 Left: Myra Terwilliger who is officially listed as "Vice President & Chief of Foreign Sales" has been an integral part of the Protecto business throughout its long existence as equipment suppliers to the world of harness racing. Right: Al Terwilliger in a slightly younger pose. He is President and Chairman of the Board of Protecto, a position he has held forever as founder.
Al's lifetime of inventing and building and his long years of devotion to the sport he loves has led to a number of prestigious awards and recognitions. In 1992 he was made a Kentucky Colonel for his contributions to horse racing. He joined such notable stars as Bob Hope and Bing Crosby as fellow 'Colonels'. In 2006 he was installed in the Michigan Sports Hall of Fame. Perhaps even more important is his link to most of the top horsemen in the business, many of whom use his products. His list of "endorsers" reads like a Who's Who of the sport.
Al and Myra have enjoyed a long and successful career together in business and in life but they are realistic in the realities now involved. Al recently told me in an email. "My wife and I are getting too old for the business and we are offering it for sale. We have had an outstanding Company for the past 50 years and are the world's largest seller of horse boots for harness racing and sell them all over the world. We have even had to cut some of our products out only because we can hardly fill the orders for our boots. We realize that it is time we sell."
Company Slogan: "The PROTECTION you need while racing your steed"
Quote For The Week: I once heard it described in a TV interview. "I am from a place so small that the 'Welcome To' and the 'You are now leaving' signs were both on the same post."
Who Is It?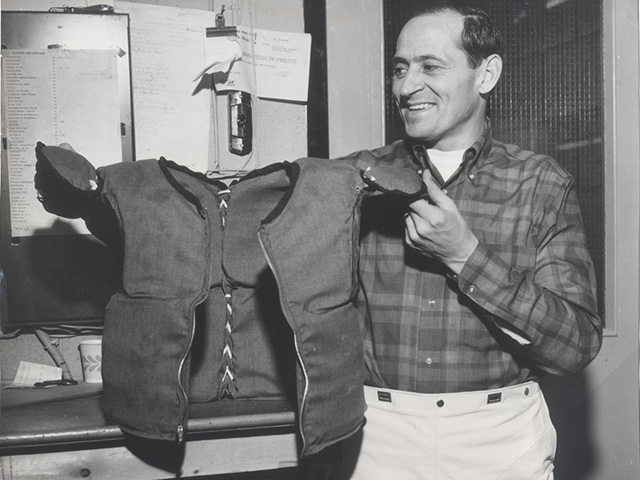 1. Can you identify this well-known horseman as he displays the latest version of the Protecto Vest, an item that eventually gained universal acceptance for harness drivers?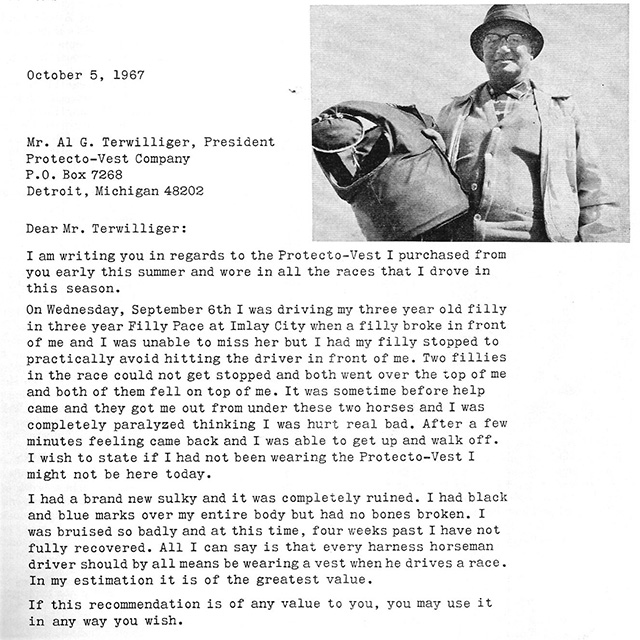 2. The above letter was printed in a 1967 edition of Hoof Beats magazine. The gentleman pictured was a very early proponent of the then new Protecto vest. Can anyone identify this man from Michigan who was the patriarch of a very famous family known throughout the harness racing world?
Bonus Photo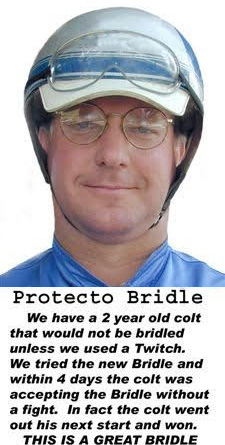 Can you name this horseman who has endorsed Protecto products?