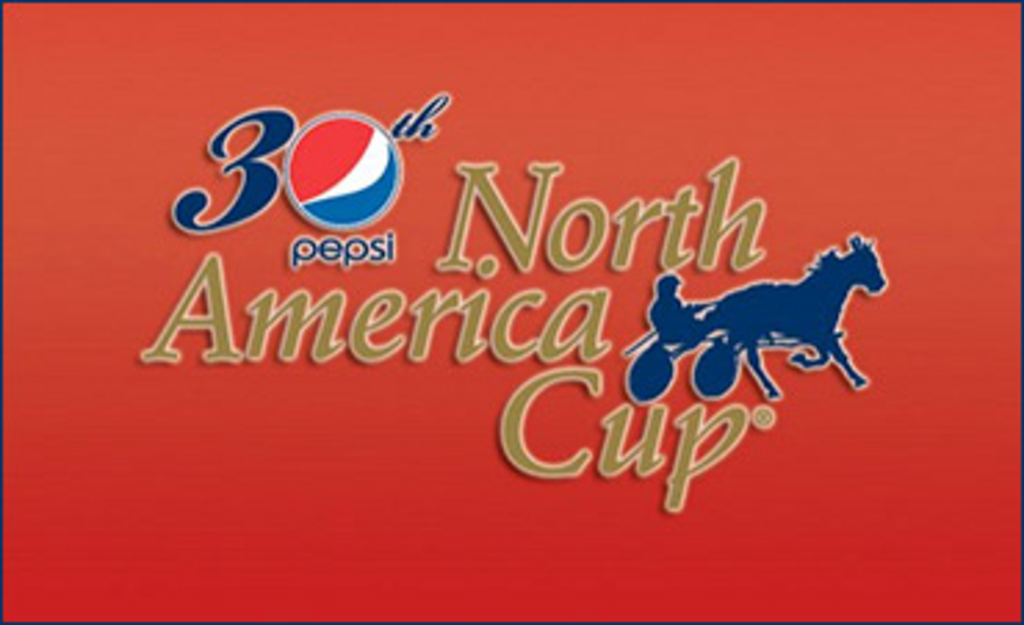 Published:
June 11, 2013 10:25 am EDT
The post position draw for the $1-million Pepsi North America Cup took place Tuesday at Mohawk Racetrack with Jake Gardiner of the NHL's Toronto Maple Leafs serving as special celebrity drawmaster. The 30th edition of the NA Cup, the richest event on the continent for three-year-old pacers, is now set for this Saturday night (June 15) at the Campbellville, Ontario oval.
The 'Cup' eliminations were contested last weekend at Mohawk, with Captaintreacherous, Fool Me Once and Vegas Vacation all turning in impressive victories in 1:49 or faster. To view the elim replays and to access the post-race reactions, click here. To view the charted results, click here.
Courtesy of their horses' elimination victories, the connections of Captaintreacherous, Fool Me Once and Vegas Vacation earned the right to choose their charges' post positions. The connections of Vegas Vacation picked first and selected Post 2. The connections of Fool Me Once then picked second and selected Post 3. The connections of Captaintreacherous picked third and selected Post 4.
Captaintreacherous, trained by Tony Alagna and driven by Tim Tetrick, has been installed as the 2-1 morning-line favourite.
After the connections of the elimination winners picked their horses' posts, Gardiner helped draw the rest of the post positions.
The draw results appear below.
$1-Million Pepsi North America Cup
Post – Horse – Driver – Morning Line Odds
1 – Apprentice Hanover – Jody Jamieson – 20-1
2 – Vegas Vacation – Scott Zeron – 5-2
3 – Fool Me Once – Sylvain Filion – 4-1
4 – Captaintreacherous – Tim Tetrick – 2-1
5 – Twilight Bonfire – David Miller – 30-1
6 – Wake Up Peter – Ron Pierce – 8-1
7– Sunshine Beach – Chris Christoforou – 15-1
8 – Odds On Equuleus – John Campbell – 8-1
9 – Captive Audience – Randy Waples – 8-1
10 – Martini Hanover – Dave Palone – 25-1
First-race post time for Saturday's card is 7:05 p.m. The $1-million Pepsi North America Cup has been carded as Race 7 and holds an approximate post time of 9:38 p.m.
To view the harness racing entries for Saturday at Mohawk, click the following link: Saturday Entries - Mohawk Racetrack.
For free, printable program pages for Pepsi North America Cup Night courtesy of TrackIT, click here.
The Woodbine Entertainment Group has signed a deal with Sportsnet to air the NA Cup on The Score. The one-hour broadcast, a joint production between WEG and Sportsnet, is scheduled for 9:00 p.m. (EDT), with the race set for 9:42 p.m. It will be the first time that a standardbred race will be shot and aired live in high-definition (HD) in Canada.
A quick look at the North America Cup starters, including elimination trip notes, appear below.
APPRENTICE HANOVER
Apprentice Hanover finished third, two and a half lengths back to Vegas Vacation in his Cup elimination and was individually clocked in 1:49.2. After having left the gate strongly, the Ben Wallace-trained Apprentice Hanover was hung out around the first turn, but settled down to the lead after the quarter flashed. The Jody Jamieson-driven Somebeachsomewhere colt was instantly engaged by Vegas Vacation and wound up taking a two-hole journey the rest of the way. After having been used early, Apprentice Hanover, a $90,000 yearling purchase, closed up his mile with a :26.3 final quarter. The bay is owned by Bradley Grant of Milton, Ontario.
VEGAS VACATION
The Scott Zeron-driven Vegas Vacation was game in his 1:49 Cup elimination for trainer Casie Coleman last weekend at Mohawk. After having settled in fourth early, the gelded son of Bettors Delight went first up in the second panel and cleared to the lead just past the half. After rolling on the engine into the stretch, Zeron utilized whip-tap urging in the lane and popped Vegas Vacation's earplugs. The charge stayed on his game through the stretch and won by a half-length. The brown sophomore is a perfect four-for-four in 2013 for the ownership group of the West Wins Stable of Cambridge, Ontario, Adriano Sorella of Milton, Ontario, Anthony Beaton of Waterdown, Ontario, and Phyllis Saunders of Hamilton, Ontario.
FOOL ME ONCE
Art Major colt Fool Me Once turned heads last week at Mohawk during his 1:48.1 elimination win. After having left hard off the gate, the son of Art Major repelled a first-over advance down the backside and refused to relent the rest of the way. Driver Sylvain Filion kept the $70,000 yearling purchase alert in the lane, and the result was a sharp two-length win in a snappy 1:48.1. Trainer Mark Austin of Fergus, Ontario co-owns the bay colt along with Daniel Smith of London, Ontario.
CAPTAINTREACHEROUS
Dan Patch and O'Brien Award winner Captaintreacherous, trained by Tony Alagna and driven by Tim Tetrick, loomed large in his elimination. The Somebeachsomewhere colt was parked first over until he cleared before the half. Last season's Breeders Crown and Metro Pace champ had to come home with a :53.4 back half and fend off a fresh closer late to secure a three-quarters of a length victory in the mark-lowering 1:48.4 mile. Captaintreacherous, a $250,000 yearling purchase, is owned by Captaintreacherous Racing of Versailles, Kentucky.
TWILIGHT BONFIRE
Twilight Bonfire was the fourth-place finisher that drew into the $1-million final. The homebred of Robert Key of Leechburg, Pennsylvania finished six and a half lengths back of Fool Me Once in his Cup elimination. A colt by The Panderosa, Twilight Bonfire finished fourth by passing the fading Rockin Amadeus in deep stretch. The bay is trained by Danny Collins and is driven by David Miller.
WAKE UP PETER
Rocknroll Hanover colt Wake Up Peter came alive during the back half of his NA Cup elim and finished second to Fool Me Once, who stopped the clock in 1:48.1. Driven by Ron Pierce for trainer Tony Alagna, Wake Up Peter raced sixth throughout the majority of the mile. The bay colt kept tabs on the leaders from along the pylons, and when Pierce found him a clear path in late stretch, Wake Up Peter finished with a short burst, just two lengths back of Fool Me Once, and was individually timed in 1:48.3. Wake Up Peter is owned by the Wake Up Peter Partners of Millstone, New Jersey, Brittany Farms of Versailles, Kentucky, Louis Willinger of Louisville, Kentucky and the Eagles Soar Partners of Staten Island, New York.
SUNSHINE BEACH
Somebeachsomewhere Stakes division winner Sunshine Beach finished more than four lengths behind Captaintreacherous in his Cup elimination. After having settled at the back of the pack in the early goings, the Mark Steacy-trained and Chris Christoforou-driven colt raced third over along the final turn and appeared to close in :26.4 with relative ease. The son of Somebeachsomewhere was individually timed in 1:49.3. The bay, an $85,000 yearling purchase, is owned by Hudson Standrdbrd Stb Inc. of Hudson, Quebec, Conrad Leber of Montreal, Quebec and Diane Bertrand of Edmonton, Alberta.
ODDS ON EQUULEUS
After having worked out a second-over trip in his elimination, driver John Campbell had the Robin Schadt-trained Odds On Equuleus closing through the lane, but the colt ended up finishing second, just one and a half lengths short of Vegas Vacation at the wire. Bred by Odds On Racing of Crete, Illinois, Odds On Equuleus, a son of Art Major, closed with a :26.1 final panel.
CAPTIVE AUDIENCE
Trained by Colin Johnson and driven by Randy Waples, Captive Audience gave Captaintreacherous a scare in the first of the Cup elims. After having bided his time from fifth, Waples was able to move the son of Art Major into prime second-over striking position along the final turn. When Waples tipped his colt out for a stretch duel, Captive Audience brought the pressure to Captaintreacherous, who had to dig in right to the wire to secure the victory. Captive Audience, a $95,000 yearling purchase that won a division of the Champlain Stakes at two, is owned by Debbie Element of Laval, Quebec and Mac Nichol of Burlington, Ont.
MARTINI HANOVER
Dragon Again gelding Martini Hanover brought the pressure to Fool Me Once in the Cup eliminations. Driver Dave Palone challenged Fool Me Once by going first up along the backstretch with the Chris Ryder trainee. The move caused Sylvain Filion (driving Fool Me Once) to utilize whip taps and a raised stick in order to fend off the challenge. Palone and Martini Hanover then settled into the garden spot and remained there for the rest of the mile. The pair was just nosed out for second by a closing Wake Up Peter. Martini Hanover, a $35,000 yearling purchase, won the Metro Pace consolation last year at two, and is owned by Robert Mondillo of Delaware, Ohio.