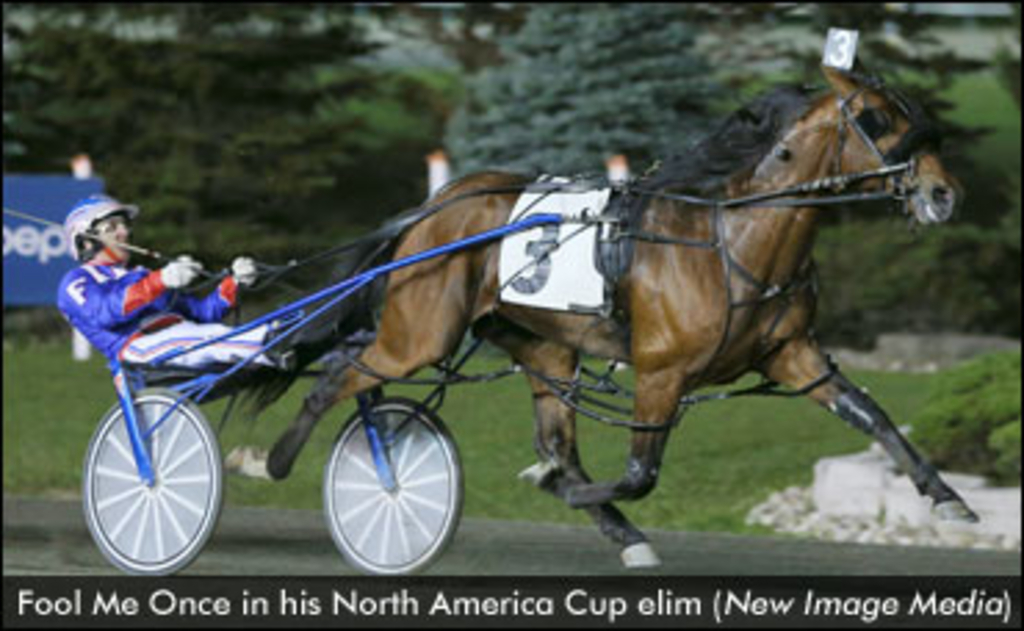 Published:
June 8, 2013 07:50 pm EDT

The finest three-year-old pacing colts on the continent faced off in three $50,000 Pepsi North America Cup eliminations on Saturday night at Mohawk Racetrack with Captaintreacherous, Fool Me Once and Vegas Vacation all turning in impressive victories in 1:49 or faster.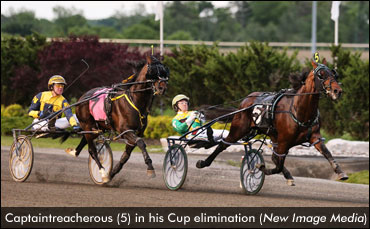 Early season Cup favourite Captaintreacherous kicked off the elimination round for next Saturday's $1 million final with a dazzling 1:48.4 career-best victory over the hard-closing Captive Audience.
The victory was a perfect birthday gift for Tony Alagna, who trains the son of 2008 Cup winner Somebeachsomewhere and Worldly Treasure for Captaintreacherous Racing.
See And Ski (Scott Zeron) was the first to fire from post four in the opening Cup elimination, but Captaintreacherous and driver Tim Tetrick rolled up after leaving to his outside and cleared to command past the :26.3 opening quarter.
Captaintreacherous proceeded to the half in :55 and three-quarters in 1:22 while Moonliteonthebeach (David Miller) advanced first over from fourth with Captive Audience (Randy Waples) and Sunshine Beach (Chris Christoforou) following his cover.
The colts continued to chase Captaintreacherous into the stretch with Captive Audience flying home off cover to offer up the biggest challenge. But Captaintreacherous persevered, winning by three-quarters of a length. Captive Audience settled for second while Sunshine Beach came in third. Varadero Hanover (Jody Jamieson) closed from fourth over to finish fourth.
"My horse was pacing pretty good and when he saw the other horse he dug back in," said Tetrick of the stretch duel. "He's kind of a lazy colt. He sometimes loses concentration, but once he sees a horse and has somebody to race him he's all business."
After winning eight of his 10 starts as a two-year-old including the Metro Pace and earning $911,277 in purses, the O'Brien and Dan Patch Award winner started his sophomore campaign with his fourth sub-1:50 victory in a Pennsylvania Sire Stakes division on May 19 at Pocono Downs.
Captaintreacherous paid $2.40 to win his Cup elimination as the heavy 1-5 favourite.
"I've been looking forward to this horse all winter long and he's come back good," said Tetrick. "Going into the race next week, we have a really good shot at it."
Fool Me Once captured the second elimination in wire-to-wire fashion while going sub-1:50 for the first time in his career with a speedy 1:48.1 mile in rein to Sylvain Filion for trainer and co-owner Mark Austin.
Leaving from post three, Fool Me Once established the lead over favourite Rockin Amadeus (Yannick Gingras) and carved out fractions of :26.2, :54.1 and 1:21.2.
Meanwhile, a parked out Martini Hanover (Dave Palone) was able to drop into the pocket spot before Rockin Amadeus began his first over attack near the midway mark.
But Fool Me Once spun into the stretch and turned back Rockin Amadeus en route to the two length victory. Wake Up Peter (Ron Pierce) sprinted home in :26-seconds from the backfield to place while Martini Hanover finished third and survived a judges' inquiry after going inside two pylons around the turn. He was not lapped on at the wire and therefore the judges ruled there was no violation to the racing rules. Twilight Bonfire (David Miller) followed from second over to finish fourth.
The Art Major-Fool That I Am colt won four of his 10 starts as a freshman, including back-to-back victories in the International Stallion Stakes and Bluegrass Series at The Red Mile, while banking $126,652 in purses. He won his first three starts this season and finished third in the Somebeachsomewhere Stakes last Saturday.
"I didn't really want the front, but I got locked in last week and I was just hoping it wouldn't happen tonight," said Filion after the elimination win. "He raced so big last week. I had no room and when I finally got room late he was flying so I was pretty confident [tonight]."
Fool Me Once is owned by Mark Austin Stables Inc. of Fergus, Ont. and Daniel Smith of London, Ont.
The 5-2 second choice paid $7.60 to win.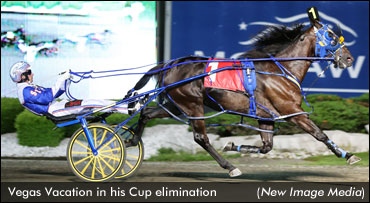 The final elimination went to the popular Vegas Vacation, who continued his undefeated sophomore win streak with a 1:49 victory for driver Scott Zeron and trainer Casie Coleman.
Resistance Futile (Anthony MacDonald) charged to the lead from the outside post seven and put up a :26.2 opening quarter with Johny Rock (Andy Miller) in the pocket and Apprentice Hanover (Jody Jamieson) rolling up to challenge the early front-runner.
Apprentice Hanover cleared to command in the backstretch while Zeron sent inside starter Vegas Vacation first over from fourth. The heavy favourite worked his way to the lead past the :54.1 half-mile mark and proceeded to three-quarters in 1:22.3 with Johny Rock moving up to apply pressure and second choice Odds On Equuleus (John Campbell) picking up his cover.
As the colts entered the stretch, Odds On Equuleus kicked home off cover, but couldn't catch Vegas Vacation, who drew clear to win by one and a half lengths. Odds On Equuleus settled for second, benefiting from a shoeing change this week, while Apprentice Hanover finished third. Beach Memories (Dave Palone) was fourth.
"Odds On Equuleus was clearly back to his old self and gave me a good run down the lane," said Zeron after the victory. "I'm just happy with the way mine went across the wire."
Vegas Vacation, who earned just one victory in 10 starts as a freshman, paid $2.90 to win his fourth in a row as a sophomore.
"Last year really wasn't his fault," said Coleman. "He had a lot of bad luck and drew a lot of bad posts. The biggest thing about winning this elimination, besides being in the NA Cup, is I'm picking my post on Tuesday so anything inside the six-hole I'm pretty happy with."
The gelded son of 2001 Cup winner Bettors Delight and Dont You Smile is owned by West Wins Stable, Cambridge, Ont., Adriano Sorella of Milton, Ont., Anthony Beaton of Waterdown, Ont. and Phyllis Saunders of Hamilton, Ont.
Captaintreacherous is the No. 1 ranked colt in Trot Magazine's 2013 Pepsi North America Spring Book, assigned odds of 3-1, while Vegas Vacation was ranked sixth at 12-1 and Fool Me Once was assessed at odds of 35-1.
The top three finishers from each elimination plus the fourth-place finisher drawn by lot, which was Twilight Bonfire, will advance to the coveted Cup final. The connections of the elimination winners will be able to pick their post positions while the rest of the field will be drawn at a press conference on Tuesday. Toronto Maple Leafs defenceman Jake Gardiner will serve as the honourary drawmaster.
North America Cup Night on June 15 will feature an action-packed undercard, including the Goodtimes Trot for three-year-old colt trotters and the Fan Hanover Stakes for three-year-old pacing fillies. Eliminations for those stakes were also contested on Saturday's program.
The $30,000 Goodtimes Trot eliminations for three-year-olds began with a photo finish as Gotta Secret and driver Sylvain Filion rallied home off cover to upset the favourites for trainer Richard Moreau and Montreal owner Gestion Jean Yves Blais.
Gotta Secret prevailed by a nose in a career-best clocking of 1:55 over Denver (Yannick Gingras), the slight second choice, and even-money favourite Hamdalla (David Miller). Rolls Blue Chip (Randy Waples) and Bwt Taj (Per Henriksen) finished fourth and fifth to earn spots in next week's final as well.
When the wings of the gate swung open, Denver rolled to the lead from post five ahead of Buddy Hally (Doug McNair) and reached the opening quarter in :28.4. Hamdalla launched a first over attack from fourth as they approached the :58.2 half-mile mark with Gotta Secret following his cover. Denver maintained the lead to the 1:27 third quarter mark while Buddy Hally broke stride in the pocket and was taken into the safety lane. Hamdalla wore down the leader in the stretch, but had to contend with the late-closing Gotta Secret, who made it up just in time to nab the victory.
Gotta Secret paid $18.40 to win as the 8-1 third choice.
The Muscle Mass-Prenup colt made his first Grand Circuit stakes start a winning one after competing in the Ontario Sires Stakes program for his first 10 career starts.
Once Toocool Forschool made the lead after the opening quarter, there was no catching him as he trotted to a 1:53.4 career-best triumph to complete an Ontario-bred sweep of the Goodtimes eliminations.
Driven by Mike Saftic, the Kadabra-Stonebridge Lane colt swept around early leader Brewmaster (Anthony Macdonald) after the :28.3 opening quarter and cruised through middle splits of :57.2 and 1:26 en route to the three length victory. Flanagan Memory (Chris Christoforou) rallied home off cover in :26.4 to place while first over Rossini (John Campbell), the even-money favourite, finished third. Second choice Caveat Emptor (Ray Schnittker) gapped the gate early, but made up his deficit to finish fourth. Brewster earned the last spot in the final in fifth.
Toocool Forschool is trained Glenn Lalonde and owned by Roland Rocco of Lasalle, Que. and Benoit Gendron of Beaconsfield, Que.
Sent postward as the 9-2 third choice, he returned $11.20 to win.
O'Brien Award winner I Luv The Nitelife delivered on her pari-mutuel promise with a 1:50.4 triumph for Tetrick and trainer Chris Ryder in the lone $35,000 elimination for the Fan Hanover Stakes.
Longshot Jettin Jamie (Randy Waples) left from post three with heavy 1-5 favourite I Luv The Nitelife rolling up from post six to strike the front at the :26.4 quarter pole. She cleared to command into the backstretch and cruised through middle fractions of :56 and 1:24 en route to the two length victory.
The top nine finishers will join Jerseylicious, who accepted a bye, in the final. Belle Boyd (Jody Jamieson), who entered the race with seven straight sophomore wins, journeyed first over from mid-pack to place while Jettin Jamie finished third. Finishing fourth through ninth were Love Canal (Doug McNair), Pertty Music (Scott Zeorn), Nikki Beach (Ron Pierce), Beach Of A Time (David Miller), Parlee Beach (Yannick Gingras) and Wherethegirlsare (Dave Palone).
I Luv The Nitelife paid $2.70 to win.
The Rocknroll Hanover-Lisjune filly is owned by Richard and Joanne Young of Coconut Creek, Florida.
To view Saturday's harness racing results, click on the following link: Saturday Results - Mohawk Racetrack.