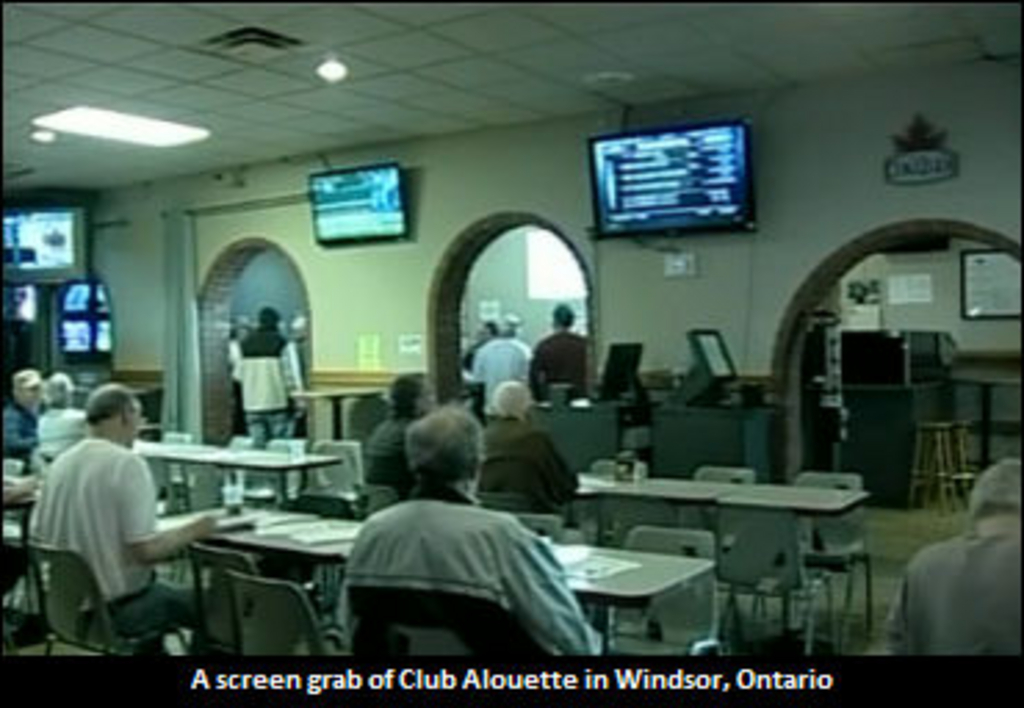 Published:
May 27, 2013 01:56 pm EDT
It has been reported that horseplayers in Windsor-Essex are up in arms with Club Alouette, the only off-track wagering establishment in the area since Windsor Raceway shut its doors. Patrons are looking for the Ontario Racing Commission to pull the club's licence or have a public meeting conducted to address what they are claiming to be unacceptable conditions.
According to a report by Stefanie Masotti on ctvnews.ca, a newly-formed local horseplayers group, Horseplayers of Windsor and Essex County (HOWEC), has had enough and are calling on the community to boycott the location and for the ORC to address the situation.
Wayne Craig, a HOWEC member, told CTV's Masotti that Club Alouette is "not a teletheatre operation, it's a money grab."
The concerned horseplayers have vocalized their issues regarding viewing races, hearing races, dealing with out-of-date machines and payout issues.
"What you have is a bar setup, and you have TVs thrown up on the wall and that's it," said Craig. Another HOWEC member, Judy Dent, echoed Craig's sentiments, explaining that with live bands playing on some nights the location does not cater to horseplayers as it should. "On a Friday or Saturday night there are bands going, you can't watch a horse half the time because they're up on little wee TVs up on the wall (with) no sound," she said. "You can't hear the races."
"I've been through teletheatres across this province and none of them look like this," said Craig. "There are teletheatre operations where you can have individual tables and individual TVs where you can turn the volume up to hear the races that you want."
The horseplayers' unhappiness is news to the operators of the establishment, according to comments provided by Club Alouette Vice President Yvon Levaoie. "Yes, I'm surprised about that," he said, adding that "every player seems happy to play here."
Winrac Development, the operator of the now-shuttered Windsor Raceway, applied to the ORC last summer to have off-track wagering at Club Alouette.
Winrac and Windsor Raceway have been in the news in the past couple of days after a report surfaced stating that the track could possibly re-open seeing as though the Ontario Lottery and Gaming Corp.'s gaming modernization plan is still evolving.
"A lot of things are happening in the province right now," Winrac President Pat Soulliere has said. "We're keeping a close eye on it to see where it goes."
Soulliere went on to say, "We have no plans to demolish it (Windsor Raceway) right now. We'll leave it as is and see what the future holds with the industry."
The idea of Windsor Raceway re-opening has not sat well with Tom Bain, who is the Warden of Essex County, the Mayor of Lakeshore, and a member of the Lakeshore Horse Raceway Group. Bain's raceway group is looking to secure 10 live race-dates for the Leamington Fairgrounds this year, part of a plan which would ultimately see a not-for-profit raceway erected in Lakeshore.
Last week, Bain voiced his support for Kathleen Wynne's Ontario Liberal Government, stating that he feels "satisfied that she (Premier Wynne) is going to work hard to keep the horse-racing industry going, and that will mean our area here in southwestern Ontario."
(With files from ctvnews.ca)