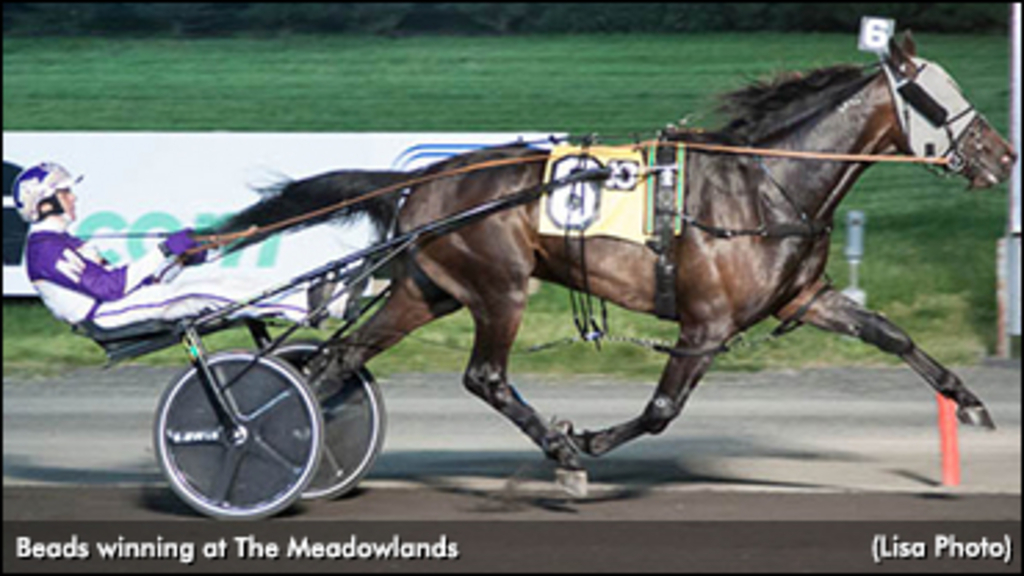 Published:
May 22, 2021 11:50 pm EDT

Per Engblom's trotting enigma Beads, whose frequent breaks in stride shadowed his speed, put the pieces together on Saturday (May 22) at The Meadowlands to win the second of two $50,000 opening-preliminary divisions of the Graduate Series Trot.
Away from post 6, driver David Miller floated Beads to the top as 8-5 favourite Lovedbythemasses broke stride moving to the first turn. Beads cleared command through a :26.4 opening quarter while pocketing Sorella into the backstretch, and slowed the tempo to a :55 half before the backfield began to move.
Sorella crept out of the pocket with Amigo Volo in tow as Beads cruised by three-quarters in 1:23.4. Off the turn, Beads started to step away from the competition and continued to widen his margin to the finish of a 1:50.2 mile. Amigo Volo rallied for second with Moon Bridge and Gangster Hanover sliding into contention for third and fourth, respectively.
"They told me going out [that] the best way to get along with him is just keep him busy," winning driver David Miller said after the race. "Keep him moving, and talk to him a lot. So I did, and he felt very comfortable the whole way. At the top of the stretch, he just trotted away."
Winning his eighth race from 25 starts, Beads has earned $296,713. Buckstone Land Livestock owns the son of Archangel who paid $11.00 to win.
Its Academic braved quick early fractions to then withstand a late charge from Hypnotic AM and win the first division of the Graduate Trot.
EL Ideal and Hillexotic both left for the lead and raced in tandem by a :27 first quarter with Its Academic tracking the dueling leaders wide of Absattitudexpress. Hillexotic yielded control to EL Ideal into the backstretch before Its Academic ranged to grab the lead by a :54.2 half.
With the tempo slowing, Absattitudexpress rolled out of fourth and pressed first over nearing three-quarters in 1:23.4. However her grind grew leg weary as Its Academic widened his lead on the spin for home. Hypnotic AM meanwhile revved from third over and entered another gear as she charged after Its Academic in the final eighth, but the 4-5 favourite held off the mare with the momentumat the beam in 1:51.1 with Hillexotic scooting up the pylons for third and Sermon snagging fourth.
"He raced humongous tonight," winning driver Yannick Gingras said after the race. "It was a big half, and I did get a third-quarter breather there. I honestly wasn't sure when the half popped up :54.2 – I knew I had to get a breather somewhere, and thankfully we got one. In the stretch I was letting him coast actually. Brian [Sears behind Hypnotic AM] was coming a lot faster than I expected; I almost got caught sleeping there. The plugs were still in. I was kind of letting my horse coast to the wire, and I got lucky that the wire came just in time."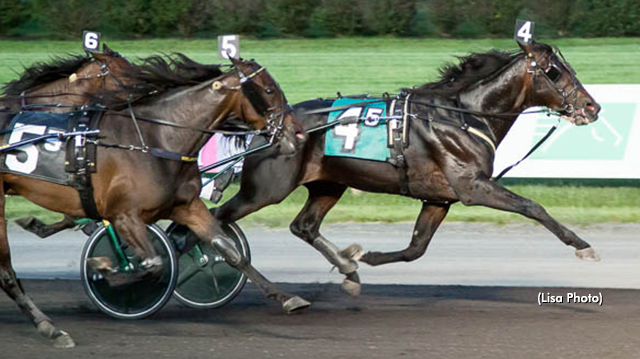 A four-year-old son of Uncle Peter, Its Academic won his fourth race from eight starts this season and his 17th from 32 overall, earning $585,688. Ron Burke trains the $3.60 winner for owner Brad Grant.
Lyons Sentinel sprung a 20-1 upset in the opening round of the Kissin In The Sand Series for Open Pacing Mares.
Away 10th to a :27 opening quarter, Lyons Sentinel followed a lively flow as control of the lead changed hands multiple times through the backstretch. Racine Bell initially grabbed command, but eventually was shuffled to fifth as Machnhope slid to the front before JK First Lady ranged to take over the top, catalyzing a :53.4 half.
Into the far turn, Treacherous Reign led the two-wide tier towards JK First Lady. Keep Rockin A, positioned second over, began to angle off her cover by three-quarters in 1:21.1 as driver Tim Tetrick followed suit with Lyons Sentinel. The Jim King Jr. trainee hit her best stride into the eighth pole, slowly reeling in late-leader Keep Rockin A and then edging by in the final strides of a 1:48.2 mile as her rival veered inside at the finish to settle for second. Racine Bell split horses to take third while JK First Lady held fourth.
Returning $43.00 to win, Lyons Sentinel won her 13th race from 31 starts, earning $1,378,664. Threelyonsracing owns the four-year-old daughter of Captaintreacherous.
ROCKING THE CLOCK: Nicholas Beach, trained by Jenn Bongiorno and driven by her brother Joe, equaled the fastest mile of the year in harness racing of 1:47.2 when he ripped out of the pocket as the 8-5 second choice to gun down leader American History, the even-money favorite who had established the mark last week. This Is The Plan, who won the Borgata Series Final at Yonkers in his last start, shrugged off a 33-day layoff to miss a fast-charging nose in the $30,000 Open-Preferred Handicap for pacers. American History held third.
A LITTLE MORE: Gingras and Tetrick both drove three winners on the card. Gingras finished the weekend with a half-dozen victories.
All-source handle totaled $3,730,993, the seventh-consecutive Saturday to see betting bust the $3.5-million barrier.
Live racing resumes Friday (May 28) at 6:20 p.m. (EDT).
(with files from The Meadowlands)