Published:
February 5, 2013 10:42 am EST
On Tuesday, February 5, the Ontario Lottery and Gaming Corp. issued a news release stating that it has reached a lease agreement, in principal, with the Grand River Agricultural Society regarding the OLG's slot-machine operations at Grand River Raceway.
The release states that the OLG has provided the GRAS with a Letter of Intent, which sets out the general intentions and business arrangements, subject to approvals, between OLG and the site. OLG previously announced it has reached agreements in principal for its slots operations with 10 other site holders. Today's announcement brings the total to 11 of 14 sites.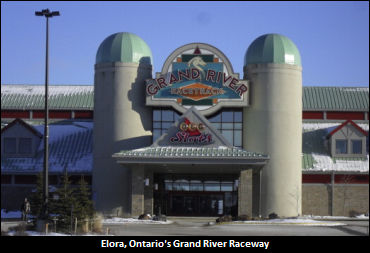 "We are pleased to announce that we have reached a lease agreement in principle for our slots at Grand River Raceway," OLG President and CEO Rod Phillips was quoted as saying in the release, "We have longstanding and positive relationships with our site holders and look forward to working with them in the future."
"This is the required first step to continuing the quest to offer horse racing at Grand River Raceway this year," Grand River Raceway GM Dr. Ted Clarke said in a separate statement. "Unlike last month's Woodbine announcement, there is still much to be done. Those meetings begin today."
The OLG's release states that it hopes to finalize the agreement with the site holder by February 28, 2013, and that it continues to engage in lease agreement discussions with its three remaining site holders across the province.
(With files from the OLG and Grand River Raceway)