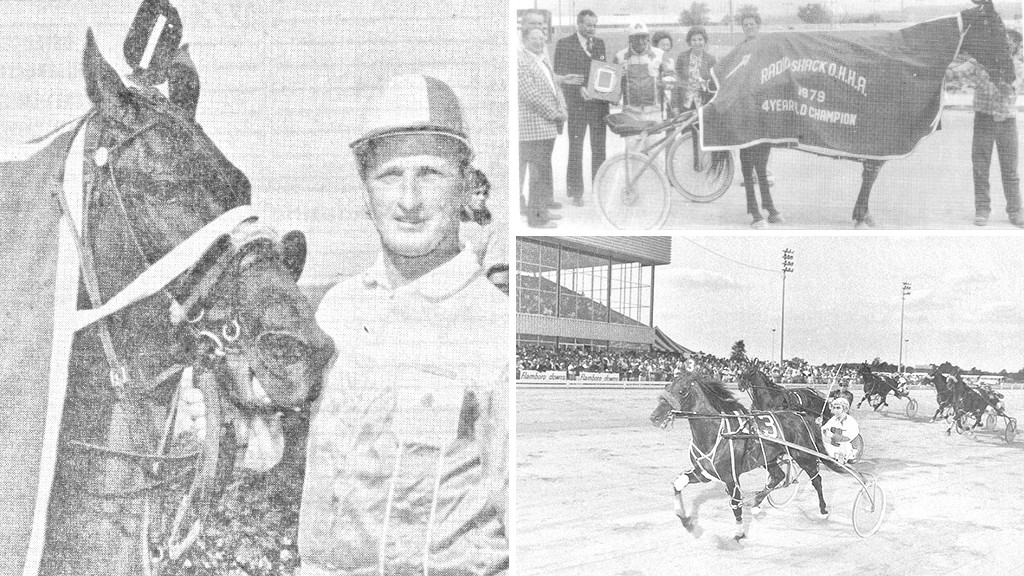 Published:
February 4, 2023 10:45 am EST
In today's Rewind Robert Smith takes a trip back to the decade of the 1970's as he issues the monthly edition of Years Ago.  His short stories and old photos capture the times, the people and the happenings from this period in time which was about 50 years ago.  
1971 - Maritimes Pacer Records Region's First Ever 2:00 Mile - Andy's Son Scores in 2:00. 
The previously-elusive two-minute mile at Maritime tracks was finally reached in the fall of 1971.  After parts of two centuries when records have been kept, the "miracle mile" happened on October 2, 1971 at Exhibition Park in Saint John, New Brunswick.  
This milestone was achieved in a rather unusual way.  The event that resulted in this first 2:00 mile was a match race which of course usually only involves two horses which this one did.  In this event the second horse Gons Butler, by Adios Butler, also owned by the Whebby Stable did not finish the race.  He was a winner in 24 of his 31 starts that season and had record of 2:03 but apparently did not always perform as expected.  
When I went looking for an explanation as to why Gons Butler's outing showed DNF (did not finish) in the record books, I found the following excerpt from a piece done by local historian and archivist Brent Briggs.  
"A match race had been set up between Andy's Son and his stablemate Gons Butler who ironically was to be driven by Willard Carr on this occasion.  However Gons Butler, who sometimes had a tendency to jump shadows,  failed in two attempts to complete a clean start. The match race was abandoned and it was decided that Andy's Son would go it alone and Carr missed out on an opportunity for fame on that occasion."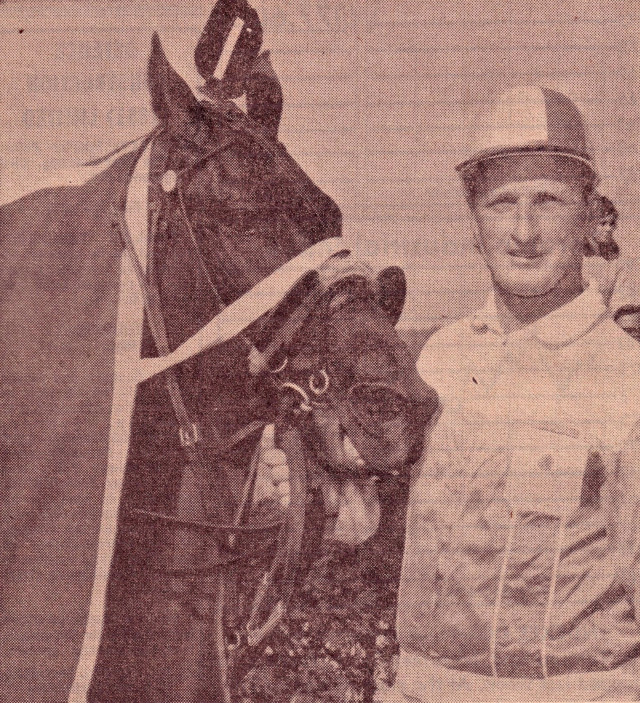 Andy's Son was very well known in the entire region and was owned by the equally famous Whebby Bros. Stable of Dartmouth, N.S. He had career earnings of slightly over $170,000 at this time, certainly quite an accomplishment given the purse structure back then.  He is shown above with driver Elmore White following the record setting event. 
1974 - Soky's Tiger Wins Nine Straight 
The "hottest" horse in the sport early that year was the Canadian-owned four-year-old Soky's Tiger.  The son of Best Of All from Adios Debutante, a full sister to the famous Adios Butler, went on an early season tear at Yonkers Raceway.  By early April he had already won nine straight races, with no signs of slowing up. Despite having sight in only one eye he was better than all challengers in an early season series called The Hopeful Pace. 
Owned by Bill Sokoloff's Soky Stable of Downsview, Ont., this young horse took a new record in his ninth season win, stopping the clock at 2:01 4/5. Trained by Jean Drolet this fellow had already earned well over $53,700 despite it being only March 26th when this victory took place.  His torrid pace did not continue throughout the season but he did have a highly successful campaign that saw him win a total of 13 races and just over 
$100,000 in purses that season.  He did lower his lifetime best to 2:00 even by year's end. 
Note - Be sure to see a related picture quiz at the bottom of today's Rewind.  
1975 - Flamboro Downs Opens
On April 9, 1975 Canada's newest racetrack opened for business.  Flamboro Downs located at Dundas, Ont. became the second new track of the decade to begin operations in the Province as it followed Barrie Raceway which opened in December of 1973.  Racing fans were very eager to attend opening night at the new track but many were turned away when the gates were closed due to possible overcrowding.  The track printed just 5,000 programs and they were snapped up quickly long before the first race was held.  Many had to wait to make their first visit to the new track until a later date.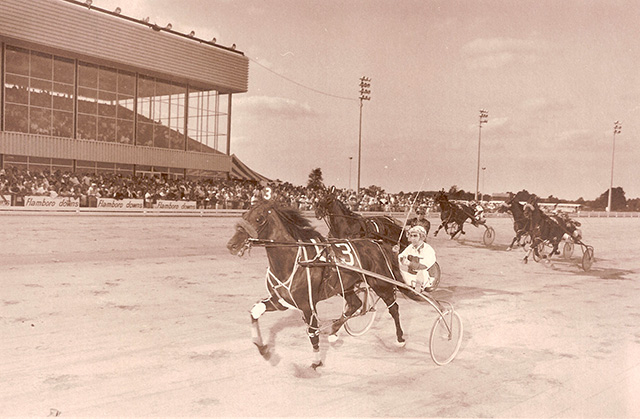 ​
In 1977 two years after opening Flamboro Downs staged the first edition of its signature race, The Confederation Cup.  Shown above is the Cup's first winner, Governor Skipper in rein to the great Johnny Chapman — a Canadian-born horseman who had gained fame racing at U.S. tracks after starting his career at Toronto's Dufferin Park.  
Be sure to check at the end of today's column for a Flamboro related picture and question. 
1979 - Radio Shack-OHHA Final At Orangeville Won By Smokey Fella 
For a number of years the annual OHHA stakes program was a popular series at many small town tracks.  These races for younger horses offered some decent purses for colt developers and also provided a lot of exciting races for fans at the "B" Circuit tracks. For a time Radio Shack, a retailer of electronics, joined in as co- sponsors, helping to raise the purses and provide promotion. 
Owner, trainer and driver Neil McRann was the winner of the 1979 final of the Radio Shack-OHHA Stake for four-year-olds which carried a purse of $12,000.  The young mare Smokey Fella covered the mile in 2:03.3 and raised her season's earnings to $20,000.  In order to qualify for the final an entrant had to race in a minimum of five races in the series.  McRann admitted that he was not aware of that stipulation but thankfully had started her in all of the events close to his home base which was sufficient.  Appearances at Woodstock, Goderich, Clinton, Elmira and Dresden did the trick and they made the most of the opportunity once they reached the final.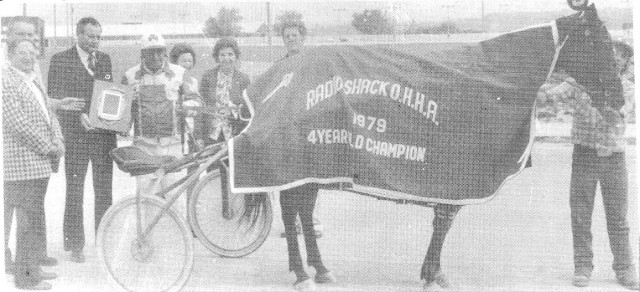 O.H.H.A. President Cliff Sheppard (left) presents a plaque to winning owner - driver Neil McRann following a victory in the Association's final for four-year-old pacers at Orangeville.  (The Standardbred)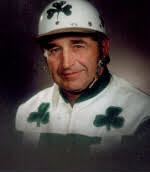 Neil McRann of Lucan, Ont. spent over 60 years as an owner, breeder, trainer and driver.  He is remembered for his distinctive green and white silks which bore shamrocks as a tribute to his Irish heritage.  He passed away in 2003 at the age of 82. 
Quote For The Week: "There's no substitute for hard work.  If you work hard and prepare yourself, you might get beat, but you will never lose." - attributed to Nancy Lieberman, former pro basketball player and coach. 
Who Is It?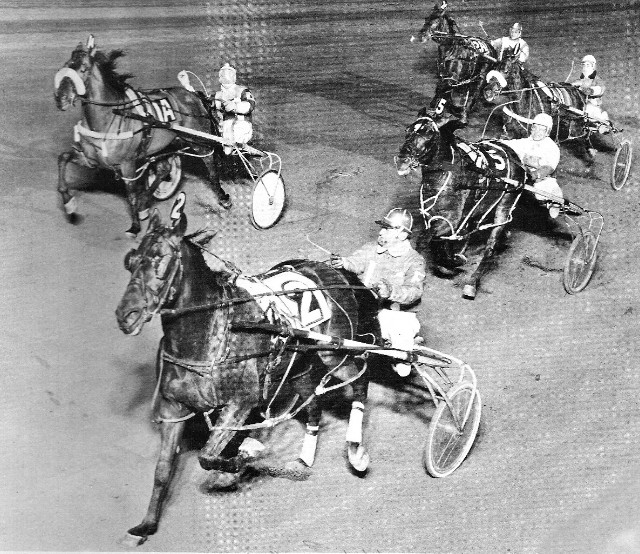 Sokys Tiger, the above pictured horse is shown closing for a win at Yonkers Raceway in 1974 as covered above in this week's short stories.  Can you identify the drivers of the first three finishers  No. 2, 1A and 5? You may not need any help but they were all Canadian "boys". (Photo courtesy of The Harness Horse) 
Who Else Is It #1?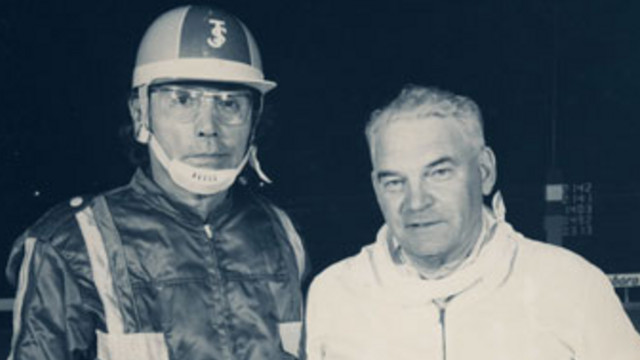 ​
Early in the history of Flamboro Downs a good natured match race was held much to the delight of the fans in attendance.  Can you identify the two gentlemen who participated in that "duel" many years ago? Also any guesses on the possible winner?
Who Else Is It #2?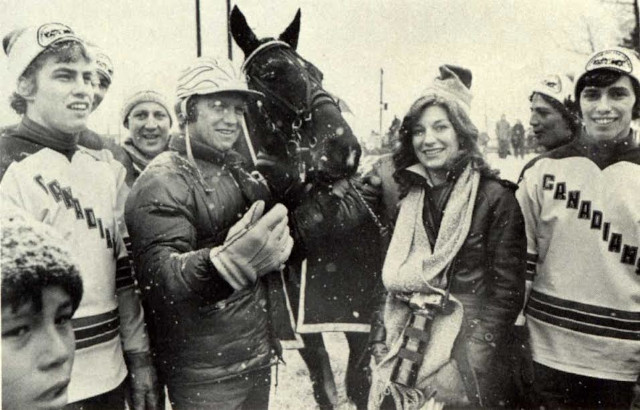 Can you identify the driver in this photo taken many years ago during the Rideau Ice Carnival held in Ottawa? Photo from March 1979 USTA Hoof Beats and Sulky Scene.