Published:
February 17, 2010 10:20 am EST
On Tuesday, February 16, former standardbred owner David Brooks, currently on trial in Central Islip, New York, unexpectedly exited proceedings to get to a bathroom. A federal marshal was quoted as telling the presiding judge that Brooks was "having some stomach issues."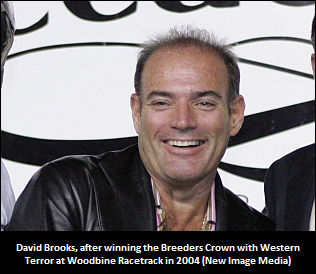 A report on newsday.com states that Brooks wasn't trying to escape when he left to go to the bathroom. Federal marshals, which were seated behind Brooks at the time when he got up and left, alertly followed him to a bathroom located in a cell block area where he is held during recesses in the proceedings.
The article states that Kenneth Ravenell, Brooks' lead attorney, said that Brooks' symptoms are related to his anxiety and panic issues.
In the past, Brooks' personal psychiatrist, Michael Liebowitz, prescribed Ativan for his patient at a level deemed three times the normal dosage. The psychiatrist at the federal detention centre in Queens, New York in which Brooks is being held believes it is medically inappropriate for Brooks to receive the Ativan dosages he had been receiving previously. According to court testimony, the detention centre psychiatrist had prescribed other medication for Brooks, which, in turn, he declined to take.
After Brooks' apparent stomach issues yesterday, Ravenell reportedly said, "Mr. Brooks cannot continue in [his] current state," alluding to the stance that Brooks may not be able to take part in his defense due to the effects of him not receiving Ativan.
According to the article, presiding U.S. District judge Joanna Seybert later said that she had spoken with the detention centre administrator. The administrator agreed to allow Brooks to receive Klonopin, a tranquilizer similar to Ativan, if Michael Liebowitz would prescribe it and take responsibility for it. Liebowitz then agreed to the conditions.
(With files from newsday.com)
Related Stories
• DHB's Former Comptroller Testifies In Brooks Trial; Ativan Situation Addressed
• Psychiatrist: Brooks Needs Ativan
• Brooks' Affinity For Pens
• Testimony Continues In Brooks Trial; Witness, Prosecutor Detail Horse Expenses
• Brooks Moved To Federal Facility
• Testimony Continues In Brooks Trial
• ORC Suspends Brooks, Bulletproof
• Trial For Brooks Underway
• Jail Without Bail For Brooks
• Court Date Set For Brooks
• Brooks Back In Trouble