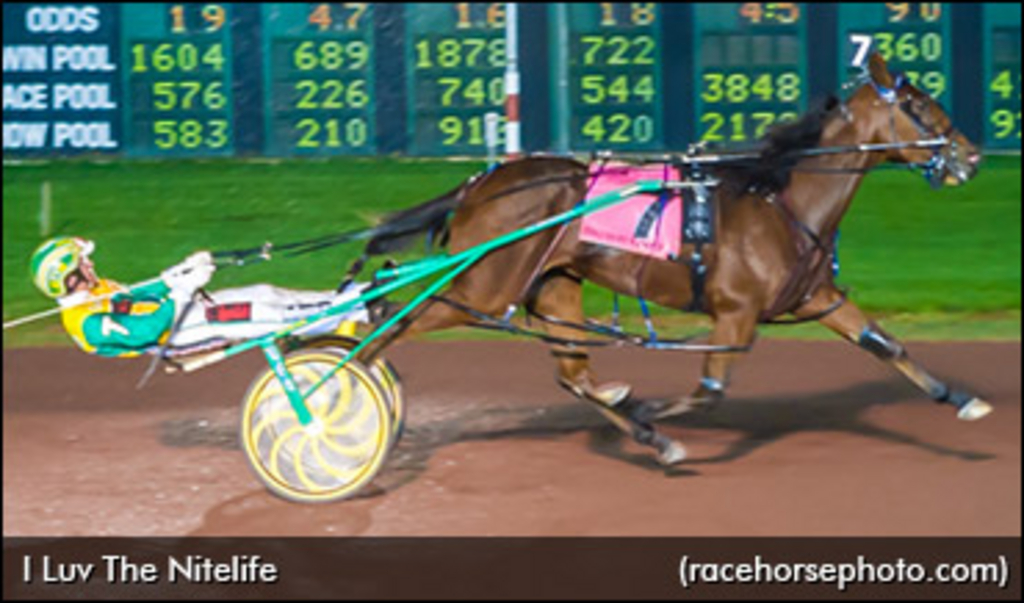 Published:
February 14, 2014 10:48 am EST
She turned in a sparkling 1:50.1 performance with a :26.3 last quarter in her qualifier prior to her final scheduled start of the year, but on the Tuesday following I Luv The Nitelife's sharp mile, the dual Dan Patch and O'Brien Award victress was shut down for the season due to an injured right knee.
The daughter of Rocknroll Hanover-Lisjune, who out-earned her former stablemate and champion Put On A Show to bank the most money all time ($1.94 million) for a pacing filly in her first two seasons of racing, was coming off her first defeat since the $150,000 New Jersey Sire Stakes final on June 1. The Breeders Crown winner hit the line just a scant head behind Charisma Hanover in the $161,000 American-National at Balmoral Park on November 9. The loss snapped a 12-race winning streak for Richard and Joanne Young's filly.
"She came up lame after her last day of training for what was to be her last race of the year," said her conditioner Chris Ryder. "The X-rays showed a hairline fracture in her right knee so we took her up to Dr. Mike Ross to perform surgery. He put a screw in it. The amazing thing is she walked into surgery lame, but she wasn't when she walked out."
I Luv The Nitelife just returned to Ryder's stable two weeks ago and to say he is thrilled to have her back in his shedrow is certainly putting it mildly. Last season, Nitelife won 13 of 15 races and earned $1.26 million. Her triumphs included the Breeders Crown, Fan Hanover, Valley Forge, Lynch Memorial, Jugette and Mistletoe Shalee.
"She was shut up in a stall for two months after the surgery," Ryder said. "She is hand-walking now and doing it like a champ. She X-rayed cleanly two weeks ago and Mike Ross was happy with her. In about a month she will start swimming, and then in another month we will take her back to Dr. Ross to see what he says we should do with her next. We hope to have her back in mid-June or July if all goes well."
Like Put On A Show, I Luv The Nitelife sustained her injury in her right front knee towards the end of her three-year-old campaign, but the circumstances surrounding each filly's situation were definitely not the same.
"Put On A Show had an area with wear and tear on the knee," Ryder said. "They went in and removed it arthroscopically. They just cleaned it up so to speak. I Luv The Nitelife had a hairline fracture. You could see it right on the X-ray and when we took her to Mike Ross he was not sure exactly what he was going to do with this knee until he got in there. That is when he decided to put a screw in there."
Although Ryder is over the moon the filly is doing so well, he realizes there are still several months of recovery time before her.
"A fracture will always heal," he said. "But the concern is the surface of the joint of the knee. You want to make sure it remains smooth and is not damaged. Otherwise they won't be good enough to go."
Like everything else the filly encounters, the knee injury and the healing process appear to be something I Luv The Nitelife is taking in stride.
"She is just a sweetheart," Ryder said. "She amazes us every day with what she does and how she behaves. You can just do anything with her and she will do whatever you ask. Sometimes she does it before we ever even have to ask. She's a champ, this one."
(USTA)