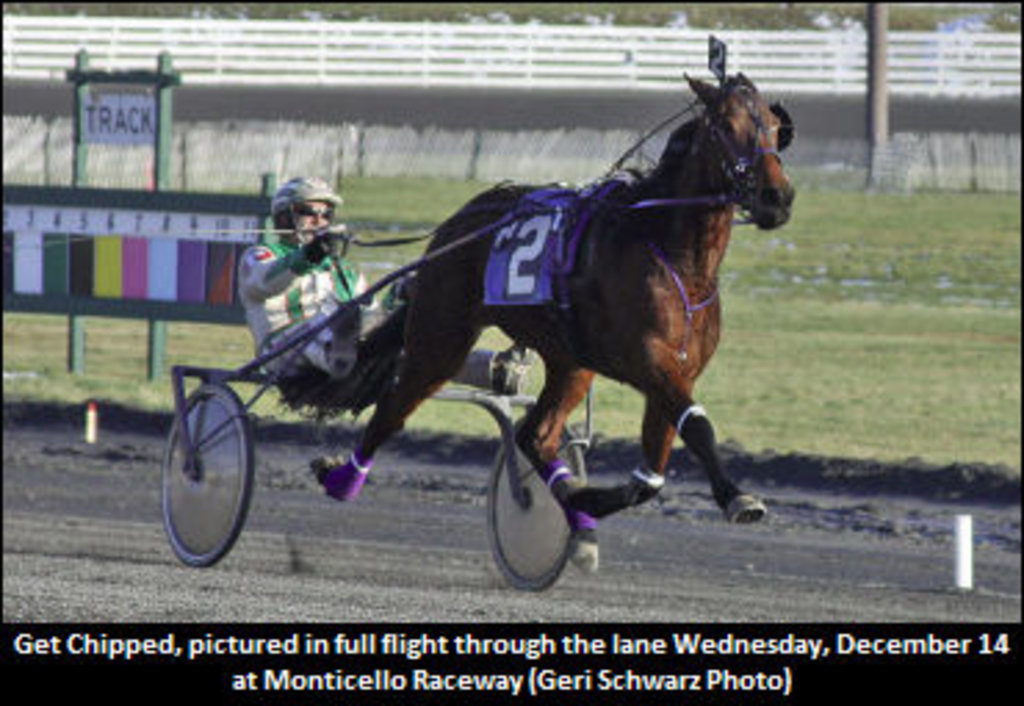 Published:
December 15, 2011 12:14 pm EST
There have been thousands upon thousands of winner's circle photos taken over the years and most are relatively the same. And although Wednesday's occurrence at Monticello Raceway wasn't the first, it definitely had a twist of its own
.
The Gary Messenger-trained and William 'Zeke' Parker-driven Get Chipped had good reason to maybe have a chip on her shoulder after the 'Mighty M's eighth race.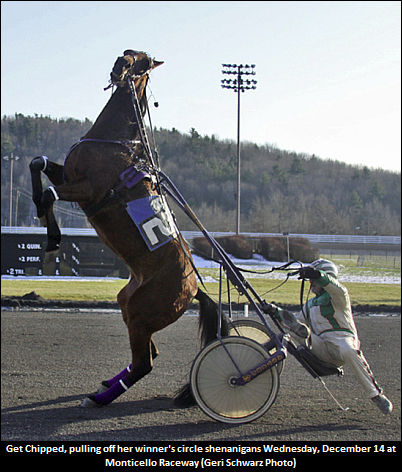 The Chip Chip Hooray lass had gone postward as the second post-time choice, but she wasn't going to play second fiddle to anyone.
The career winner of over $320,000 in purses cleared to the engine just after the opening quarter and had opened up five lengths on her competition by the time she scooted past the three-quarters pole. The darling was up more than eight lengths at the head of the lane before tallying a five-length triumph, the 18th of her career.
That is when the five-year-old decided she was really going to strut her stuff.
When track photographer Geri Schwarz aimed the camera toward Get Chipped, the lass responded by puffing out her chest and rearing up --- which is not the oddest thing in the world. Although the mare probably didn't mean to do so, Get Chipped cocked her head to the left and, seemingly, gave Schwarz the great photo op.
"The last few times Billy (Parker) and I got together for a winner's circle picture the horse didn't want to cooperate," said Brenda Messenger, wife of Gary Messenger. "So when Get Chipped got back to have her picture taken, I said to Billy, 'Wow, no trouble this time.' And, no sooner had I said that, Get Chipped reared up --- and she reared up high --- almost dumping Billy out of the sulky.
"He did eventually have to get out of the sulky, but it was only for a moment, and then Get Chipped settled down and he got back on (the sulky) and he and Get Chipped went back to the paddock like nothing ever happened."
Have a clever caption for Get Chipped's winner's circle shenanigans? Share it with us all by entering it below.
(With quotes from Monticello)