Published:
December 13, 2011 12:34 pm EST
It has been reported that the momentum behind the proposed land-swap at Sandown Park in Sidney, BC came to a halt Monday, December 12 after a vote by North Saanich Council
.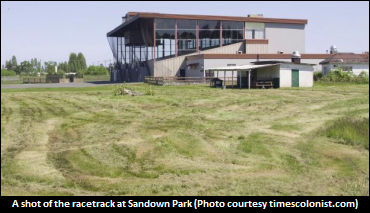 An article by the Times Colonist explains that the council voted 4-3 against a move which would allow racetrack owner Bill Randall to remove 4.8 hectares of Sandown land from the Agricultural Land Reserve and have it rezoned for commercial use. He would then donate the remaining 33.5 hectares to the municipality.
The report states that the commercial lands would not be allowed to house big-box stores or gaming activities.
Although council did not vote in support of the land-swap arrangement, the article explains that the plan is not dead. Rob Buchan, the municipality's chief administrative officer, was quoted as saying, "Basically, there was no decision either forward or back."
Randall said that he wanted to see action in regard to the future of the land soon. "It's up to council to decide what you want to do with that property," he was quoted as saying. "I'd like it considered and moved along one way or another. I don't want to be here in six months."
(With files from the Times Colonist)
Related Stories
• Altered Sandown Re-zoning Okayed
• Update On Sandown Re-zoning
• Proposal For Sandown Park Land Discussed
• Sandown Track To Be Demolished?
• Randall Comments On Sandown's Future
• Sandown Park Closing For Good