Published:
November 20, 2019 10:20 am EST
After having put together a very efficient 2019 campaign in the race bike, Hall of Fame reinsman Brian Sears has let it be known that he wants no piece of the upcoming winter in the northeastern United States.
While in discussion with Harness Racing Weekend Preview last week, Sears explained that he will soon be shuttling south for some enjoyable and well deserved 'R&R.'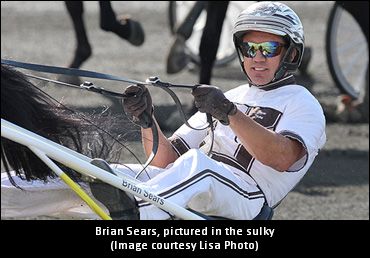 "I'm planning on driving Southwind Ozzi in the Progress (Progress Pace – final to be contested on Nov. 27) and then I'll go to North Carolina for a month or six weeks.
"After that, I'll make my way to Florida. I don't have any plans to drive up north this winter."
Sears, who has established himself as one of the sport's all-time greatest drivers, reached the 10,000-win plateau in the summer of 2018 (story here). He recently surpassed a major milestone – at least in Canadian funds – as he has now steered his drives to over $200 million in career purses.
Sears, who has nothing left to prove when it comes to his career in the sulky, was flush with Grand Circuit drives in 2019, even though he reduced the amount of times he went behind the starter.
'The White Knight' began to scale back his drives in 2018, when he made 980 trips to post, yet still won 162 races and navigated his charges to $6.58-million in purses. Sears worked out an even leaner driving schedule in 2019, but came out of it smelling like a rose.
From 757 starts thus far in 2019, Sears has notched 115 wins, guided his power to $8.28-million in purses, and shined brightly on the Grand Circuit and on racing's biggest stakes days.
(With quotes from Harness Racing Weekend Preview)