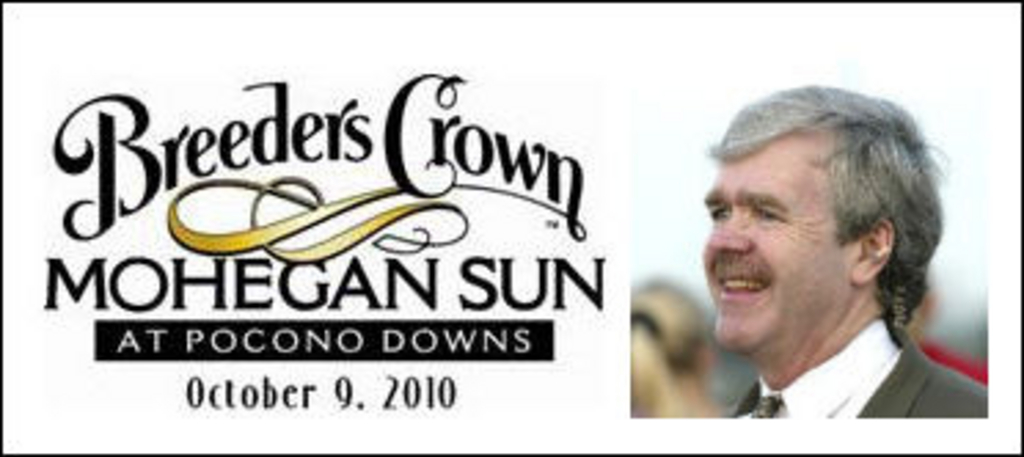 Published:
October 8, 2010 10:39 am EDT
Meadowlands Racetrack Statistician Bob 'Hollywood' Heyden has crunched the Breeders Crown's aged divisions. Now with the prestigious finals looming large, Heyden has shifted his focus to some of the divisions within the three-year-old ranks
.
All 12 of this season's Breeders Crown championships will be decided Saturday, October 9 at Pocono Downs in Wilkes-Barre, Pennsylvania.
For complete information on the Breeders Crown, click one of the links which appear below.
• TCNHC Online Qualifier Now Open
• Expert Breeders Crown Picks & Analysis
• Breeders Crown Finals Drawn
• Fields Complete, Posts Drawn For Two-Year-Old Breeders Crown Finals


• Three-Year-Old, Older Breeders Crown Elims Wrap Up


• Older Breeders Crown Finals Drawn

Breeders Crown Three-Year-Old Filly Trot
Broadway Hall doubled up last year as the winning sire of both
sophomore trotting divisions (Broadway Schooner, Pilgrims Taj)
Last year's purse of $600,000 was the biggest in this division in eight years
Syrinx Hanover won the 2001 edition of this Crown division and was undefeated on the year
Syrinx Hanover was the first horse (male or female) to go through any season unblemished and put $1 million on their card (only Muscle Hill [2009] has duplicated this since)
Driver Brian Sears has taken four of the last seven editions of this Breeders Crown division
Trond Smedshammer won this race three straight years from 2003-2005 with Sears (Stroke Play, Housethatruthbuilt, Blur)
Breeders Crown Three-Year-Old Filly Pace
Sister Act Supreme: Showherthemoney and now sister Put On A Show (2009
and 2010). A 1:49 flat co-World Record holder and her sister, Put On A Show, who's got a good chance of supplanting Miss Easy as the richest pacing filly ever, both out of 1997 Breeders Crown Three-Year-Old Filly Pace winner Stienams Place
My Little Dragon won the 2006 edition of this race -- one of three Breeders Crowns for the daughter of Dragon Again
Twenty-year-old Ryan Anderson won the 2000 edition with Popcorn Penny, which made him the youngest winning Crown driver ever
The last two females to be named U.S. Horse of the Year both won their respective Breeders Crown Three-Year-Old Filly Pace (Bunny Lake [2001] and Rainbow Blue [2004])
Bunny Lake's 2001 victory came in the richest edition ever ($812,292)
John Campbell won this race four times in a five-year span from 1989-1993
Buddy Gilmour is the only 50-plus driver to win this Crown division (with Steinam in 1985, when he was 53 years old)
'Juniors' to win this: John Stark, Jr. (2001, Bunny Lake), Jim Morrill, Jr. (2009, Yellow Diamond), Chris Christoforou, Jr. (2002, All American Nadia)
This is the final crop for Artsplace, who won this division with his first two crops (1997, Stienams Place; 1998, Galleria)
Breeders Crown Three-Year-Old Colt Pace
Three drivers have won this division back to back: Bill O'Donnell, John Campbell and George Brennan
Paul MacDonnell won this same division 11 years apart (1997, Village
Jasper; 2008, Somebeachsomewhere)
Western Hanover sired a record four Breeders Crown winners in 2009, including this division with If I Can Dream. If I Can Dream later became Tim Tetrick's first Triple Crown race winner when he won the Messenger Stakes
Jennas Beach Boy won this race in 1995, sandwiched in between Crown victories at ages two and four, which made him the only pacer to win three straight Breeders Crowns
This is the final crop for Artsplace, and his final career loss came in this very race (1991 Breeders Crown Three-Year-Old Colt Pace, where he lost to Three Wizzards)
It's been nine years since a father-son combo has captured this division of the Crown (Life Sign (1993), Real Desire (2001)
Artsplace has four winners in this division as a sire (1998, Artiscape;
1999, Grinfromeartoear; 2002, Art Major; 2007, Artists View)
The U.S. Horse of the Year has emerged victorious in this division five times (1985, Nihilator; 1990, Beach Towel; 2000, Gallo Blue Chip; 2005, Rocknroll Hanover; 2008, Somebeachsomewhere)
Mike Lachance won this race four times in a 10-year span from 1989-1998
Related Stories
• Heyden Crunches 'The Crown:' Aged Trots
• Heyden Crunches 'The Crown:' Aged Paces