Published:
October 30, 2021 04:21 pm EDT
Scott Zeron put the pedal to the metal early with the Linda Toscano-trained Rocknificent in the Breeders Crown Mare Pace, and the distaffer responded with a front-stepping masterpiece in a time of 1:49.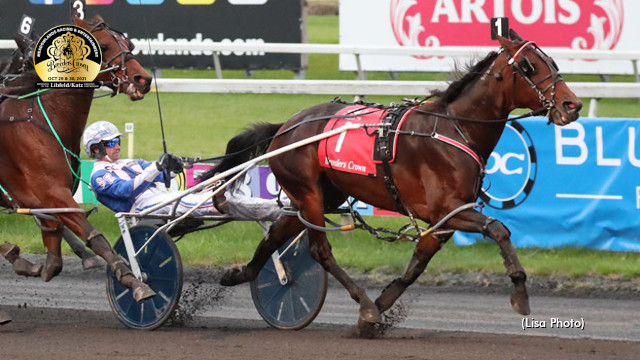 Departing from the pole position, Zeron hustled Rocknificent to the lead and together they successfully whacked out fractions of :27, :55.1 and 1:22.3 before rocketing home in :26.2 to defeat race favourite Lyons Sentinel and Peaky Sneaky.
"Driving her is really robotic," Zeron said. "She gives me everything every time. She lets me start her up leaving, get some soft fractions, and [in this race, it] became a great stretch race. We've been in that situation before, and Lyons Sentinel is tough to fend off. But today, we got the upper hand."
Sent off at odds of 5-2, Rocknificent improved her 2021 record to 5-8-0 from 18 assignments while pushing her lifetime earnings to $1,164,354. The 15-time winner is owned by Enviro Stables Ltd, South Mountain Stables and Little E LLC.
"It's going to sound like a mutual admiration society, but she does what she does because [Zeron] taught her to do that," added Toscano. "He has done a great job with her; she's relaxed, shows up every week, gives a great effort and I'm tickled that she got the big one. I'd like to take credit for that, but that's just her."
"I thought she went another outstanding race," said Jim King Jr. of his trainee, runner-up Lyons Sentinel. "The trip beat her — first-over for a long time off a slow half for the bunch. We're not ashamed of her, that's for sure. That was a very good mile she went. She's got the TVG left, and then hopefully we'll start over."
All the recaps from Saturday's Breeders Crown finals can be found in the 2021 Breeders Crown News Centre.
(with quotes from The Meadowlands)