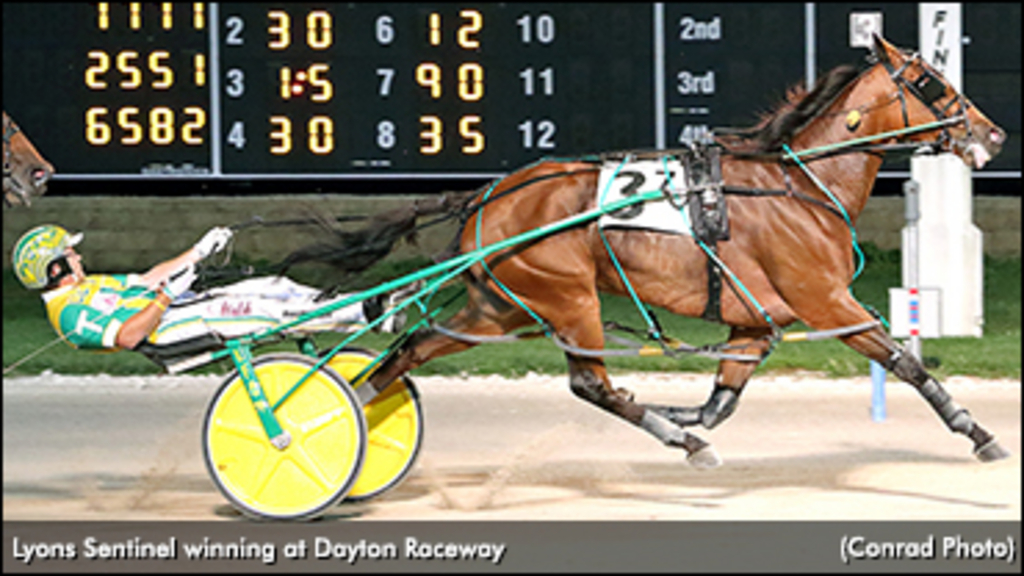 Published:
October 2, 2021 11:51 pm EDT
To virtually no one's surprise, Lyons Sentinel dominated her foes in the $175,000 Dayton Distaff Derby on Saturday (Oct. 2), lowering the track record for mares on a night that featured a trio of star-studded $175,000 Dayton Derbies for the track's marquee program of the 2021 season.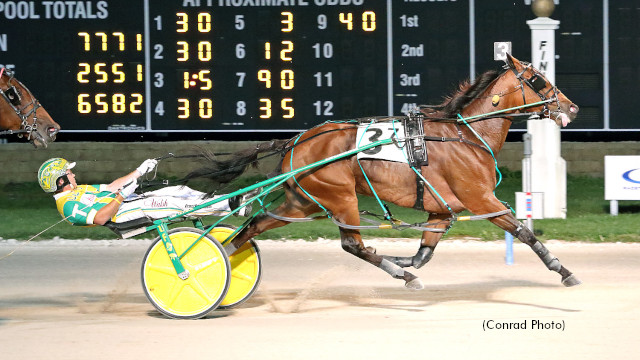 Driver Tim Tetrick got the winner away fourth, but rushed her to the lead just past the quarter. Rocknificent had left alertly in the early going but yielded to Lyons Sentinel to secure a pocket ride behind the current No. 1 ranked horse in the Hambletonian Society-Breeders Crown poll. The result, however, was the same, as Rocknificent finished second for the sixth time in her last seven starts—five of those runner-up finishes coming to Lyons Sentinel. Miss You N raced creditably to finish third in the mile, timed in 1:48.2.
Threelyonsracing of Brantford, Ont. owns the winning four-year-old daughter of Captaintreacherous. Lyons Sentinel is trained by Jim King Jr., who also conditioned the last dominant distaff pacer in the sport — Shartin N.
Back Of The Neck pulled a mild upset and broke the local track record for four-year-old male trotters when winning the $175,000 Dayton Trotting Derby. Nailing runner-up When Dovescry in the final stride of the 1:51.4 mile, the lightly raced son of Ready Cash won for the second-straight week after winning a top conditioned trot at The Meadowlands last week.
"This is a very good horse," said Svanstedt in the winner's circle. "When he's in his top form he can go with these top trotters."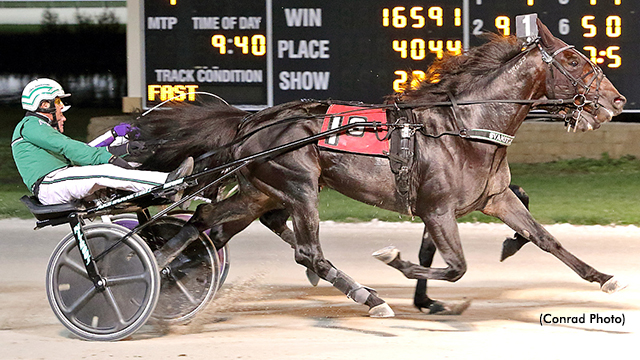 It took every inch of the mile for Back Of The Neck to earn the victory by a nose over the pacesetter When Dovescry. Former Hambletonian winner Forbidden Trade nabbed the show dough in the stellar field that included four millionaires and combined earnings over $11 million.
It was the 11th win for Back Of The Neck from just 28 starts. He is owned by Howard Taylor, the Order By Stable, J. Taylor, B. Cynwyd and Svanstedt.
For the first time in its eight year history, the $175,000 Dayton Pacing Derby produced a local winner. Driver Dan Noble and Ocean Rock crushed a full field of North America's best pacers in 1:48, over three lengths better than Nicholas Beach (Joe Bonjiorno) and This Is The Plan (Yannick Gingras). The four-year-old son of Rockin Amadeus, who now owns an impressive four race win streak, has now banked $385,385 this season and over $900,000 lifetime for owner Sandra Burnett.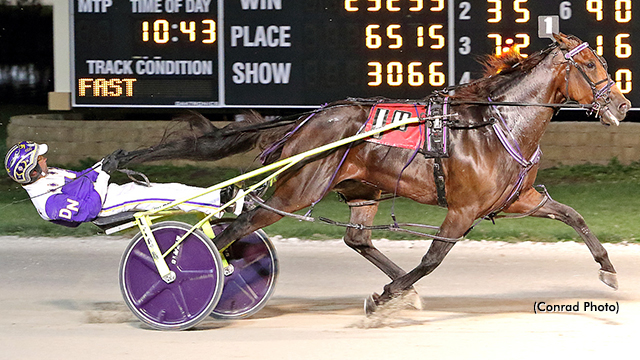 "This horse has taken us on such a great ride," said trainer Christi Noble, Dan's wife, while holding their infant son Nash in the winner's circle. "We made a bridle change this week and it seemed to help," Dan chimed in. When informed the 1:48 clocking was just one-fifth of a second off the all-time, all-age Hollywood Dayton track standard, Noble said "He had quite a bit left in the tank at the finish."
Noble was content to get away third in the early going, but confidently rushed Ocean Rock to the front as the field flashed by the stands the first time on the five-eighths mile oval. Despite the noteworthy credentials of the field, Ocean Rock never experienced an anxious moment and cruised under the wire to the delight of an enthusiastic local crowd.
The handle on the 14-race Dayton Derby program was $697,053, second largest in the track's brief existence.
Eight $75,000 Ohio Sires Stakes (OHSS) consolations for two- and three-year-old state-bred youngsters were contested Saturday night (Oct. 2) at Dayton Raceway. A total of 15 Ohio-registered, diagonally gaited stallions were represented in four OHSS trotting events, while 14 stallions of side-wheeling genetics had progeny who competed in four pacing events.
The ill-fated trotting stallion Cash Hall, who passed away in 2019 and had been standing at Cool Winds Farm in Lima, Ohio at the time of his death, was represented by two foals, both of whom won their respective divisions — Street Gossip in the three-year-old colt trot, and Cash N Chips in the three-year-old filly trot. Street Gossip is out of the Yankee Glide mare The Young Princess and is conditioned by Virgil Morgan, Jr. for Carl Howard and the Jesmeral Stable. This winner of $280,638 was bred by Morrisville College and was driving to his OHSS win in wire-to-wire fashion with Brett Miller at the lines in 1:54.2 as the favourite. Cash N Chips was clocked in 1:55.1 for driver Hunter Myers as the 6-5 choice for trainer Steven Bush, who co-owns her with Alvira Fassett. This filly is out of the Chip Chip Hooray mare Sugar N Chips and was bred by Walnut Hall Limited and Birnam Woods Farm. She now has $132,981 in earnings.
Creatine, a trotting stallion standing at Sugar Valley Farm in Delaware, Ohio, saw his two-year-old daughter Purple Aura from his first crop of youngsters capture the OHSS consolation for freshmen trotting fillies in 1:56.2, a track record. Driven by Anthony Macdonald for trainer Jason McGinnis and owners Thestable Purple Aura and Hutchison Harness, Purple Aura upped her earnings to $84,879 with this win, the sixth of her career in 11 starts. Bred by Steiner Stock Farm, Purple Aura is out of the Dejarmbro mare Purple Sona.
The trotting stallion What The Hill, who stands at Hickory Lane Farm in Findlay, Ohio, saw his first crop compete this season and had his son What The Blaze score a resounding 1:57.2 win in the OHSS consolation for two-year-old trotting colts. Driven by Danny Noble for trainer Christi Noble and owner-breeder Sandra Burnett, this flashy bay colt is out of the Pilgrims Taj mare Evanora. This victory was the first of his career in seven starts and pushed his earnings to $66,400.
First-crop pacing sire Downbytheseaside, who was represented by more foals than any other stallion in these OHSS consolations (seven) and stands at Sugar Valley Farm in Delaware, Ohio, had a winner in Fantasy Life, the 9-5 choice in the two-year-old filly pace. She was driven by Danny Noble for trainer Ron Burke and was timed in a career-best 1:52.3 as she notched her fifth win in nine starts, pushing her bankroll to $77,700. Bred by Billy Walters and Joe McLead, Fantasy Life is out of the Camluck mare Tea Time, and is owned by Burke Racing, Weaver Bruscemi, J&T Silva-Purnel & Libby, and Beasty LLC.
Well Said, another Sugar Valley Farm pacing stallion whose oldest Ohio foals are three this season, had a winner in Velocity Chaps, a three-year-old son out of the Arts Chip mare Velocity Chiplet. Owned and bred by Velocity Standardbreds and trained by Mark Evers, Velocity Chaps was clocked in 1:52.2—a track record—with Josh Sutton driving. Unraced at two, this bay colt now has $76,757 in earnings.
Well Said had another winner with his daughter, the three-year-old pacing filly Wall Said, who was driven to victory in 1:53 by Tim Tetrick for trainer Mike Sweeney in the sophomore pacing filly consolation. Wall Said, who is out of the Blissful Hall mare Ashland Blue, and was bred by Spring Haven Farm, upped her earnings to $94,800 for owners and breeders Wall Brothers Stables, P. Sweeney, R. Miller and J. Miller.
Charley Barley, the 2006 Breeders Crown Freshmen Pacing Colt Champion, stands at Ohio State's ATI facility in Wooster, Ohio, and bred his first crop of mares in Ohio in 2012. His son Sir Charles Of Sky, a three-year-old gelding, captured the consolation for sophomore colts in a wicked 1:51.4 for driver Chris Page and trainer Ron Burke. Owned by Burke Racing and Weaver Bruscemi, Sir Charles Of Sky is out of the Western Ideal mare Skyway Hanover. He was bred by Tommy Householder and now has $103,251 in earnings.
(with files from Hollywood Dayton Raceway and Ohio Sires Stakes)