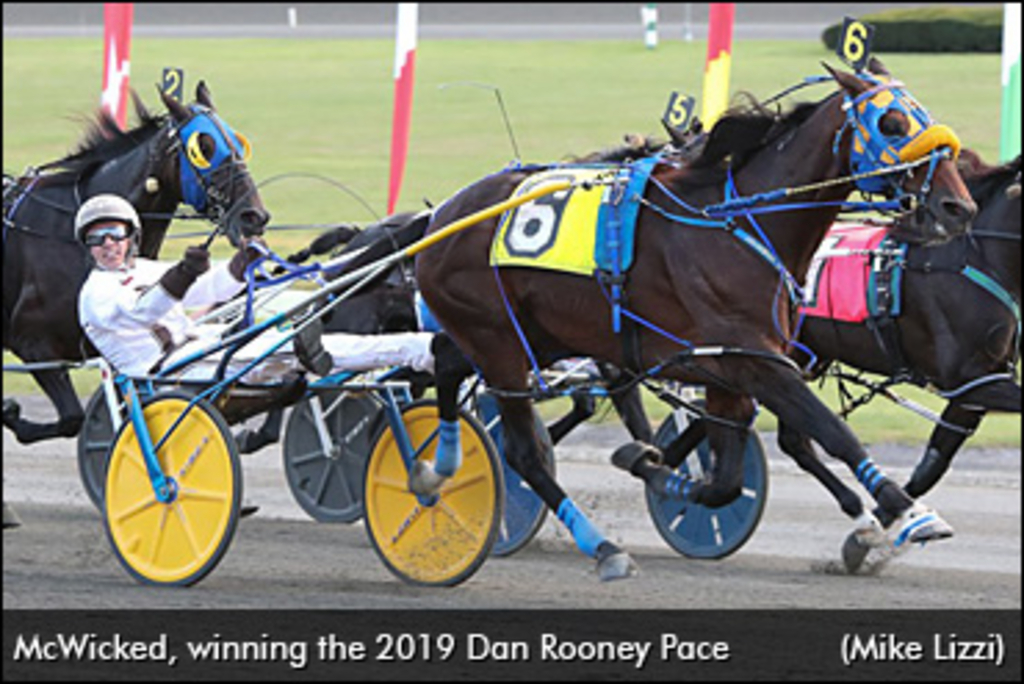 Published:
October 12, 2019 05:32 pm EDT
On the undercard of the 2019 International Trot, McWicked became just the second pacer to surpass $5 million in career earnings with a dead game win in the $250,000 Dan Rooney Invitational Pace at Yonkers Raceway on Saturday (Oct. 12).
Sent off as the second choice despite winning this race in 2018 and dominating many of these rivals in his most recent outing in the 2019 Allerage at the Red Mile, McWicked was able to land in fourth early as None Bettor A (Jason Bartlett) made the lead and then ceded to favoured Jimmy Freight (Scott Zeron), who punched out early panels of :26.2 and :55.1. McWicked started his first up bid just before the half and continued to encroach on the lead of Jimmy Freight, who picked up the pace with a :27.1 third panel to reach three quarters in 1:22.4. McWicked maintained his momentum around the final turn and forged ahead of a stubborn Jimmy Freight in deep stretch. From third over, Jordan Stratton unleashed Micky Gee N and the downunder import was flying late but McWicked got to the wire first, just a nose ahead of the longshot, with the mile timed in 1:51.1. Jimmy Freight was a length back of McWicked in third.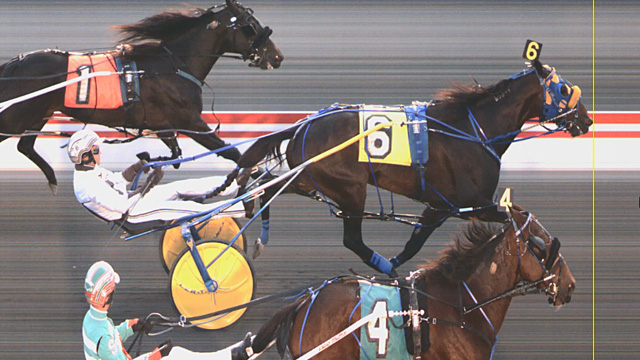 "I was pretty pleased with where I got away and the fact that I could come first up. I did have to come first up a little earlier than I'd like but he battled tough and held on right to the wire," said driver Sears after the win. "I'm proud of the horse, he's given me so many opportunities to be in big races and he's won so many. He's just a thrill to drive."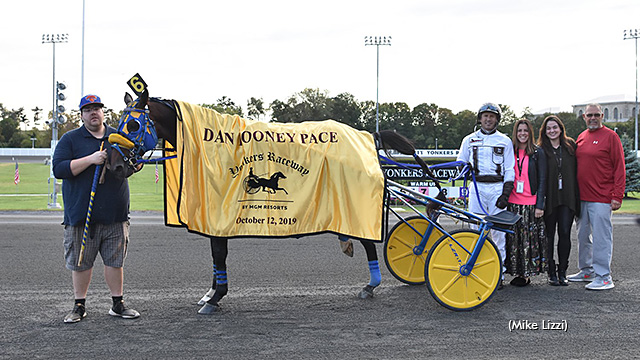 Trained by Casie Coleman and owned by Ed James through his SSG Stables, McWicked (McArdle - Western Sahara) picked up his 40th career victory and pushed his earnings to $5,039,893. The 2018 Horse of the Year will head to Woodbine Mohawk Park next to defend his Breeders Crown title.
"I can't say enough about the horse, the way he races and shows up every week. He's battled some foot issues all summer but he shows up every week and always puts out a good effort."
The richest pacing stallion in harness racing history, eight-year-old McWicked ranks second among pacers on the all-time earnings list. He trails only Foiled Again ($7.67 million), the richest Standardbred of either gait.
The $250,000 Harry Harvey Invitational Trot was also contested at 1-1/4 miles on the Yonkers Trot undercard and the winner of this event was quicker than the victor of the main event.
Emoticon Hanover (Dan Dube) was able to clear to the lead from post eight thanks to a yielding Will Take Charge (Jordan Stratton), but Will Take Charge quickly reclaimed the lead in front of the grandstand. Fractions of :28, :56.2 and 1:26 were put up by Will Take Charge, who faced presure from Rich And Miserable (Tyler Buter) through the middle portion of the race, with Mission Accepted (Yannick Gingras) spotted second over. The mile point was reached in 1:54.4 by Emoticon Hanover, who had disposed of Rich And Miserable. Gingras sensed the time to strike was in hand and flipped the switch with Mission Accepted for a three-wide surge. Will Take Charge was vulnerable and Mission Accepted trotted past the leader with powerful strides, easily holding off a late-rallying Custom Cantab (David Miller) to win in 2:23.4. Will Take Charge stayed for third.
Ron Burke trains Mission Accepted (Manofmanymissions - Witty Girl) for his Burke Racing LLC, David Wills of Newark, Ohio, Weaver Bruscemi LLC of Canonsburg, Penn. and breeder Knox Services Inc. of Mt. Vernon, Ohio. The four-year-old picked up his 17th lifetime win and pushed his bankroll to $777,334 in the process.
Robyn Camden and driver Jim Marohn Jr. enjoyed a pocket ride behind favoured Feelin Red Hot, found the passing lane and closed quickest of all in the stretch to capture the $42,000 Fillies & Mares Open Pace at odds of 10-1 in 1:52.4. The Irish-bred mare added some international flavour to the International Trot undercard, winning for trainer Rene Allard and owner Jason O'Sullivan of Dublin, Ireland.
Dancin Dragon was dismissed as an outsider in the $42,000 Open Pace but driver George Brennan engineered a second-over trip that quickly turned into a first-over grind down the backside, and the four-year-old was able to convert it into a 20-1 upset in 1:53.1. Ed Hart trains Dancin Dragon for Randy Bendis of Bridgeville, Penn. and Pollack Racing LLC, Venetia, Penn.