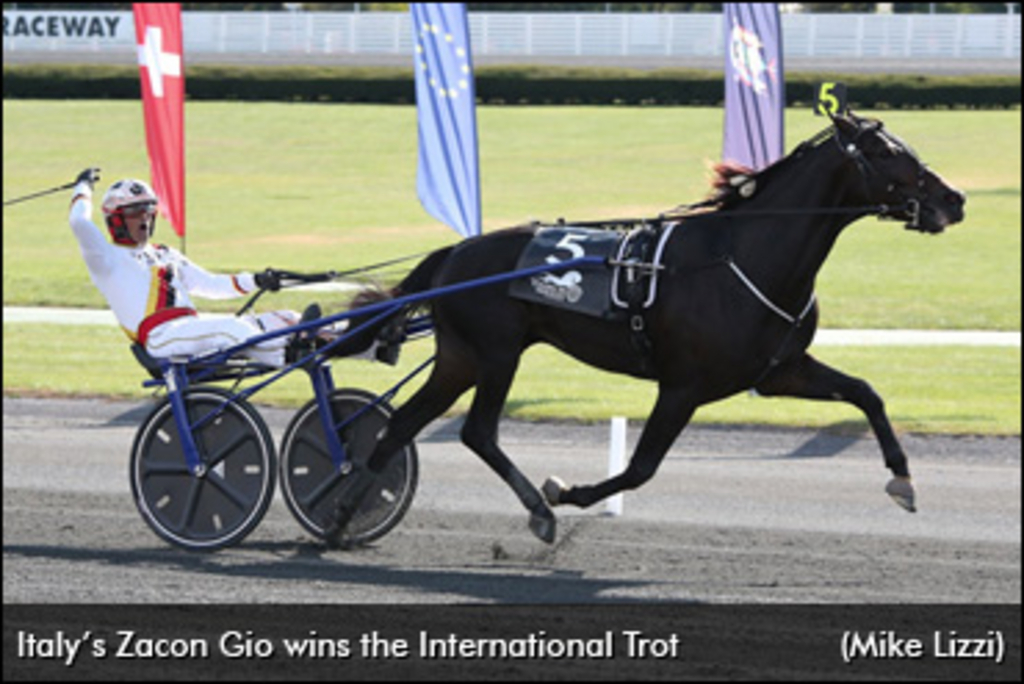 Published:
October 12, 2019 03:17 pm EDT
In his first trip out of his home country of Italy, Zacon Gio trounced his rivals in the 2019 $1 million Yonkers International Trot, contested at one and a quarter miles on Saturday (Oct. 12) at Yonkers Raceway.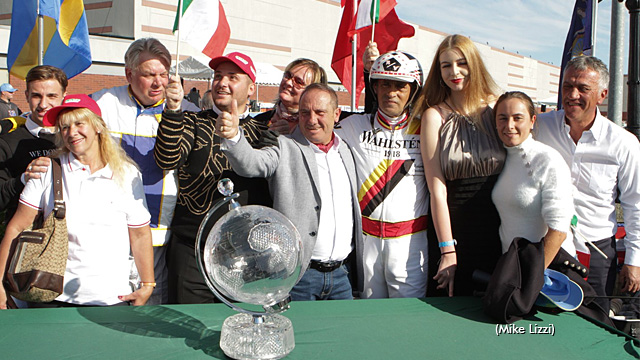 Atlanta (Yannick Gingras) fronted the field after an early speed duel with Uza Josselyn (Erik Adielsson), who was unable to find a spot after Slide So Easy (Ake Svanstedt) closed the pocket. Uza Josselyn provided cover to race favourite Zacon Gio, with Marion Marauder (Scott Zeron) third along the rail and Guardian Angel As (Tim Tetrick) third over.
Atlanta then carved out what appeared to be comfortable fractions of :28.1, :59 and 1:28 before picking up the tempo heading to the mile marker. As the mile was reached in 1:55.4, Zacon Gio and Vecchione started a three-wide move that was the subject of an inquiry for possible interference to Guardian Angel As. As Zacon Gio attacked Atlanta, the tempo-setter had no response and Zacon Gio cleared easily before the stretch, opened up daylight on the field and hit the wire four lengths the best in a time of 2:24.1. Slide So Easy and Marion Marauder closed strongly after their ground-saving trips to finish second and third, respectively. Guardian Angel As finished fourth.
Judges looked into the three-wide move of Zacon Gio at the mile mark but determined there were no violations.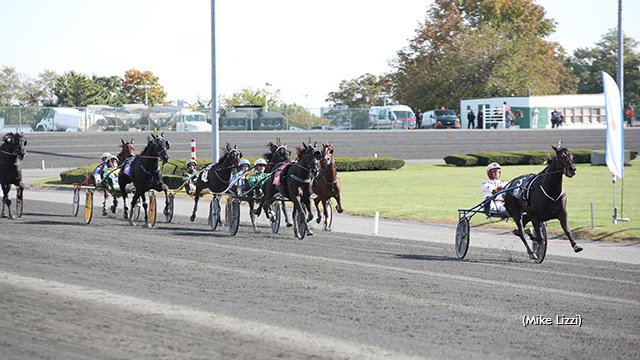 Zacon Gio picked up his 12th straight win after 11 straight victories in Italy for trainer Holger Ehlert and owner Franco Giuseppe. The four-year-old son of Ruty Grif - May Glad Font SM boasts 21 wins in 30 career starts with the winner's share of the purse more than doubling his lifetime total to $996,834.
"I was happy when I saw Uza Josselyn didn't make the lead, because I could race behind her," Vecchione said, with some translation help from the trainer's wife, Anne. "I was in a good spot. He has been good over (half-mile) tracks, setting records. He never gets tired, except at the end today."
He was allowed.
"I was very concerned about the slow times by the leader," Ehlert said. "I always had confidence in my horse, though."
Atlanta faded to an uncharacteristic seventh. Trainer Ron Burke said in a post-race interview that she suffered from the thumps after the mile, noting she does have dehydration issues when racing out of a 24-hour retention barn like the one for the International Trot.
"That's not Atlanta at her best; when she hits three quarters off those fractions, she's gone. We're sorry we didn't represent the U.S better, but she's going to bounce back."
The undercard of the International Trot featured a pair of $250,000 invitational events. For more, click the following link: McWicked Surpasses $5 Million On International Trot Undercard.