Published:
January 5, 2012 12:20 pm EST
JoAnn and Gaetan Champagne hit the jackpot on New Year's Eve on their way to Rideau Carleton Raceway
.
The pair had checked their Lotto Max ticket on the way to the track when they figured out that they had the winning ticket for the $50 million December 30 draw. According to a report, the Ontario Lottery and Gaming Corporation is now running a standard investigation into the win.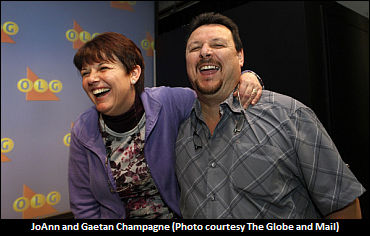 An article by The Globe and Mail has explained that the couple will have to wait at least a month and a half until they can claim their prize due to the probe.
The investigation has been initiated by the OLG due to the fact that, until recently, the couple had operated a store named 'Jo's Depanneur' in Hawkesbury, Ont. The pair sold the business in October of 2011, but JoAnn continued to work in the store on a part-time basis after the business was sold. The store sells lottery tickets.
Given the connection to the store, the OLG is probing the situation under its 'Insider Wins' process.
According to the report, OLG Spokesman Toni Bitoni has said that the couple is well aware of the process and that they have been playing the lottery for 30 years.
"Basically, this is fairly routine for us, when it comes to retailers, except that there's $50 million on the line," Bitoni was quoted as saying.
(With files from The Globe and Mail)
Related Stories