Published:
January 4, 2011 02:28 pm EST
The flooding which is occurring in Australia is not just affecting humans. It has been reported that roughly 20 horses have had to be rescued in the last week, and some have had to swim behind boats
.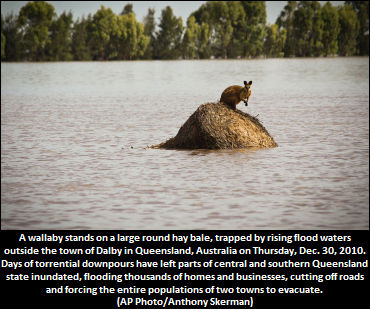 A report by Horse Zone states that Rockhampton has been a major danger area for rising waters, and authorities have stressed that animal owners must get their stock to higher ground.
RSPCA spokesman Michael Beatty has been quoted as saying, "a lot did manage to do that. Some, however, did not have high ground available to which stock could be moved. It is too early to give any indication of livestock losses in the flood, which has inundated an area the size of California, Nevada and Maine combined. I know in a lot of cases [owners] thought they had gotten [their livestock] on to what was higher ground but then that ground went under as well."
The flooding has come due to months of rainfall.
To view photos of the extensive flooding, click here.
(With files from Horse Zone)