Published:
January 3, 2012 12:16 pm EST
Standardbred Canada would like to congratulate Sydney Weaver of Acton, Ont., the winner of the 'I Love Canadian Harness Racing' Fan Club's VIP O'Brien Awards package
.
Weaver's entry about why she loves Canadian harness racing and why this year was especially fantastic in creating lasting memories for her and her family represented exactly what the Fan Club is all about. Weaver's VIP prize package includes two tickets to the O'Brien Awards gala, overnight accommodation at the Delta Meadowvale Hotel in Mississauga, Ont., and an incredible Fan Club swag package.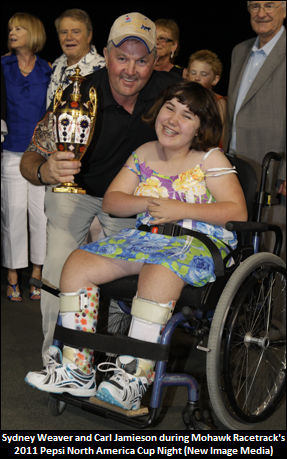 From the day Mike Saftic let her name one of his horses, Weaver has been a dedicated racing fan. This year, for the first time, she was able to cheer her namesake, Sydneys Flight, from the sidelines as an Ontario Racing Commission-licensed groom (she earned her license just before her 11th birthday this year). That was the first of many lasting memories that the harness racing world brought this incredible young spokesperson for 'Reach for the Rainbow,' a charitable organization which develops and facilitates integrated recreational opportunities for children and young adults with physical and developmental disabilities. For the past five years, Weaver has been a key player in Mohawk Racetrack's Reach For The Rainbow Night, with several of the local drivers and trainers donating a portion of their earnings to the organization.
One memory in particular which really stood out for Weaver last year was an extraordinary invitation to the winner's circle by trainer Carl Jamieson on the night of the North America Cup.
"As pictures were being taken, I got an opportunity to hold the Cup! I also had a chat with Jody Jamieson to congratulate him on his big win! Then he took off his NA Cup ball cap that he had just got and asked for a marker… Mr. Jamieson proceeded to sign it and then he placed it on my head. My head dropped and tears flowed. It was truly a very magical and memorable night and I could not thank him enough."
Weaver and her dad visit a new track every year and a lot of people around the track have come to know Weaver and her family. This year, they made the two-hour trek to Clinton Raceway for Legends Day and Sydney fondly remembers being invited to the winner's circle with Trevor Henry for the 12th race. "My dad wheeled me onto the track in the pouring rain…it proves how much he loves me."
Weaver is thrilled at the opportunity to meet more of her heroes at the 2011 O'Brien Awards at the end of January. "There are many memories that I will never forget when it comes to standardbred racing, but without my dad, none of them would be possible. In return for all of the memories he has created for me, I would like to return the favour and create a memory for both of us."
Please join SC in sending congratulations to Sydney Weaver, and thank-you to all that entered.