Published:
January 11, 2012 02:50 pm EST
It was announced in early October of last year that former Minnesota Senator Dick Day was walking away from 'Racino Now,' a mainly thoroughbred pro-racino lobbying effort in the state. Now, Day is back in the picture, but now solely behind slots for the Running Aces Harness Park
.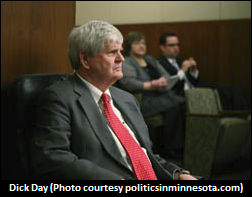 According to a report on politicsinminnesota.com, Day had split from Racino Now to form his own lobby group, Day and Associates.
The article has quoted Running Aces Spokesman John Derus as saying that Day has joined Running Aces' lobbying team.
The team includes Vic Moore, a former aid to DFL Senate Majority Leader Roger Moe, and Doug Franzen, an attorney with Republican connections in the House.
(With files from politicsinminnesota.com)
Related Stories
• 'Racino Now' Names Day's Replacement
• Day Exits 'Racino Now'